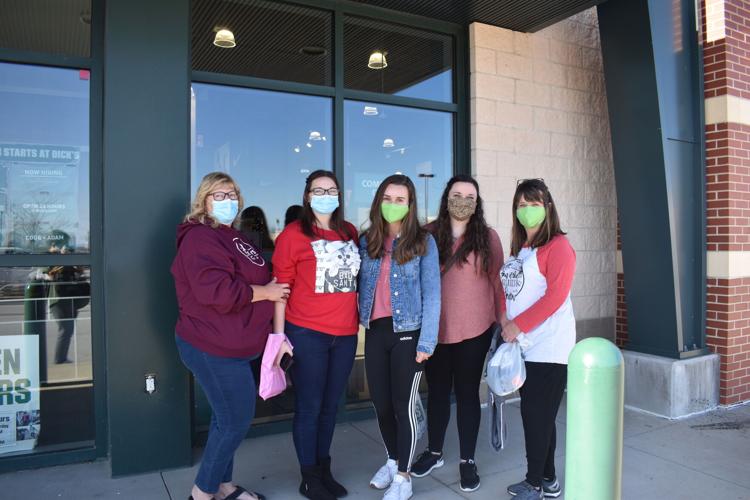 For Kelli Kinman and Victoria Howard, Friday was more of a normal shopping experience than what they've come to expect during the nation's traditionally most busy shopping day.
At least at the stores they visited, the duo, which had just picked up earrings for a Christmas gift at Kohl's, said that this Friday paled in comparison to Black Fridays past.
They chalked up the difference to the COVID-19 pandemic and Gov. Andy Beshear's measures taken to limit in-person traffic to decrease spread of the virus.
"Last year we were out here and people were just lined around the store," Kinman said. "This time we checked out within seconds. We've been at Dick's, too, and it just looks like a regular shopping day."
Howard took a strong position against Beshear's recent orders limiting capacity at various establishments across the Commonwealth, complaining that they have had an impact on the economy.
"He's hurting the economy by telling people to stay home," Howard said. "He's making people scared for their lives."
Both of them agreed that Black Friday, something of a national holiday in and of itself, just wasn't the same this year.
"We're normally gung-ho 5 a.m. shoppers, but this year we were kind of just like 'eh,'" Kinman said. "I also feel like there's not as great of deals this year — those are more online than in-store. We're kind of just going out for something to do."
On the west side of town at Wal-Mart, Sally and Craig Wiggins, a couple taking donations for the Salvation Army, noticed shoppers carting out large items — particularly flat-screen televisions and cookware.
"We were just saying, there must be a big sale there on big-screen TVs and pots and pans." Craig said.
Sally, who said she serves on the board at the local Salvation Army, said that folks had been donating with some frequency, and that she's noticed a stream. 
"It's been pretty steady so far," Sally said in the late morning on Friday. "And the donations have been about average really."
At Dick's on Frankfort's east side, a group of shoppers from out of town said that they chose to hit the stores in Frankfort because it's a tradition for their friend group.
Normally frequenting Louisville for such shopping sprees, Carol Herndon said that she and her friends chose to go to Frankfort because it might be less crowded.
"For us it's the tradition and the thrill of the search," Herndon said. "It's getting to be together and talk. It's been less crowded and everything has been great."
Herndon and her friends — her daughter Amelia, as well as Sarah Grattan and Holly Ware — said that the lines at the stores they visited were practically nonexistent.
Herndon also noted that the deals at big stores like Dick's, Ulta, and TJ Maxx — which they had visited earlier — were not as eye-popping as they had been in years' past.
"I know it hasn't been great for the businesses," Herndon said. "There are less bargains and deals. The businesses just haven't had as much traffic this year, and they aren't offering as much it seems."