"Why should people outside of the Frankfort community care about Green Hill Cemetery?"
That question was lobbed to Freddie Johnson — who is most notably known as Buffalo Trace Distillery's favorite tour guide and the face of Freddie's Old Fashioned Soda line — during a check presentation at the cemetery Tuesday.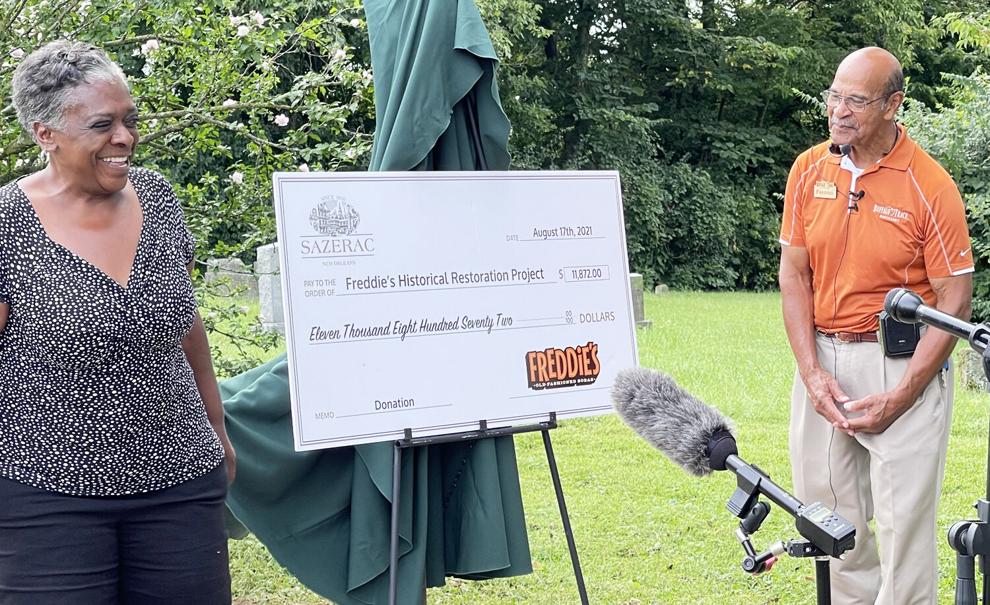 Johnson, who is also a member of the cemetery's board of trustees — a nonprofit, volunteer organization that operates as a trust holding the city-owned land where Green Hill Cemetery sits, gave a brief history.
The cemetery was established in 1865 and features the only monument to Kentucky's United States Colored Troops (USCT), which included roughly 25,000 men. At 10-feet tall, the marker has the names of 142 local USCT members from Frankfort and the surrounding area.
Johnson said the cemetery has personal significance to him and many others, which is why he approached the distillery about donating a portion of the proceeds from sales of his sodas to the organization.
"For me, it's a legacy. I'm hoping when I no longer walk the earth my grandkids can look back and say 'this is what grandpa did,'" he explained.
"It's not an easy task. Not easy at all."
Through Freddie's Historical Site Restoration Project, $1 from every case of Freddie's Old Fashioned Soda that is sold is donated to the cemetery.
On Tuesday, Johnson presented the first check donation in the amount of $11,872 to Jeanette Walker, chair of the cemetery's board of trustees.
According to Walker, the city and Parks, Recreation and Historic Sites give an annual amount for the maintenance of the cemetery, but it usually runs out around the end of July.
"This will help take a lot of stress off our shoulders," she stated.
The group has been actively restoring the historic cemetery for three or four years and normally does fundraisers at area churches in order to raise money. When the COVID-19 pandemic struck, churches were closed and donations dried up.
"This check will go a long way," Walker added. "The cemetery board is elated."
Johnson remembered the historical cemetery when it was at its worst.
He said the East Main Street retaining wall was down in sections and the fencing needed replaced.
"We worked with the city and Parks, Recreation and Historic Sites to fix those items and make it look better aesthetically from the community standpoint so they could see we're doing something here," Johnson remarked, saying that the project is still in its infancy and now is the hard part.
The goal of the project is to grid the cemetery so folks can get online, look up a name and know where that person is buried. Johnson estimates it will take about five years.
"It's not about us. It's about giving back," he said. "It's not about one person. It's about a movement."
To make a donation, send a check made out to Social Good Fund with "Freddie's Historical Site Restoration Project" in the memo line to Social Good Fund, 12651-5473 San Pablo Ave., Richmond, California 94805.