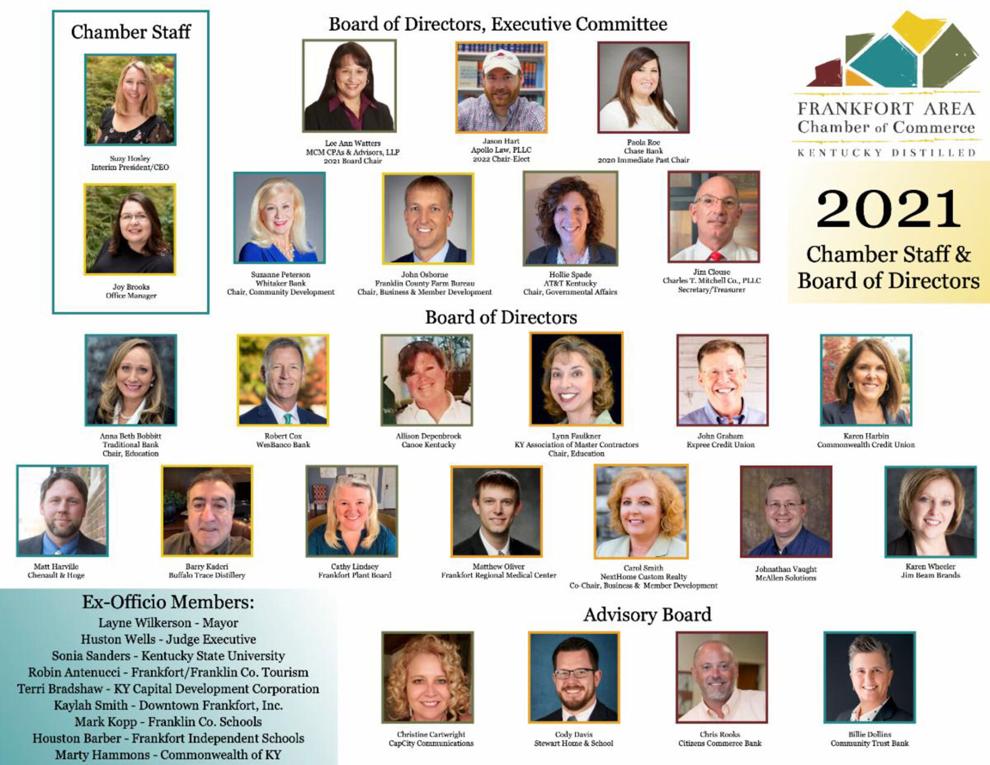 The Frankfort Area Chamber of Commerce welcomed Billie Dollins of Community Trust Bank as its newest board member recently. She will fill the vacancy left by retiring board member John Senter, also of Community Trust Bank.
Senter served for six years, was chair of the education committee and board chair. He was immediate past chair in 2020.
"He was dedicated to getting our Frankfort Impact project organized and off the ground," said Lee Ann Watters, 2021 Chamber board chair.
"Though John is retiring from the board, we're not letting him get away that easily. We still have work for John to do."
The Chamber's 2021 executive committee and board of directors are composed of 33 business and community leaders. 
Watters, of MCM CPAs & Advisors LLP, will lead the board's 24 active members with nine ex-officio members.
The Chamber's work is structured in six committees: finance, governmental affairs, business and member development, community development, education and Frankfort Area Young Professionals.
In addition to Watters, the board of directors executive committee includes Jason Hart, of Apollo Law PLLC, 2022 chair-elect; Paola Roe, of Chase Bank, 2020 immediate past chair; Suzanne Peterson, of Whitaker Bank, chair of community development; John Osborne, Franklin County Farm Bureau, chair of business and community development; Hollie Spade, of AT&T Kentucky, chair of governmental affairs; and Jim Clouse, Charles T. Mitchell Co. PLLC, secretary/treasurer.
The board of directors members are Anna Beth Bobbitt, Traditional Bank, chair of education; Robert Cox, WesBanco; Allison Depenbrock, Canoe Kentucky; Lynn Faulkner, Kentucky Association of Master Contractors, chair of education; John Graham, Expree Credit Union; Karen Harbin, Commonwealth Credit Union; Matt Harville, Chenault & Hoge; Barry Kaderi, Buffalo Trace Distillery; Cathy Lindsey, Frankfort Plant Board; Matthew Oliver, Frankfort Regional Medical Center; Carol Smith, NextHome Custom Realty, business and member development co-chair; Johnathan Vaught, McAllen Solutions; and Karen Wheeler, Jim Beam Brands.
The advisory board consists of Christine Cartwright, CapCity Communications; Cody Davis, Stewart Home and School; Chris Rooks, Citizens Commerce Bank; and Billie Dollins, Community Trust Bank.
"It is truly an honor to have such a dynamic board of directors from diversified sectors of our business community helping to guide the way and drive prosperity for Frankfort and Franklin County," said Frankfort Area Chamber interim President and CEO Suzy Hosley.
Ex-officio members include Mayor Layne Wilkerson; Judge-Executive Huston Wells; Sonia Sanders, KSU; Robin Antenucci, Frankfort/Franklin County Tourist Commission; KCDC President and CEO Terri Bradshaw; Kaylah Smith, Downtown Frankfort Inc.; Franklin County Schools Superintendent Mark Kopp; Frankfort Independent Schools Superintendent Houston Barber; and Marty Hammons, state government.