2020 was a banner year for home sales in Franklin County.
As such, the annual reassessment process completed by Franklin County Property Valuation Administrator Kellie Lang's office added $182.9 million, or 5%, to the county's real property tax roll based on a recently completed reassessment of the county's second quadrant.
"Quadrant 2" is a narrow vertical slice of the county that consists of most of the Kentucky River's shoreline. It includes all of downtown and South Frankfort, much of Thornhill and the Holmes Street neighborhood as well as most of West Frankfort.
Lang said that 7,098 assessment notices were sent out Friday, and that the figure is tentative because residents and property owners can appeal their reassessments. 
This round of reassessments increased the county's property tax roll to nearly $3.5 billion.
Overall, it increased from $3.31 billion to $3.49 billion. This totals a roughly 5% increase, up from 3% and 4% increases in years prior.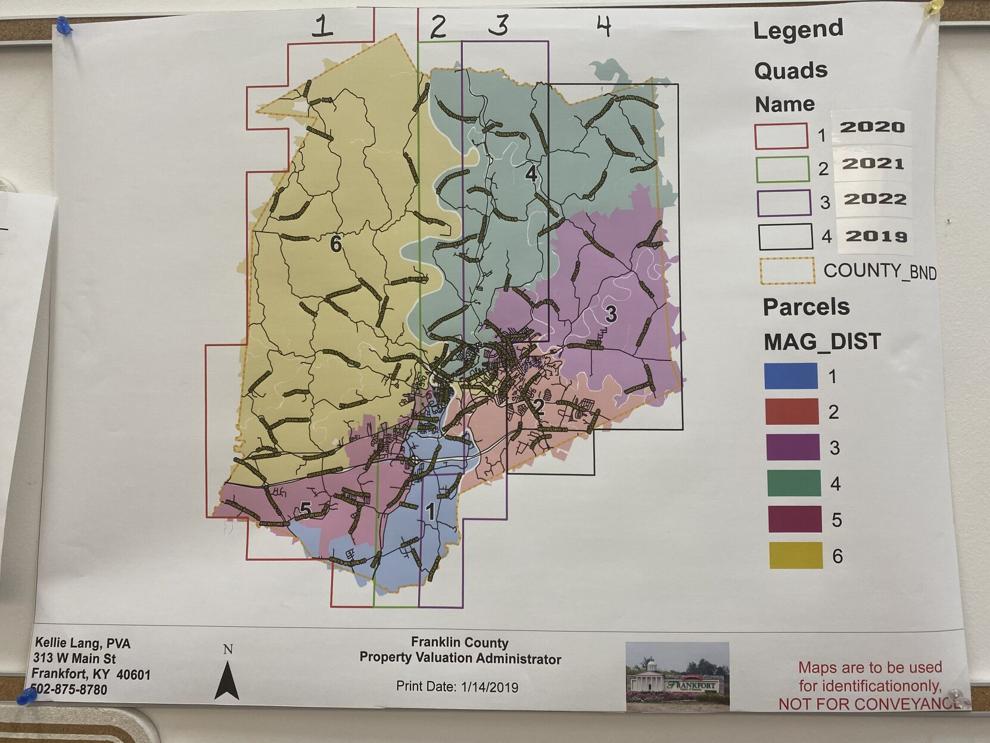 The increase, Lang noted, is likely due to the hot real estate market in Franklin County — a trend that communities across the nation have seen throughout the COVID-19 pandemic.
"Due to the demand and increase in the current housing market, we have witnessed a significant sale price inflation coming through our deeds," Lang said. "I give credit to the homeowners and taxpayers, because I think they realize that where the market is going is a great sign for Frankfort and Franklin County."
Lang added that some of the increase this year relative to last year might be because last year's reassessment took place in a more rural part of the county where much of the land is zoned for agricultural use.
Lang said that of the 7,089 assessment notices sent out, 2,106 were due to deed transfers and the remainder were reassessments, new construction, demolition and homestead exemption changes.
The open inspection period on reassessments began Monday and runs through Monday, May 17, on weekdays from 8:30 a.m. to 3:30 p.m. and Saturdays from 9 a.m. to 11 a.m.
Taxpayers can visit the PVA's website at www.franklincountypva.com to fill out the conference request form and submit it via email, fax (502)226-5495 or visit the office at 313 West Main, Room 209 (Second floor-Courthouse Annex). 
Lang said that she recommends property owners have documentation in order to appeal their assessment, including the current appraisal, insurance documents and pictures showing any depreciation of the value.
Several exemptions are available for designated organizations and individuals as well.
"I would like to remind everyone if you are 65 years or older and the January 1, 2021, property owner, you are eligible for the Homestead Exemption of $40,500," Lang wrote. "Also, if  you are receiving monthly disability payments and the January 1, 2021, property owner, you may qualify for the Disability Exemption of $40,500; you will need to be 100% disabled and provide an award letter. Please contact our office, so we can apply your exemption to your property tax bill."