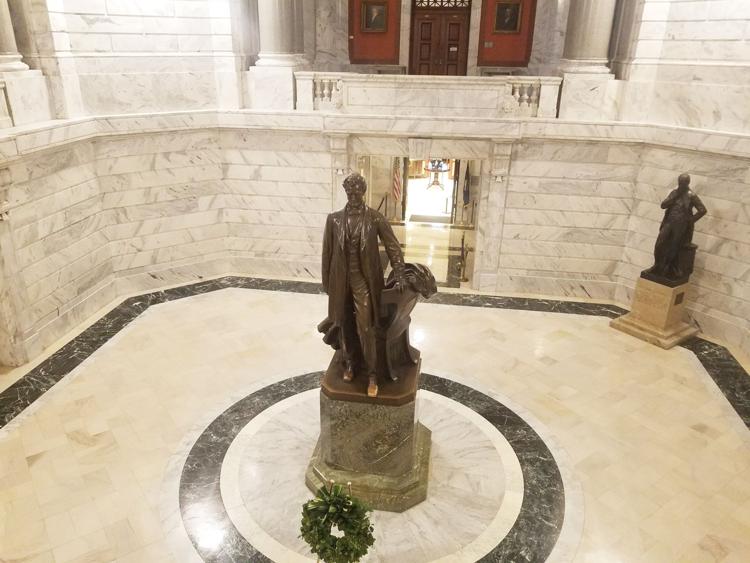 Another suggestion has been made for the empty space in the state Capitol rotunda in Frankfort, where the statue of Jefferson Davis stood until its recent removal. 
Earlier this month, Sen. Christian McDaniel, R-Taylor Mill, announced he would file a bill for the 2021 General Assembly that would replace the Davis statue with one honoring Carl Brashear, a Hardin County native who overcame racism, illiteracy, poverty, physical disability and substance abuse to become a master chief petty officer and the first African American U.S. Navy master diver.
Now, Rep. Lisa Willner, D-Louisville, who chairs the Kentucky House Democratic Women's Caucus, has sent Gov. Andy Beshear a letter calling for a woman to be selected for the next statue placed in the Capitol rotunda. She said the caucus also requests that the Rotunda have a rotating educational display of women and people of color until a statue is ready to be installed.
The letter suggests eight Kentucky women including:
• Sen. Georgia Powers, the first woman and first African American elected to the Kentucky Senate, whose activism helped Kentucky become the first state to enact civil rights legislation.
• Mary Elliott Flannery, who became the first woman south of the Mason-Dixon Line to be elected to a state legislature, one year after ratification of the 19th Amendment, giving women the right to vote.
• Anne Braden, another civil rights champion from Jefferson County.
• Alice Dunnigan, a Russellville native who became the first African American to have a Capitol Press Pass in Washington and to head the Women's National Press Club.
• Bell Hooks, a well-known author, feminist scholar and social activist, who has an institute named in her honor at Berea College.
• Anna Mae Clark, the first African American woman who was the first commander of an otherwise all-white regiment of the Women's Army Corps during World War II.
• Alberta Odell Jones, one of the first African Americans to pass the bar in Kentucky and the first to be named city attorney in Jefferson County. She was murdered in 1965, and her case remains unsolved.
• Martha Layne Collins, Kentucky's only female governor and just the seventh in U. S. history when she was elected in 1983.
The 19 members of the Kentucky House Democratic Women's Caucus are Willner, Tina Bojanowski, Terri Branham Clark, McKenzie Cantrell, Kelly Flood, Angie Hatton, Kathy Hinkle, Joni Jenkins, Nima Kulkarni, Mary Lou Marzian, Patti Minter, Ruth Ann Palumbo, Josie Raymond, Rachel Roberts, Attica Scott, Maria Sorolis, Cherlynn Stevenson, Ashley Tackett Laferty and Susan Westrom.