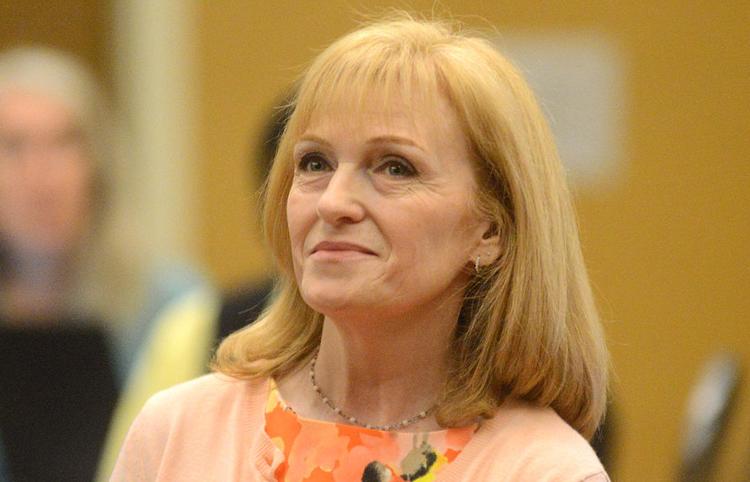 Carmen Inman, a fixture in the local business community, will be stepping down as president and CEO of the Frankfort Area Chamber of Commerce in mid-October.
Inman, whose career spans 25 years, announced her retirement in a letter to Paola Roe, chamber board chair, on Tuesday. Her last day is Oct. 15.
"I have been proud to represent the Chamber Board, our members and community through our Kentucky Distilled branding and our Frankfort IMPACT Education program," Inman said.
"It has been a privilege to represent Frankfort and Franklin County on many levels. I know that the many friendships I have made will last well into the future."
During Tuesday's board meeting, members of the chamber thanked Inman for her service and had mixed feelings about her retirement.
"We are excited for what the future holds for Carmen and her new endeavors as she ventures to find what this next stage in her life will be," Roe added. "We are sad to see her tenure come to end, as she has given 25 incredible years to this chamber and has worked tirelessly to create a stronger membership drive, community involvement and partnership across Frankfort and communities surrounding us."
Lee Ann Watters, board chair-elect, said it has been a privilege to work with Inman.
"Under Carmen's guidance, the Frankfort Area Chamber has flourished we are indebted to her vision and commitment," she stated.
For guidance and input moving forward with the search for a new director, the Chamber Board will partner with Amy Cloud, executive director of the Kentucky Chamber of Commerce Executives, the professional development society for local chambers of commerce in Commonwealth.
"This is an opportunity for our chamber to take time and make sure we find the best person to represent the chamber and its members," Roe said. "Carmen leaves big shoes to fill. She is very well respected in our community and will be missed greatly." said Suzanne Peterson, who serves as vice chair of community development.
With her retirement a little less than two months away, Inman still has goals for her tenure at the Chamber — mainly to apply for Work Ready status for the community.
"Our education team has worked hard to develop programs and the Work Ethic Certification program to assist employers to find qualified career-ready workers and I believe we are ready for full Work Ready status," Inman added.
"I have had a wonderful opportunity to serve, make a difference and embrace our community through my time here at the Chamber. I will work with Board Chair Paola Roe and Board Chair-elect Lee Ann Watters, along with staff, to ensure we make the transition as smooth as possible for the Board and our members," Inman said.
"I wish all my colleagues the best and I am certain the Frankfort Area Chamber will continue to grow and be a successful member-driven organization under the leadership of Paola and Lee Ann."