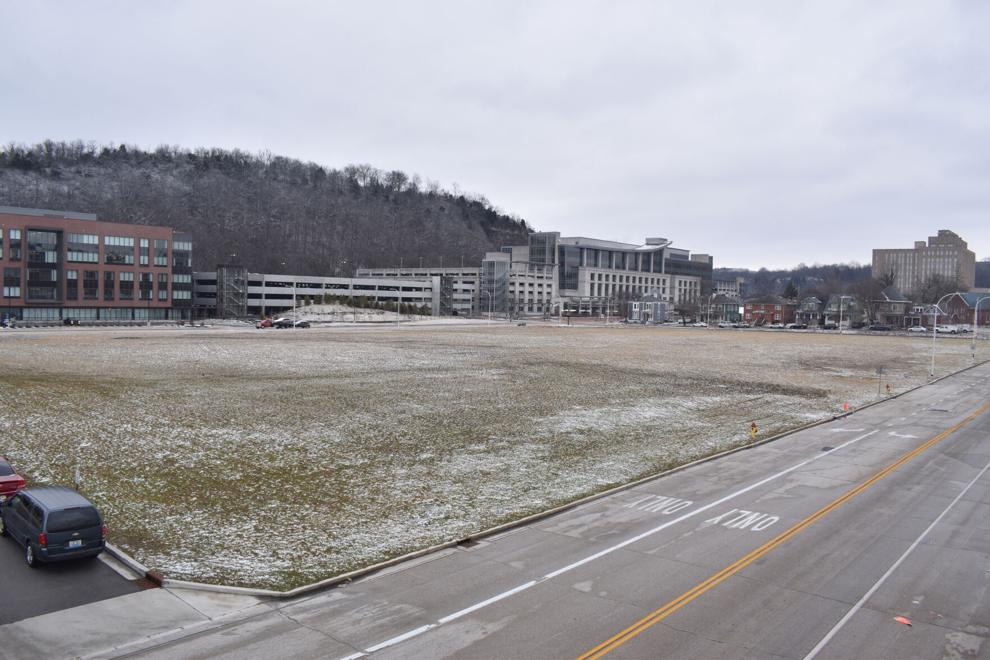 City of Frankfort officials have said that if need be they could "go it alone" on helping fund public infrastructure in the development of downtown's Parcels B and C. Still, hopes are high for financial support from the Franklin County Fiscal Court.
Tax Increment Financing, or TIF, is a process in which taxing entities like the city and county can commit future marginal tax revenues caused by a development project to reimbursing public infrastructure costs.
Some city officials have called the development proposed to take place on Parcels B and C "transformational." A majority of commission members has expressed general support for the city moving forward with a TIF proposal as well as bonding $3 million for the largest public infrastructure expense: a 300-space parking garage. City Grants Manager Rebecca Hall has said the city is likely to receive a $5.5 million grant that could cover the remaining estimated cost of the parking garage, which would satisfy the state's contractual obligation to provide parking for the Capital Plaza Hotel.
The city as well as the developer will likely seek TIF revenues from the Franklin County Fiscal Court, the second-largest local taxing district, to help fund the garage and other public infrastructure costs. Excluding the garage, other public infrastructure costs are estimated to total over $5 million.
Franklin County Judge-Executive Huston Wells said he supports the county's participation in committing some level of TIF revenues.
"I think it is a viable means to move this project forward and actually get it completed," Wells said. "So I'm very much in favor of it. There are other options, but I think this is the cleanest and easiest way to get the infrastructure paid and to help out the project."
However, most fiscal court magistrates want more information before deciding to what extent they'd participate in committing TIF revenues, or if the county would participate at all.
The State Journal spoke with five of the court's six magistrates, all of whom said they wanted more information While none was comfortable saying whether they supported or the project generally, some expressed concerns about the amount of information provided to them.
Magistrate Michael Mueller said that the county had not received a significant update on the state of the development or the county's participation since a joint meeting just over a year ago with the city commission and representatives of the developer.
Like City Commissioner Kyle Thompson, Mueller also questioned why the developer is angling to get a portion of future local tax revenue to support the project when the $1,000 purchase of the land from the state required the construction of the parking garage by April 2022.
"If other contractors knew that they weren't going to pay for that garage, how many contractors would have put a bid out for the property?" Mueller asked.
Mueller also said of TIF revenues, "A good project can be turned into a great project through the proper use of a TIF, but a TIF cannot magically transform a questionable project into a good project."
Like Mueller, Magistrates Sherry Sebastian, Scotty Tracy, Lambert Moore and J.W. Blackburn all said they needed to hear more before committing any tax dollars toward the project.
Blackburn said he needed to see something on paper before evaluating.
"I think if it's written right, it'll be a possibility," Blackburn said. "There are a lot of details that I think we still need to see ... We've got the most prime real estate, I think, in the state of Kentucky. I think if it does move forward, it's going to be because it's well-written."
Sebastian said she couldn't comment on TIF or the development without more direct information from the city or developer.
"Exactly one year ago we had a presentation, and that was it," Sebastian said. "It's very difficult to know what's changed."
Wells said that another joint meeting of all parties is likely to take place soon, but since the city has yet to hear back on its grant for the parking garage, it has not been able to hash out a development agreement.
"I know the magistrates have concerns and they've asked for a joint meeting," Wells said. "A joint meeting will be coming when everything gets closer to a stage where we can say 'OK, these are the options we have here.' We're not at that point just yet."
Tracy said that while he thinks the county should remain "open to any viable funding mechanism," he would be against any agreement that burdens taxpayers.
He said that he still had questions about the ways in which the proposed TIF district map has changed, and encouraged the city and county to conduct an independent analysis of the financial impact analysis done by Commonwealth Economics.
"I'd like to know more about the changes made to the boundary lines of the TIF development district," Tracy said. "They have changed drastically from what was originally presented to the court … . Development needs to happen. Unfortunately, the rules of the game have seemed to change over time."
Moore agreed with most other magistrates in that he wants more information to make a decision about county tax dollars.
"I don't know what's really going on," he said. "I wish it would move along, but need more information to see what we're going to do or what's going to happen."
Magistrate Marti Booth did not respond to a request for comment by press time.