The man who wants to put a big recreational-vehicle resort on South Elkhorn Creek has mounted a stronger campaign to win support from the Midway City Council, and is also buying one of the most important pieces of real estate in town.
But Andrew Hopewell says his impending purchase of the closed WesBanco bank branch has nothing to do with his request that the council annex the resort site and give it water and sewer service. "It's completely separate," he said in an interview with the Messenger.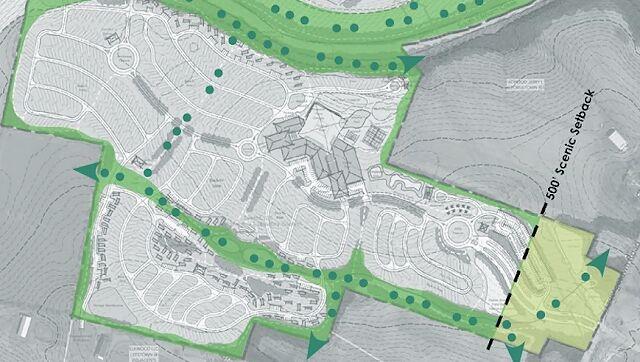 The resort project was a major topic of discussion at Monday evening's council meeting, where Hopewell representative Joey Svec announced that they would have an open house at the resort site from 6 to 8 p.m. Thursday, noted the project's 
new website
 and discussed Hopewell's big incentive for the council's approval: helping make a park of the 14 acres on the creek, recently donated to the city.
Svec said Hopewell would use the "world-class designers" of the Kentucky Bluegrass Experience Resort to create a master plan for the land donated by Mike Freeny, and would contribute $200,000 toward initial construction, including road and creek access, a pavilion and rest rooms.
After Svec and project attorney Hank Graddy left the Zoom meeting, the council conducted routine business, discussed the latest plan for a new fire and ambulance station in Midway Station and concluded with the usual roundtable among members. Council Member Logan Nance brought up Hopewell's purchase of the Wesbanco tract without naming him, but targeting the bank.
Noting that WesBanco bought a local bank, then closed the Midway branch, making life difficult for seniors who need a local bank, then placed a deed restriction on the property that prevents another financial institution from locating there for five years, Nance said "All that does is screw over the citizens of Midway... That's the opposite of a community bank, and I think it's disgusting and it should be criminal."
WesBanco did not return a call from the Messenger seeking comment.
Council Member Stacy Thurman endorsed Nance's comments and said that like him, she had stopped doing business with WesBanco.
Mayor Grayson Vandegrift thanked Nance but didn't address the topic. However, in an interview Friday, he said Hopewell's impending purchase does the resort plan no good.
"He didn't heed my advice... to consider how it would affect the community," Vandegrift said. "I know for a fact that a bank has put a really good offer in and they're being ignored; I wanted Andrew to understand what he would be walking into."
Asked how it would affect the council, Vandegrift said, "I don't want to speak for them, but I think the whole thing has become very confusing to a lot of people... How they wish to proceed forward is their decision, but I'm no longer interested in having private meetings or off-the-record discussions with them. At this point, everything needs to be public." 
Asked why, he said, "I don't feel that Andrew and Joey have operated on a straight level with me the entire time. I'm disappointed in this bank decision. I don't think that's the way to ingratiate themselves with the community." Vandegrift said he also had not heard about Hopewell's offer to help create the planned park on the creek.
When WesBanco announced its plans to close the branch and indicated it would impose a deed restriction on the property, Vandegrift openly discussed buying the building for City Hall if it could recruit another bank to occupy the current City Hall. Asked if he thought Hopewell was trying to gain leverage on that score, he said, "It didn't occur to me, but I don't do business that way."
As a parting shot to Hopewell and Svec in the interview, Vandegrift said, "They perhaps should spend more time in this community, and I don't think doing a couple weeks' public-relations tour is enough to get to know this community."
Earlier Friday, Svec said in a joint interview with Hopewell, which they solicited, "We've been listening to the community since May." That's when the resort got a conditional-use permit from the Woodford County Board of Adjustment to operate a "tourism destination expanded" in an agricultural zone.
Asked why he signed a contract to buy the bank property, Hopewell said he was "approached as an investment opportunity" by "a government official in Woodford County," whom he would not name. He said the building has many possible uses, including a tourism center for the county.
He said he didn't know of the city's interest in the tract, which the Messenger reported at the time. He said he signed the contract in late spring or early summer; Svec said he didn't think it was that early.
Hopewell said the first two phases of the resort would cost $35 million to $40 million, He declined to reveal other investors. "There are some family members, but then we have some large backing as well," from inside and outside Kentucky, he said. "But I maintain full control of the company."
Graddy, Hopewell's attorney, has argued that an RV resort is the best use of the property at this point, because if the council does not annex it and provide sewer service, the next logical use of it would be light industrial, like Midway Station across Georgetown Road from the property. Hopewell said the industrial park generates three times the traffic that the resort would. 
If he can't win City Council approval, Hopewell said, he would sell the property to someone else or develop it in another way. But he and Svec said they are committed to the project.
Svec and Hopewell said they have met individually with three council members: Nance, Thurman and Steve Simoff, who didn't join in Monday's meeting. Council Member Sara Hicks has said she would deal with them only in public, and they said they have not gotten a response from Mary Raglin or Kaye Nita Gallagher. They said Graddy and Joe Childers of Lexington, attorney for citizens who oppose the project, have not had the meeting that the lawyers said they would have.
Svec said he thought he and Hopewell were able to satisfy the three members' concern about traffic and the size of the resort, which would be one of the largest in the Eastern United States. "It was well received that these are guests in Midway" who would not stay long-term, Svec said.
 The resort's permit limits stays to six months, but "I don't anticipate people staying six months," Hopewell said. "It's just not in the business model" for a luxury resort for RVs that cost $500,000. Svec said most long-term guests "would be 30 days. You will have a few that will stay for two or three months because... they want to stay for a season."
Asked how they could prevent someone from staying six months and immediately returning, Svec said, "That's something operationally we're going to have to figure out." He said such resorts are communities in which guests look out for each other's interests and call out bad behavior.
A community forum on the resort plan is scheduled for 6 p.m. Oct. 14 at Midway University. Vandegrift has said he plans to put the issue on the agenda for the council's next meeting, at 5:30 p.m. Oct. 18.