A Frankfort entrepreneur known for his specialty coffee shop on Broadway has died.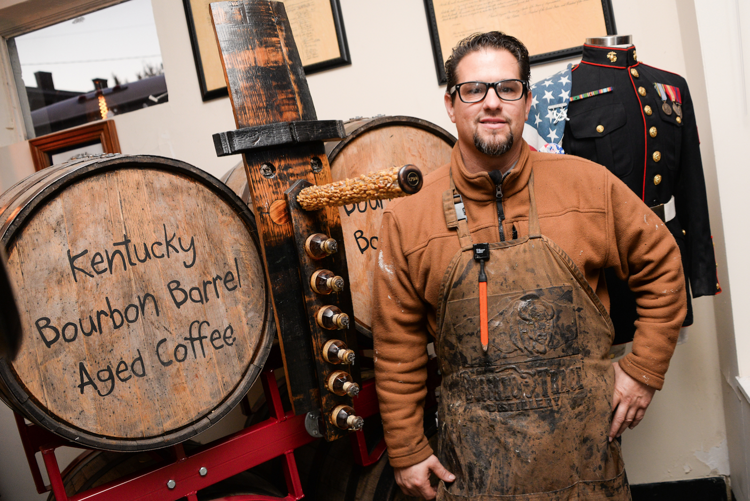 Word of Tony Davis' death spread through the community Sunday, a little more than a month after the owner of Kentucky Knows was involved in a serious motor vehicle accident.
Both the brick-and-mortar and online shops, which sent a message to customers regarding the July 10 traffic accident, have been closed since.
"As many of you know, Tony's dream is a one-man operation and for this reason, the business has had to shut down," an email to customers said.
Davis, a Lexington native, opened Kentucky Knows, which specialized in crafting a variety of coffee flavors aged in Buffalo Trace Distillery barrels, at 337 W. Broadway in late 2016 and became a fixture in the Frankfort community.
"He donated pounds of coffee to local organizations. He was transforming the Kentucky Knows building into a downtown Frankfort showplace," friend Daryl B. Casey wrote on Facebook Monday.
In fact, every customer who walked in the door was offered a free tasting of his coffee — an idea he got from Buffalo Trace's free tours.
"As a small business, that taught me that I needed to offer something to my customer to where they didn't have to feel like they needed to pay to be a part of the club," Davis told The State Journal shortly after Kentucky Knows opened.
"No matter who it is who comes in, they get special treatment, not because of who they are but because of who I am."
Davis was a proud veteran of the Marine Corps, serving in the 11th Marine Expeditionary Unit from 1994-99 — one year of which was active reserve.
It was while training in California that he visited wine barrel artisans making crafts and telling the story of the state through the wine barrel. When Davis returned home, he set out to tell the story of the Bluegrass State's spirit — bourbon.
"I wanted to be able to tell the story of Kentucky on this side of the barrel so that families who have children would want to come into my place and be enthused with what I'm doing," he said.
Neighboring business Kentucky Coffeetree Cafe said in a social media post Monday afternoon that they are saddened to hear of Davis' passing. 
"His enthusiasm for coffee and commitment to our community was evident in his craft and his dedication in building out a beautiful space," it read. "His words, 'You gotta do right when no one's watching' ring on through our community."
Funeral arrangements for Davis have not been announced.