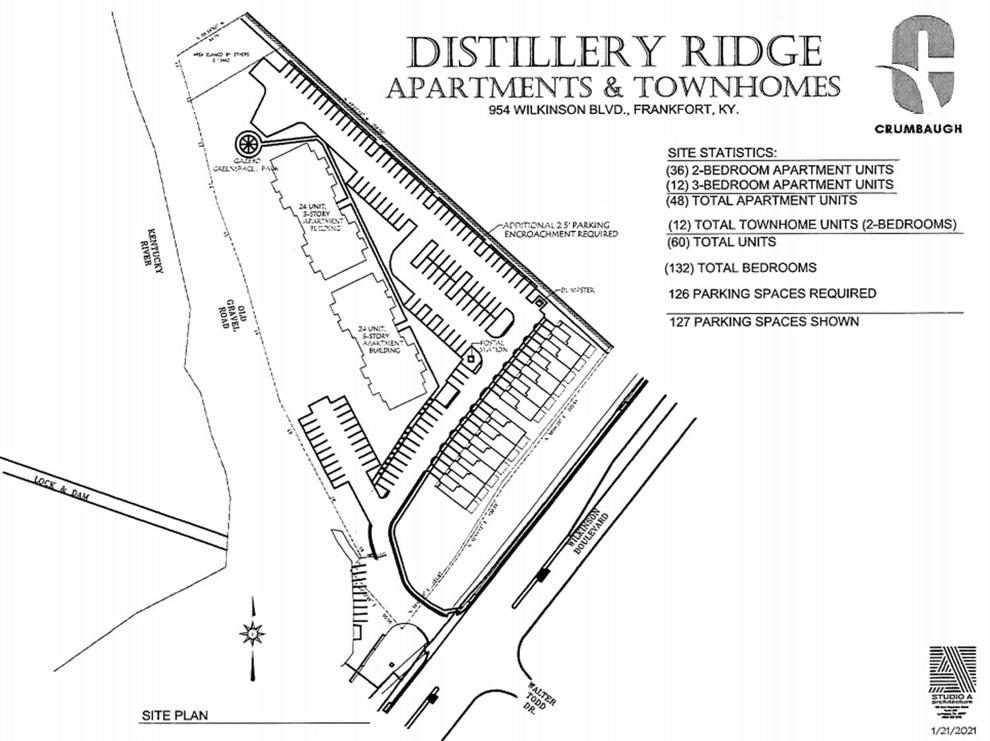 The Frankfort/Franklin County Planning Commission on Thursday unanimously approved recommending a zoning change for 3.6 acres on Wilkinson Boulevard adjacent to Jim's Seafood that developers plan to turn into multifamily housing.
Applicants Will Crumbaugh and Chris Thompson, officers of 954 Wilkinson LLC, requested a zone amendment from Low-Density Multi-Family Housing District (RL) and General Commercial District (CG) to High-Density Multifamily Housing District (RH) in order to construct a townhome and apartment complex called Distillery Ridge Apartments and Townhomes at 954 Wilkinson Blvd. overlooking the Kentucky River.
"The proposed project on the property that resulted in the zone change request is a multi-family development with 60 total units — 48 apartment units on the ridge and 12 townhome units on the front," Eric Cockley, director of planning and community development for the city, testified during Thursday's public hearing.
The land has a future land use designation of Suburban Business Center, which typically focuses on non-residential commercial development but also references appropriate residential uses, Cockley said.
"The General Commercial zone does allow multi-family land uses with a conditional use permit," he added, recommending the approval of the zone change.
Charlie Jones, attorney for 954 Wilkinson LLC, agreed with Cockley's recommendation.
"We believe because the property, as it's zoned right now, already allows for residential and even the front being commercial as high density residential," Jones said. "We still felt it would meet the comprehensive plan because of its current zoning and our intended uses of it."
The surrounding properties are zoned residential to the north; commercial to the south; residential and commercial to the east; and restaurant to the west.
According to project plans, the development will have 48 apartments, including 36 two-bedroom units and 12 three-bedroom units overlooking the Kentucky River near the lock; 12 two-bedroom townhome units; and 127 parking spaces.
Franklin County Property Valuation Administrator records show the lot was formerly owned by The Salvation Army before being sold to 954 Wilkinson LLC last February for $225,000.
The commission unanimously recommended that the zoning change be made with the condition that the final development plan comes back to the body for approval. The zoning change will next be voted on by the Frankfort City Commission.
Thursday's meeting was the first for former Mayor Bill May who was recently appointed to the planning commission by Gov. Andy Beshear.
In other business, the planning commission:
• Unanimously approved an audit conducted by Charles T. Mitchell Co.
"We issued a clean opinion and that's all that really matters," said CPA Greg Miklavcic.
• Unanimously OK'd officers for 2021. Sherron Jackson will continue as president. Russell Wright and Tim Luscher will serve as vice president and secretary/treasurer, respectively.
The commission's next meeting is set for 5:30 p.m. March 11.