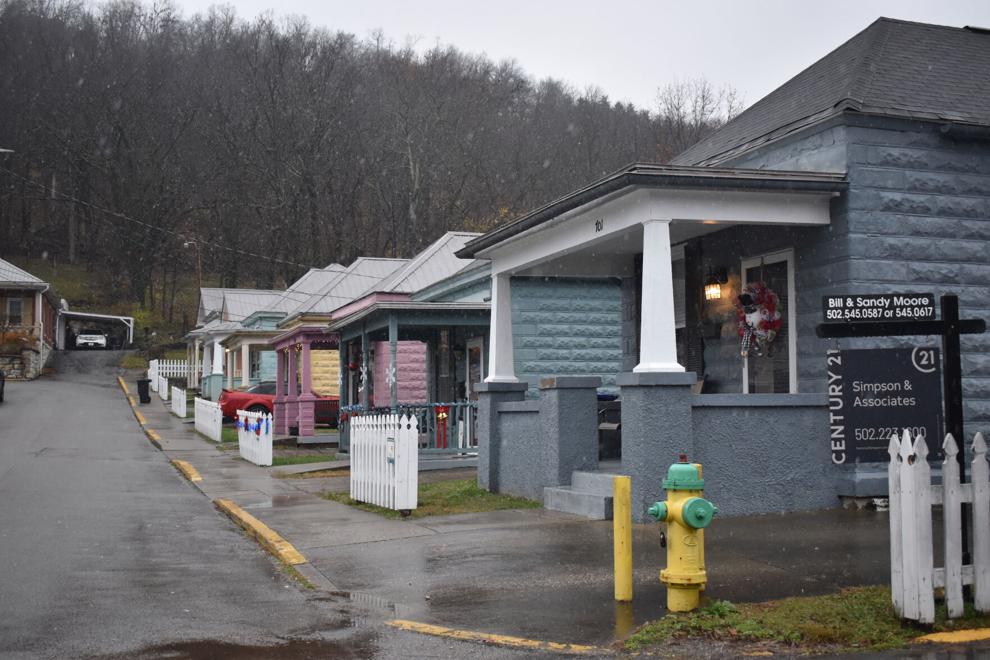 A revitalized residential corridor lined with 11 renovated homes off Holmes Street is up for sale for well over $1.4 million, according to real estate agent William Moore.
The homes were the subject of a State Journal story two years ago, as 10 of them were renovated over the course of 17 years by former Frankfort City Commissioner Kathy Carter.
All 11 — one of which Carter occupies — line Chinn Avenue, a small street that runs perpendicular to Holmes Street just a few blocks east of the intersection of Mero, High and Holmes streets.
Many of the homes have been painted in pastel colors, with similarly styled white picket fences out front.
The 10 renovated houses are all single bed and bath units, per Moore and real estate website Zillow.com. Most of the units are near 1,000 square feet. They were put up for sale last week.
"Over the years she bought all of them, rehabbed all of them," Moore said. "They were in sad shape and she did quite a bit of work on them. Now she's getting up in age to where she doesn't want to fool with the rentals and is thinking about moving."
All 11 houses are currently occupied, Moore said. He added that Carter is attempting to sell the houses all at once for the $1.4 million total, not one at a time — so they're looking to sell to an investor rather than individual homeowners.
"It's the first time I've ever been approached to do something like this," Moore said. "Other than people selling multiple units in an apartment, this is the first time that I know of where there have been that many single dwellings put on the market at the same time."
Moore noted that at one point, the City of Frankfort seemed to make Holmes Street a priority for redevelopment, but he wasn't sure about any recent efforts.
In 2018, the city applied for a $616,000 grant to study and design a "complete street" along the corridor. According to former City Manager Cindy Steinhauser, that would have included sidewalk improvements, bike lanes, better bus stops and improved entries and exits from businesses on Holmes Street.
The city did not get that grant, said Planning & Community Development Director Eric Cockley, adding that he believes the city "will keep trying."
Moore said that he has seen property values in the area start to increase.
"There are houses in that Holmes Street area selling for well over $100,000," Moore said. "People have gone in and bought some of those houses and rehabbed them to live in or sell. Some of those, for that area, have gotten up to be expensive."
The house that Carter inhabits was built by her late husband Bernie's grandfather in the early 20th century. Carter previously said the historic home has a very thick foundation, and a unique backstory.
"The porch posts, the balusters, the threshold and the window sills on the outside, those are stone. They came from the new Capitol," Carter said. "When the new Capitol was built, they had excess stone. My husband's grandfather purchased those, and those are in here in the house. That's part of the history of Frankfort."
According to the previous State Journal report, Carter faced a court battle regarding her project. The Frankfort Board of Ethics ruled that Carter had used her former position as city commissioner to receive benefits relating to the houses. In 2013, however, the Kentucky Court of Appeals overturned that ruling. 
Moore said that he has posted the properties on several websites and is reaching out to potential investors across the state.