On Wednesday, the Frankfort Area Chamber of Commerce presented the Danny A. Garland Humanitarian Award posthumously to longtime educator and former Franklin County Magistrate Don Sturgeon, who passed away late last year from COVID-19 at age 83.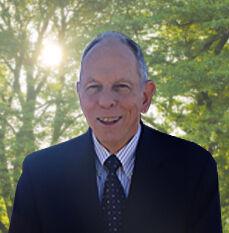 "My father would be so honored and humbled to receive this award, and I wish he could have been here to accept it rather than myself, but God had other plans," Krista Sturgeon, his daughter, said in a speech on behalf of the family, including his wife, Pam, and son, Ryan.
Before he stepped into the fiscal court room, Don Sturgeon spent 42 years in the classroom as a teacher at Franklin County High School.
"As an educator, he respected his students and found ways to motivate them. In doing so he earned the respect of his students, which later turned into respect for fellow citizens and community leaders," said Clay Hulette, Frankfort president of First Federal Savings Bank of Kentucky, who presented the Humanitarian Award.
"He taught students so well that he sparked fires in many of them to follow his path into teaching."
Sturgeon also served as swim coach, gymnastics coach, athletic director and the first academic team coach during his tenure at FCHS.
For his service in teaching he was the first recipient of the John Ed McConnell Extra Mile Award. He later presented the award annually. He was also a 12-time member of the All-American Honorary Faculty.
Sturgeon served as 3rd District magistrate on the Franklin County Fiscal Court for 12 years. He served on the Capital Plaza Development Advisory Committee, the Frankfort Human Rights Commission, the Franklin County Ethics Commission, the Health Insurance and Employer Benefit Committee, Home Health Advisory Board, Franklin County High School Youth Service Board and the Lakeview Park Board.
"He was known for his intellect and well thought-out positions on a variety of subjects including governing," Hulette added.
The splash pad at Lakeview Park, a project he supported, is named in his honor.
In closing, Krista Sturgeon urged everyone to stay safe.
"Wearing a mask is not a political statement," she said. "It's a public health statement."
The Danny A. Garland Humanitarian Award is sponsored by First Federal Savings Bank of Kentucky.