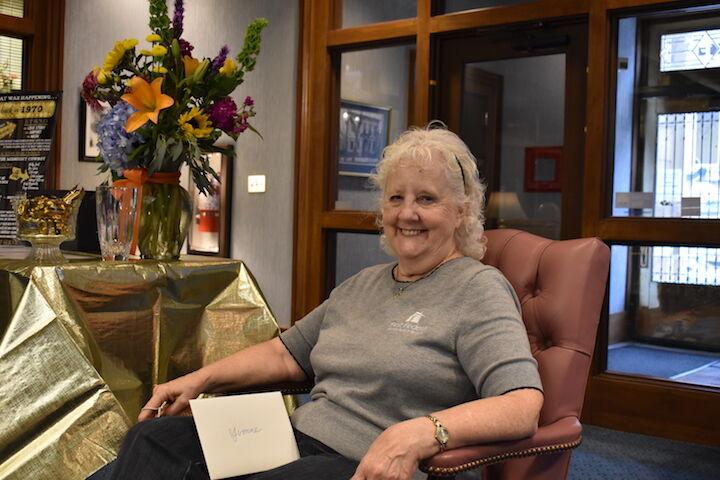 When Yvonne Thornberry graduated from Anderson County High School in 1970, all she was looking for was a job.
What she found was a career.
Thornberry went to work at First Federal Savings Bank of Kentucky right after graduation, and on Friday she was honored for her 50 years of employment at the bank.
"My grandmother ran a restaurant and I worked there, but when I graduated high school I was trying to find a job," Thornberry said.
"My grandmother was a customer here (First Federal), and she said, 'Mr. (Carl) Kagin, I've got a granddaughter who just graduated from high school. Don't you have something she can do?'"
Kagin, who during his career at First Federal served as president and chairman of the board, did have something for Thornberry to do, and that began her 50-year career at First Federal.
"I've always been in the loan department," said Thornberry, who is now a vice president and head of loan servicing. "I process loans, take care of insurance, pay escrows."
When she started at First Federal, the work was all done on paper, and during her tenure it moved to computers.
"It's been pretty frustrating at times, but I love a challenge," Thornberry said. "I've been through several systems and we're going to another one, whenever this COVID is gone, but I'm excited about that one. They say it's easier and user friendly."
That attitude has been a constant during Thornberry's career.
"She was ready and eager to go to work," said Joyce Jennings, who was a vice president at First Federal prior to her retirement.
"From the very first day on the scene, she had a desire and determination to learn every phase of the loan department," Jennings added. "She accomplished this very well and became the go-to person for information and help in this department. Yvonne has managed this department well and trained many new employees during her tenure."
Thornberry has no plans to retire, and that's fine with the staff at First Federal.
"Nobody else has the knowledge she has," said Teresa Hulette, executive vice president. "She's easy to work with; she's very reliable and dependable. We almost have to make her take off."
Helping Thornberry celebrate Friday was her boyfriend, Jerry Purcell. Thornberry, who lives in Lawrenceburg, has one son and three grandchildren.
During her 50 years at First Federal, Thornberry hasn't thought of looking for another job.
"I enjoy the work," she said, "and the people are awesome."