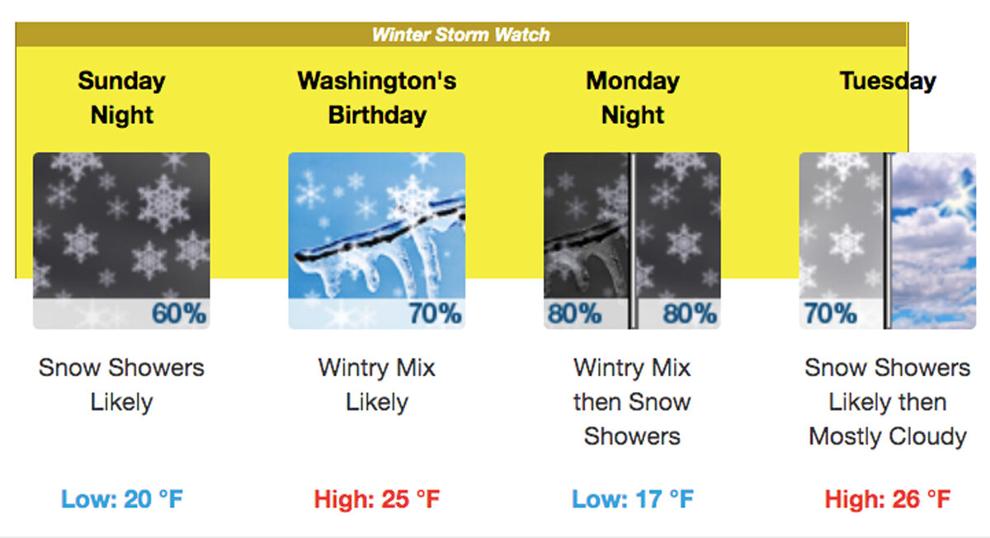 It looks like the groundhog was right in his prediction of six more weeks of winter — at least for the next week.
The National Weather Service in Louisville has issued a winter storm watch for Franklin and surrounding counties from 7 p.m. Sunday through 1 p.m. Tuesday.
"A winter storm will bring two waves of wintry precipitation to the region Sunday night through Tuesday," NWS said in a winter weather message.
"There could be significant accumulations of snow, sleet and possibly freezing rain. The heaviest precipitation is expected to occur Monday afternoon into Monday night."
According to the forecast, temperatures may not get above freezing until next Friday, when the predicted high is 33.
Cloudy skies are expected Saturday with a daytime high of 32 and overnight low near 21.
On Sunday there is a 20% chance of snow after 1 p.m. with a high near 31. Snow showers are likely, possibly mixing with freezing rain, Sunday night with a low of 20. New snow accumulation of less than an inch possible.
There is a 70% chance of snow showers, possibly mixing with freezing rain, Monday with a high temperature of 25. Monday night precipitation will become all snow with overnight lows around 17.
Tuesday expect partly cloudy skies with a high near 26 and overnight low around 10.
"Total snow accumulations of 4 inches or more is possible. Ice accumulations exceeding a tenth of an inch over portions of the area are also possible," NWS said.
"Travel could be difficult to impossible at times. Power outages are possible due to snow and previous ice accumulations on trees and power lines."
Another system is expected to bring wintry weather Wednesday night into Thursday.