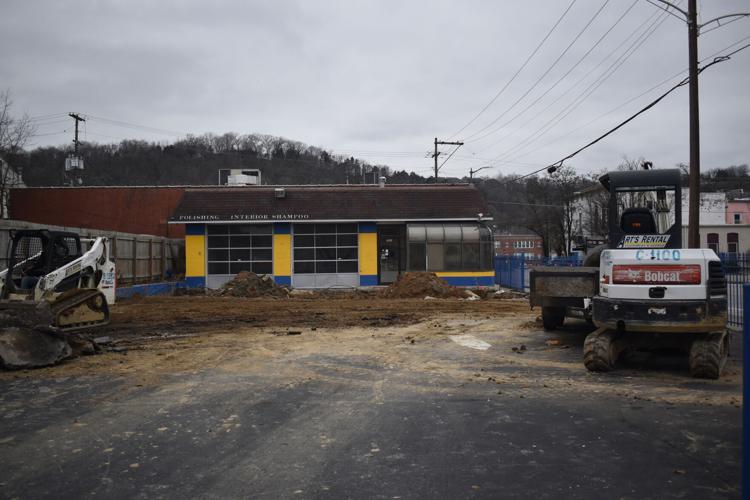 Frankfort business owner Jeevanjit "Jeevan" Malli can't make any promises as to what will become of it, but work at what used to be Walkers Car Wash on Second Street is well underway to make room for what he intends to be a convenience store.
Currently, an excavator is digging up a sizable portion of the existing parking lot to make way for an extended indoor space at the intersection of Second and Steele streets. The development plans for that extension, which would add 16 feet to the front of the building and create a drive-thru window, were approved by the city's planning staff in December.
Malli said Wednesday that he was "90% sure" that he would be able to put a convenience store there, but that depends on whether he can get another building in which to operate a liquor store. Currently, he's waiting on an appraisal for another property on Louisville Road for a potential liquor store.
Since state liquor licenses, one of which Malli possesses, expire if not used, Malli indicated that it's possible he would make the Second Street location a liquor store in order to keep the valuable license.
Malli said that the offering at a convenience store in that location would be similar to a fully stocked gas station, like the one he currently operates: the BP gas station at Devil's Hollow Access Road and the West Frankfort Connector.
"I'm not looking to open a Pic-Pac or anything like that," Mallis said. "So there won't be much grocery, but bread, milk and hopefully eggs — all that will be there."
Malli is listed as the registered agent for Frankfort Property Holdings LLC, which now owns a liquor store on Holmes Street as well as the Second Street property.
The Second Street corridor that includes Malli's property is undergoing a significant redesign thanks to the city's $8 million TIGER Grant from the federal government.
The old car wash and potential convenience store also sits directly next to the ACCESS Men's Soup Kitchen & Shelter. Late last year, a shelter worker, Robin Jones, was murdered by a resident.
In a previous interview Malli said that hopes a convenience store in the area could fill a need for people hoping to grab a quick bite to eat or something to drink in the wake of Pic-Pac's closing.
"I'm excited," Malli said. "It's been a little slow getting off the ground because of COVID, but this property could really be something good for the community, I think."