Seven children are safe after an alleged drunk driver hit their school bus Tuesday afternoon.
Tina S. Boyle, 54, of Frankfort, is charged with operating a motor vehicle under the influence of alcohol/drugs/etc (first offense), reckless driving and possession of an open alcoholic beverage in a motor vehicle, according to a Franklin County Sheriff's Office citation.
At around 3:30 p.m., deputies were dispatched to the scene of the accident on U.S. 127 North at Swallowfield Road where Boyle's vehicle had collided with Franklin County Schools bus No. 29.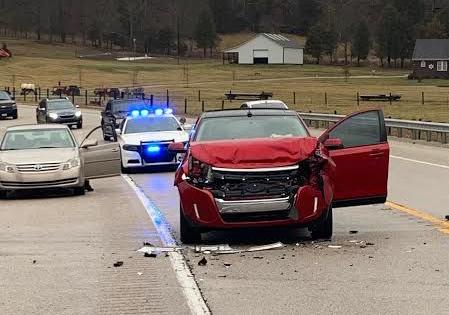 An off duty officer from another department who stopped at the scene told the Franklin County Sheriff's Office that the driver of the vehicle admitted to drinking alcohol.
According to the citation, Boyle admitted to drinking half a bottle of rum before getting behind the wheel of her car. The deputy noted they could smell alcohol on Boyle's breath.
Boyle then consented to a field sobriety test.
Franklin County Schools Superintendent Mark Kopp said the positive outcome is all thanks to veteran bus driver Michelle Grimes.
"Our bus driver did a wonderful job," Kopp said "Our bus driver saw the car coming in the rear view mirror. She was actually about to drop a student off, but closed the door and pulled up, minimizing the impact."
Grimes has been a school bus driver for FCS for nearly 25 years.
Kopp confirmed Grimes and the students onboard the bus were not injured in the collision. As for the bus, Kopp said there is minimal damage.
"We're obviously very fortunate," Kopp said.
Franklin County Sheriff Chris Quire agreed that the incident could have been much worse.
"We are lucky in so many ways," Quire said. "... We're glad no one was injured."
Kopp said after the incident, another bus was called to pick the students up and parents were notified.
Kopp said Grimes and the school system's director of transportation, Brad McKinney, followed all safety procedures and did an amazing job handling the situation.
As of Tuesday night at 9:41 p.m., Boyle's mugshot and bond information was not available.
Quire said it is possible Boyle will face additional charges.