Vanee Coleman's co-workers in the pharmacy department at Kroger in Brighton Park Shopping Center gave her wide-eyed quizzical looks as she and Franklin County Sheriff's Deputy Joe Saunier walked out the automatic doors Friday morning.
In the parking lot, Saunier opened the door of a white 1995 Mercury Grand Marquis, but instead of reaching for his handcuffs, he dug deep into the front pocket of his uniform pants and pulled out a set of car keys, which he handed to an ecstatic Coleman.
"This is the nicest thing anybody has ever done for me," she said of the car Saunier had just given her. "This is literally an act of God. I don't know anybody this generous."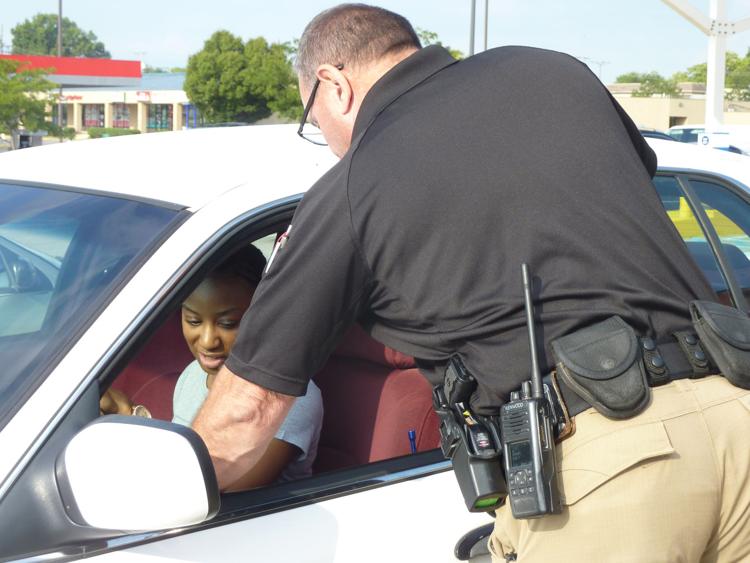 Though an older-model sedan, the vehicle has just 121,000 miles and was well maintained by its sole previous owner. Saunier said he put more than $5,000 worth of work into fixing it up.
"The heat and the air (conditioning) works," he said. "That'll get her around town."
To truly appreciate the gravity of his gift, let's rewind to a few weeks ago in the afternoon pickup line at Bridgeport Elementary. While waiting on her 8-year-old daughter, Glorynel, Coleman's car broke down — and so did she.
Saunier, who works as a school resource officer, stepped in to help and figured out it was the car's battery. What Coleman thought would be a simple jump turned into something much more. He followed her to an auto repair shop in town and paid for her new battery.
"She was in tears and when she shared her story with me it hit me hard," he added.
Coleman, who works as a pharmacy technician at Kroger, and her husband, Lon, who was recently hired in the Shelby County Public Schools, are recent Kentucky State University graduates with full-time jobs raising a young daughter. They are also saddled with college debt and unable to afford a car payment.
It wasn't long after the new battery was installed — about a day or two later — that the alternator in Coleman's vehicle went out. At that point, Saunier figured the unsafe car wasn't worth fixing.
"They're hard workers," he said of the Colemans, whom he refers to as family. "I am at place where I can give back and that's what I am trying to do."
"Mindblown" by Saunier's generosity, Coleman took the car for a spin around the parking lot before heading inside to grab her purse. Almost instantly, her co-workers gathered around, hoping to hear the scoop about why a law enforcement officer had just escorted her outside.
"He gave me a car," she said, holding up the set of keys as proof for their shocked faces.