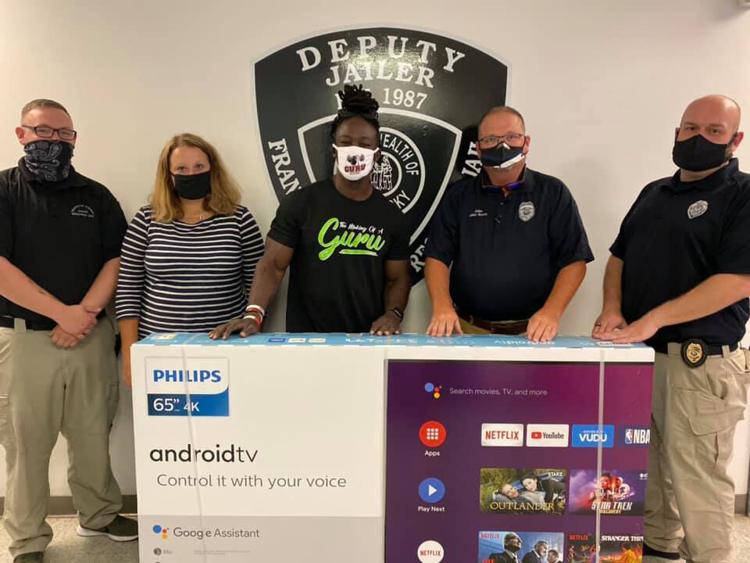 For the last four months, there haven't been church services, educational classes or support groups meeting at the Franklin County Regional Jail, thanks to the coronavirus.
Things are about to change, after the Wanda Joyce Robinson Foundation gave a 65-inch smart television to the facility this week.
Franklin County Jailer Jake Banta said the donation was made Wednesday, and was unexpected.
"We were meeting on a program we'll do later in the year," Banta said.
The decision to make the donation was made on the spur of the moment.
"We didn't intend to buy a television," Foundation co-founder Amy Snow said. "In the conversation, they mentioned the need and I said, 'We can take care of that today."
Banta said the jail would purchase a laptop computer to use for the meetings.
"What I want to do is get my classes started back with GED and Alcoholics Anonymous," Banta said. "Since COVID, we have stopped those."
Prior to COVID and the associated health concerns, Banta said there were programs going on inside the jail daily, from church services to education and other support groups. When things began closing for COVID, jail visitors and programs stopped.
Snow said the television would also help the foundation resume its virtual visits between children and their incarcerated parents. She said she asked if the jail could do church services virtually, but Banta said the jail only had tablet computers, which were hard to use in church services with social distancing.
Buying the television, she said, was an obvious decision.
Being able to resume those services, even at a lower level, is important, he said. 
"It will look different. It may be smaller and less often, but something is better than nothing. We want to get some of that back."
Founded by Frankfort's Dale Robinson and Snow, the Wanda Joyce Robinson Foundation focuses on serving children who have been affected by incarceration. It also provides mentors to children and those who are incarcerated, and offers support programs to parents and caregivers.