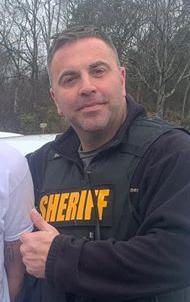 Franklin County Sheriff's Deputy Jeff Farmer has filed a defamation lawsuit against all five Franklin County public defenders for damages exceeding $1 million. 
The federal lawsuit claims that the public defenders "engaged in a vile, baseless, and vicious attack" when they circulated a letter critical of Farmer's police conduct and his attendance at the pro-Trump Washington, D.C., rally that preceded a siege of the U.S. Capitol.
Four attorneys, led by Northern Kentucky litigator Chris Wiest, filed the suit in U.S. District Court of Eastern Kentucky. The case has been assigned to Judge Karen Caldwell. Since the beginning of the COVID-19 pandemic, Wiest has filed several high-profile lawsuits challenging government COVID-19 restrictions.
"We knew that the public defenders' letter was chock full of lies," Wiest said. "You just can't go around defaming people, so we're gonna do something about it."
The contents of the investigation have been called into question by the public defenders, who pointed out that Carl Christiansen — a retired FBI agent who conducted the investigation — did not interview multiple people who claim to have been traumatized by Farmer's actions. The defenders were also critical of several of Christiansen's methods, implications and conclusions contained in his investigation report.
The five defenders are Patrick Brennan, Cheyla Bush, Valerie Church, Kristin Gonzalez and Nathan Goodrich.
In the lawsuit, Wiest frequently cites that report and excoriates the defenders' letter, as well as their attempts to spread the contents of the letter across traditional media and social media. He called their actions "evil."
"Detective Farmer further seeks punitive damages against Defendants since the actions complained of were motivated by evil motive or intent and/or involved reckless or callous indifference to the federally protected rights of Plaintiff," the complaint reads.
Wiest also says that the defenders' actions infringed on Farmer's constitutional rights.
"Defendants' intentional and widespread release of their letter, all in retaliation for merely attending a rally protected under the First Amendment, is designed to deter Plaintiff, and others in his position, into not engaging in First Amendment protected activities; all of which would deter a person of ordinary firmness from continuing to engage in such protected conduct and speech," the complaint reads.
The complaint states that Farmer, of Versailles, has "suffered personal harassment" and that his children have been "attacked and harassed at their school" due to the public defenders' letter.
An angle pursued in both a press release regarding the lawsuit and the lawsuit itself is that the defenders' letter was written in retaliation for a 2014 drug charge against William Brad McGaughey, Gonzalez's current husband. 
In 2016, McGaughey was sentenced to 12 months probation for criminal attempt to possess a controlled substance, possession of marijuana and paraphernalia charges. McGaughey is a former Franklin Circuit Court deputy clerk and was accused of having sent internal police documents to a drug dealer, per a State Journal report from 2014.
The lawsuit alleges that Gonzalez has held a grudge against Farmer for his alleged involvement in McGaughey's case. They cite a text from Gonzalez in which she claims she has made it a "mission to screw with Farmer" and former members of the sheriff's office.
Gonzalez did not deny that the text was hers, but did call the suit's implications "preposterous."
"If they are naming myself and my husband to try and prove some kind of personal vendetta on my part that would go back almost 7 years, that is absolutely preposterous, not to mention inaccurate," Gonzalez said. "I was not 'dating' my husband at the time for one, nor did I believe Farmer to be any part of the mentioned investigation, so it would make no sense for 'a vendetta' to be waged upon Farmer alleging that as the motivation."
The State Journal reached out to the other four public defenders for comment on the suit, but has yet to receive a response.
The attorney's press release lauds Farmer's "exemplary" police record, particularly with regards to his drug investigations.
"Detective Farmer's work with the Franklin County Sheriff's Office has been exemplary," it reads. "Twice he was named Deputy of the Year by the Department. His case work has substantially reduced drug trafficking activity in Franklin County, Kentucky. He has been the recipient of numerous letters of commendation in his time with the sheriff's office."