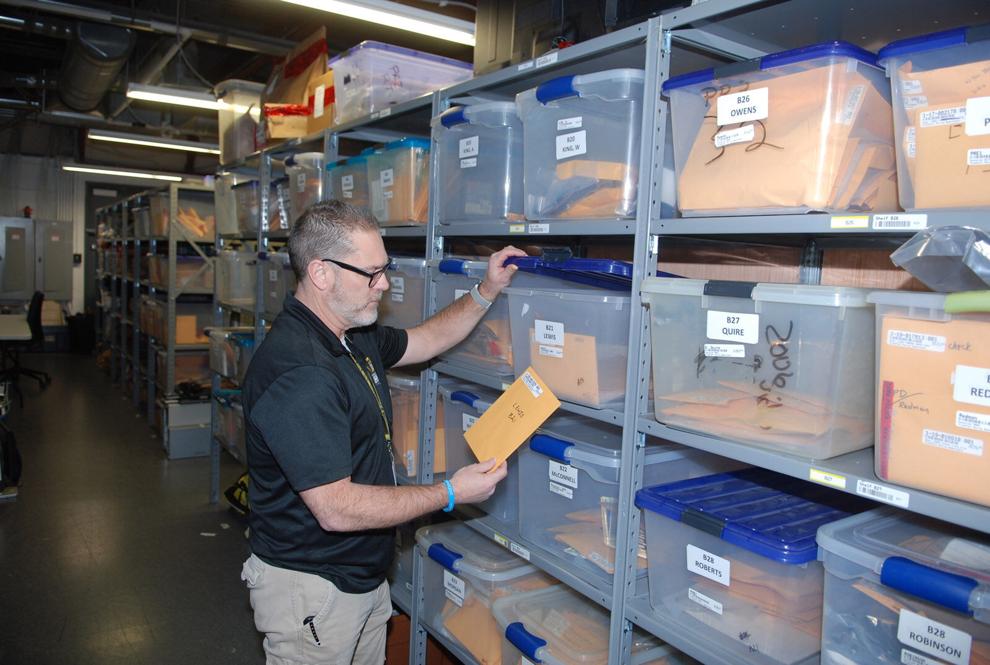 Walk into the evidence room at the Franklin County Sheriff's Office and there is one overwhelming, immediate aroma.
Eventually, the plants, along with all drugs seized by county deputies and the Frankfort Police Department, will be destroyed once the case is resolved and the presiding judge signs an order.
Both agencies store thousands upon thousands of items in their evidence vaults. While many are connected to cases, a lot of recovered property ends up there as well, items people found out in the community. 
Evidence is defined as "that which tends to prove or disprove something." And evidence can be anything.
While drugs, weapons and firearms constitute common evidence, all manner of things end up in the evidence rooms. Sets of golf clubs. Televisions. Air compressors. Tools of all kinds. Even a bed frame.
Everything is tagged and listed as evidence.
More coming in than going out
Between the two agencies, there are thousands of items in storage in evidence facilities in their respective offices.
Both use specific software to record, log and track every item that comes in.
"About four to five years ago, we went to a system called Evidence Tracker," FCSO Capt. Shane Weber said. "As of Wednesday, the total number of items is about 17,000. We've probably got between 5,000 and 6,000 pieces of evidence."
The departments use a similar process for handling evidence. Both have a set of pass-through lockers. The officers and deputies will record a piece of evidence into a computer, which generates identifying information used to track the item. It is then bagged and placed in a locker, which is then locked. 
Evidence techs can then open the locker from the opposite side inside the evidence room.
"He assigns it a permanent place in the evidence room," Weber said. "Guns and drugs are stored separately from everything else. If we take in money, it is processed and deposited in an evidence account. It all gets deposited under that case number."
Frankfort Assistant Police Chief Lynn Aubrey said within the department's bulk evidence room, there are separate vaults designated for drugs, weapons and valuables.
Access to the evidence rooms is highly restricted. Weber said only he and the evidence tech have keys. Aubrey said there are three layers of security to go through, and a limited number of keys.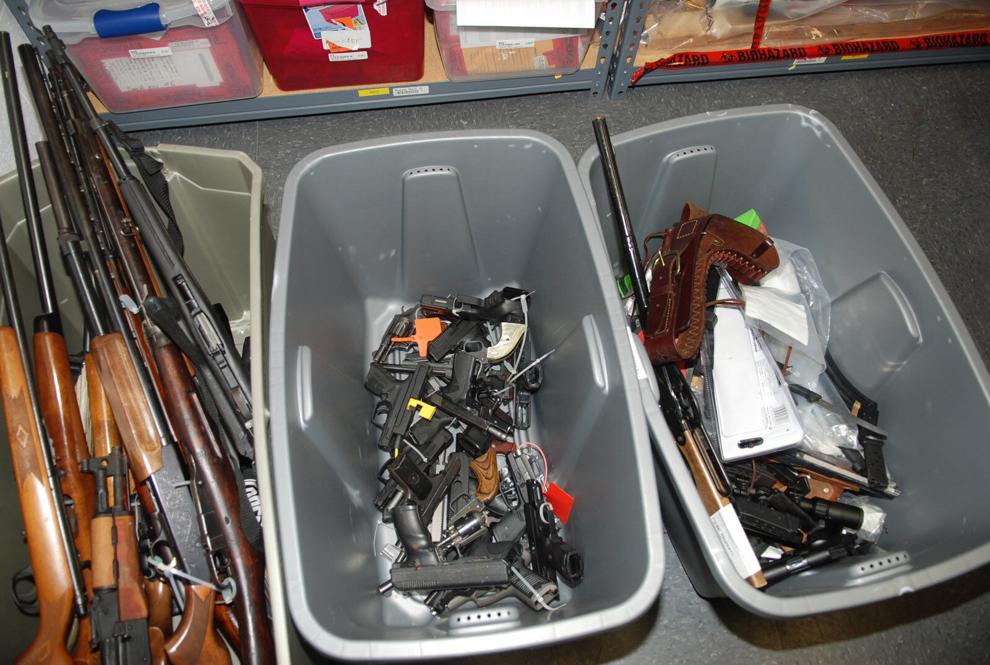 Maintaining integrity
Weber called maintaining the evidence the most responsible job in the department.
"That's where you have to find the right person to do it," he said. "You talk about integrity. It's a risky job. These guys have more responsibility than the guys on the road."
Both agencies employ part-time civilians to maintain the evidence and records. At FPD, the evidence technicians also maintain the department's body camera and dash camera archives and equipment, Aubrey said. 
The sheriff's office is transitioning to a new evidence tech. After 11 years with the FCSO and more years in charge of evidence for the state police, Bowman Stone is training his successor, Dwayne Depp.
When the new sheriff's office was renovated in 2016, part of the basement was dedicated for evidence, including a separate vault for firearms and other items.
The room is now filled with metal shelving, each loaded with plastic containers and other items. The FPD's room looks similar, with rows of metal shelves.
"There's a combination of anything in here that could be stolen or found," Depp said. "The interesting thing to me is it looks like we've got plenty of space. Since I've been here, the sheriff bought four shelves. They're already half full."
Frankfort's techs, Tom Bell and Steve Parker, previously worked for the Kentucky Attorney General's Office and the Richmond Police Department, respectively.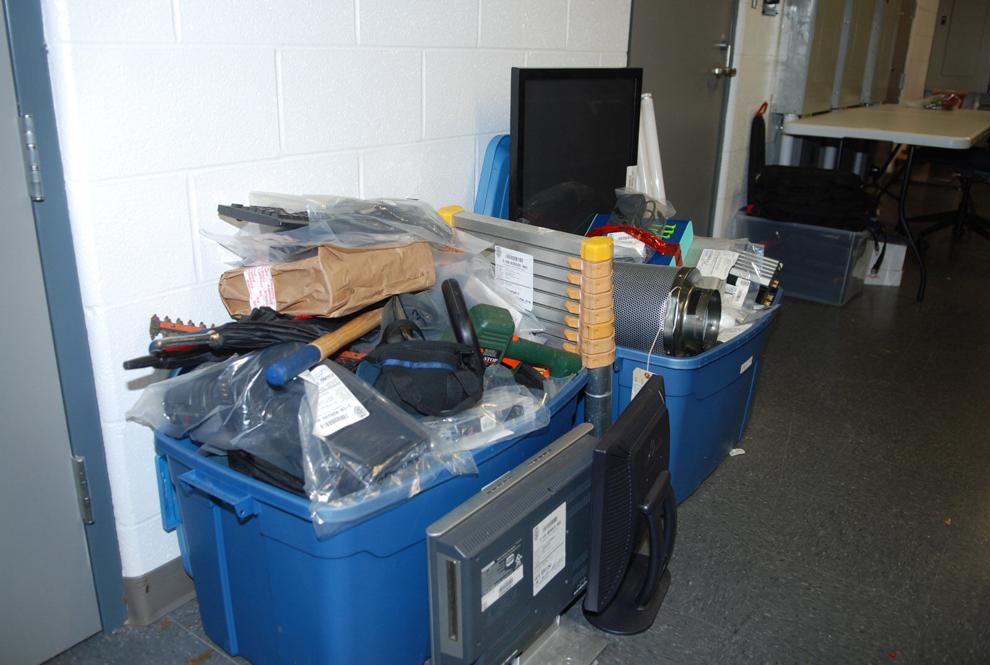 Space management
With limited space for storage, maintaining space is a key function.
Retention guidelines can vary depending on the case and item. Aubrey and Weber said evidence from sexual offense cases must be kept for at least 10 years, even if a case is not prosecuted.
Nothing leaves the evidence room permanently without a court order.
"Some things we'll keep forever," Aubrey said. "It just depends on the case. We keep murder case (evidence) because there's so much involved."
"Until we get a court order, we keep it," Weber said. "If the court says keep it forever, we keep it forever."
Space, though, can be at a premium. Bell said the department has become proactive about the situation, contacting the court system and prosecutors as cases are resolved to see if property can be released or disposed.
That process, he said, has been fairly successful, though COVID-19 has hampered some of those efforts.
Presently there are three plastic tubs with handguns destined to be destroyed by state police, and three other tubs with unclaimed property.
"We try to return found property if we have it," Bell said. "After 120 days without being claimed, we'll add it to the auction list or destroy it."
Aubrey said she'd like to see movable shelving installed, to further maximize the space available.
"We're already getting full," she said. 
Forfeiture
Sometimes, property will be forfeited to the agency for its use.
"Years ago, we took in a big diesel truck we used for a while" following a drug arrest, Weber said. Deputies added a decal to the back of the truck saying, "Donated by a local drug dealer," he said.
The court can order property or money seized in cases to be forfeited to the departments involved, which can then be used for other needs. Vehicles have been surrendered and used for undercover work.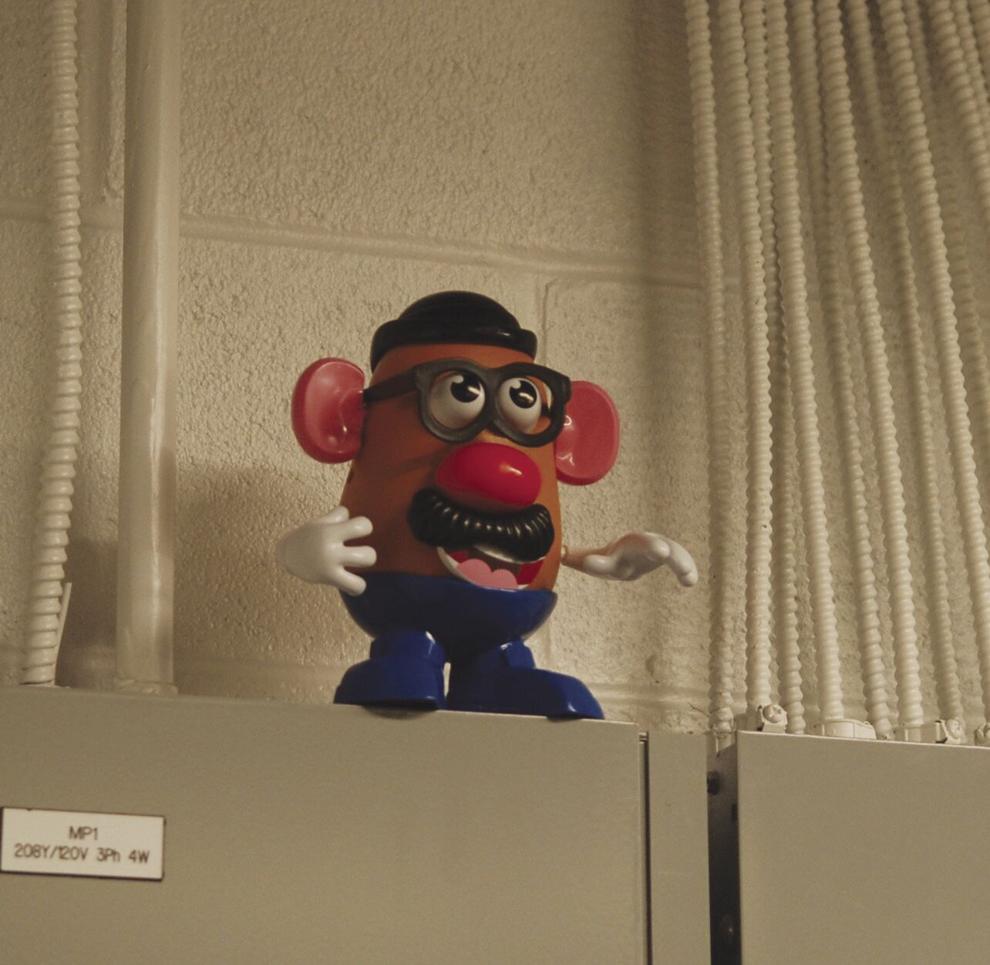 A little of everything
Evidence does not have to be tied to a specific case to enter the evidence room.
Bell said people will call police if they find anything, whether a bank card or a phone or a wallet, out in the community. 
Everything, it seems, ends up in the evidence room at some point.
"The drugs are the most prevalent," he said. "You may have one baggie of marijuana and 15 other items (from the same arrest) out here."
Weber said deputies recently worked a domestic violence case that required confiscating 42 firearms, which are presently on shelves in the evidence room.
"If we have 42 guns, that's 42 tracking numbers," he said.
Domestic violence orders are valid for three years, so those 42 firearms must be kept for three years or until a judge signs an order, he said.
"We've taken in swords, homemade hatchets and all kinds of weird stuff," Weber said.
Stone said the 2013 distillery thefts topped his list for unusual items. Seventeen barrels of Wild Turkey, a stainless steel barrel of Eagle Rare, nine stainless steel barrels from Buffalo Trace plus 20 cases of Pappy Van Winkle and 50 to 70 cases of Eagle Rare all wound up in the FCSO evidence room. The liquor alone was valued at more than $100,000.
"It was the barrels," Stone said. "There was also drugs, marijuana and guns involved. There were 115 items involved in that case alone."
During storage, a problem developed, though.
"The barrels that were brought in, they began seeping," Stone said. "The distillery sent an employee who drilled holes and fixed the leaks. They have their process."
The liquor, he said, was eventually returned to the distillery.
"We've had some silly stuff," Aubrey said. "We had a case of Budweiser beer that stayed in there for 10 years. They took it off a group of juveniles and it just stayed in."
It was eventually destroyed.
Then there's Mr. Potato Head.
Sitting atop an electrical panel in FPD's evidence vault, the toy keeps watch over the evidence room.
"I couldn't throw him away," Bell said. "He's become our mascot."