The former Franklin County High School guidance counselor accused of bringing a gun to school last spring filed a federal civil lawsuit against the Franklin County Schools Board of Education, FCS Superintendent Mark Kopp and two of her previous co-workers in U.S. District Court for the Eastern District of Kentucky.
Holly Elizabeth Lawson, 38, was arrested and charged with unlawful possession of a weapon on school property, a Class D felony, prior to the start of the school day on May 5, 2021.
According to her arrest citation, school administrators and local law enforcement confronted her about having a Smith & Wesson 9mm handgun in her purse while on school property.
Lawson reportedly told Franklin County Sheriff's deputies that she put the gun in her purse when she and her husband took a weekend getaway to Owensboro for a Kentucky Derby party and forgot to remove the firearm when she returned home.
Her arrest citation noted that she "does not recall any conversations with staff about her carrying her firearm at school but staff has stated Mrs. Lawson bragged about bringing her firearm to school."
After receiving consent from Lawson, a deputy removed the handgun, which was found secured in a nylon holster, from her purse.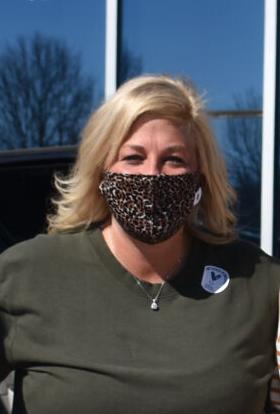 Shortly after the incident, Kopp, who said a report came into central office the evening before when Lawson was no longer on school property, released a statement to parents.
"After school hours yesterday, we received a report that a certified employee at Franklin County High School may have had a weapon in their possession. We met the employee when they arrived at school before the start of the regular school day today and escorted the employee immediately to the School Resource Officer's office. We questioned the employee, who admitted to having the weapon. The employee was then immediately taken into custody and escorted from school property to the Franklin County Sheriff's office. At no time were students or staff in danger," the statement read.
When The State Journal asked about the incident, Kopp said he arrived at FCHS at 7 a.m. on May 5, 2021 "just to make sure I was there before it opened."
"The most important thing is at no point was any student or staff in danger," Kopp told the newspaper.
Court records indicate that though Lawson was charged in the matter, she was never indicted on the charge.
Lawson's lawsuit
In addition to the FCS Board of Education and Kopp, Lawson names Kayla Creely, a guidance counselor at FCHS, and Lori Franke, FCHS registrar, as defendants in the suit, which was filed on May 1.
Kopp, Creely and Franke are being sued in both their individual and personal capacity. The FCS Board of Education is named as a defendant because it employed all three and Lawson at the time of the incident.
Lawson's lawsuit stems from "an unlawful, unconsented to, warrantless search" of her closed purse within her closed, private office by Creely and Franke on May 4, 2021.
She also claims "unlawful detention and subsequent warrantless search of the same purse" by Kopp followed by defamation of the superintendent to news sources "following and in the aftermath of that illegal search pursuant to a custom, policy and practice" of the FCS Board of Education and "with the consent, personal participation and cooperation of Kopp."
Her attorney, Christopher Wiest, contends that Lawson has a permit to carry a concealed firearm, which she regularly did for purposes of self-defense.
"She routinely would lock the firearm in her vehicle, as permitted by Kentucky law, on school grounds," the suit states.
On the weekend of May 1-2, 2021, Lawson had the gun in her purse, which is described as "a fairly large bag, and had, among other things, her wallet, a pair of blue jeans and other items."
On May 4, 2021, Lawson, having forgotten that the firearm was in the bottom, carried the bag into the school.
The suit also indicates Lawson has a prescription for anxiety medication that she would occasionally take and Franke and/or Creely observed her take one of those pills that day.
"They had no reason or justification to believe that there was anything untoward or illegal about the use of this prescription," it adds.
When she left later that day, her purse was "under her desk and outside any possible view unless the office had been accessed or searched." The suit notes that her office was fully enclosed with a locking door and not shared with anyone else.
Lawson claims that after she left Creely, who had a key to her office, and Franke "entered her office without her permission, opened her purse and began to conduct an illegal search of that purse, rifling through its contents and ultimately locating the firearm."
Per the lawsuit, the pair then allegedly reported it to a district social worker who passed along the information to Kopp, who met Lawson at the front door of FCHS the next day and escorted her to an office where the school resource officer — an FCSO deputy — was present.
The suit contends that once she was in that office, the superintendent blocked the exit and Lawson was detained — against her will — for more than 20 minutes.
She also claims Kopp questioned her, despite "being in custody," without any advisement of her rights and obtained her purse and "in her presence and without her consent directed her to open and empty the contents," which is when the firearm was located. Lawson contends the search was done without a warrant, probable cause or warrant exception.
Lawson said Kopp had her arrested for a violation of KRS 527.070, the statute for unlawfully possessing a weapon on school property.
According to her lawsuit, the superintendent suspended Lawson's employment following the incident and told her to resign or be terminated.
Her Facebook page indicates she had been employed with FCS since 2013. It appears she began the 2021-22 school year in a position at Grant County High School before becoming the director of special education at Carroll County Public Schools.
"Plaintiff's charges were dropped and not billed by the Franklin County grand jury (perhaps because of the illegal search that tainted the entire matter or perhaps because of plaintiff's statements that she did not realize she had the firearm and Kentucky law had an intent requirement regarding possession of firearms on school property)," the suit says.
"There being no school board policy that prevented or restrained Kopp's actions, as the superintendent, Kopp had final policy-making authority for the Defendant Board, and utilized it to engage in the foregoing illegal searches, seizures and questioning of the plaintiff."
Lawson claims her Fourth Amendment rights, which protect citizens from unreasonable searches and seizures by the government, were violated by Creely, Franke, Kopp and ultimately the FCS Board of Education.
Through her suit, Lawson is seeking declaration that the practices in the complaint were and are unconstitutional. She is also asking for compensatory and punitive damages in an amount to be proven at trial and exceeding $10,000; a trial by jury; attorney fees; and other relief deemed just and proper by the court.
Kopp was unable to comment on the lawsuit because it is pending litigation.