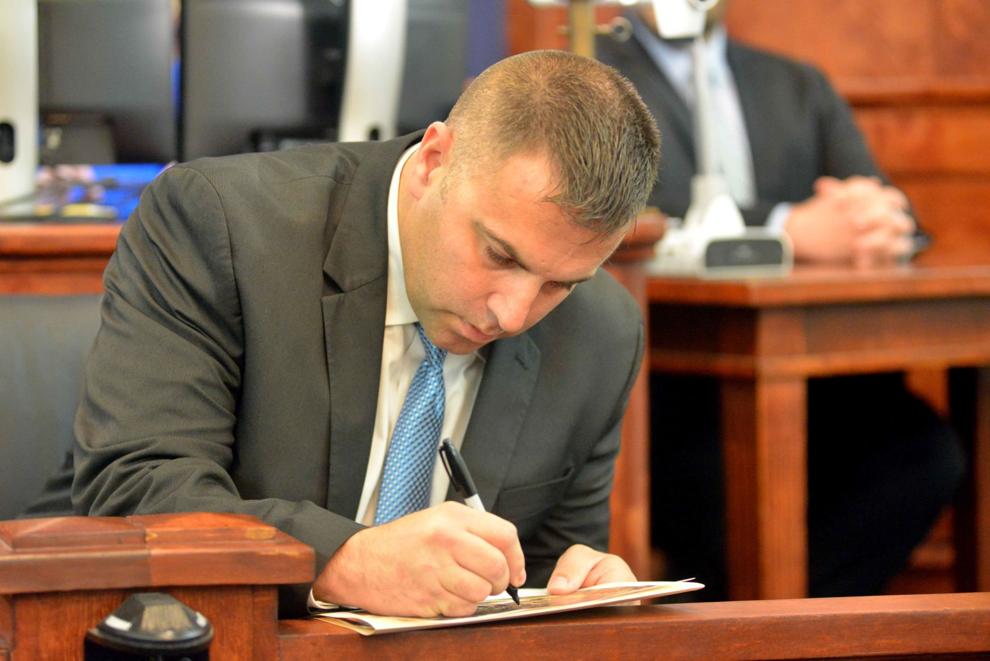 Editor's Note: This article was updated Wednesday, Feb. 17 at 1:42 p.m. to reflect that Carl Christiansen did not say he had heard anything directly from the FBI regarding its interest in Jeff Farmer.
Farmer's conduct on both scores was brought to the fore by all five Franklin County public defenders, who penned a letter to Quire critical of the detective's decision to attend the rally and detailing alleged past incidents of racial bias.
Christiansen, a retired FBI agent who runs the company Advanced Investigative Systems, created an investigation report that is largely a response to the public defenders' letter.
The report was completed on Feb. 8, a week before Franklin County Sheriff Chris Quire provided it exclusively to The State Journal on Monday.
As a result of the report, Quire sent Farmer a letter on Monday critical of the detective's use of social media.
"We knew that the public defenders' letter was chock full of lies," Wiest said. "You just can't go around defaming people, so we're gonna do something about it."
The public defenders have yet to respond to The State Journal's request for comment about the investigator's findings.
Notably, Christiansen's discussions with those who claim to have been negatively affected by Farmer's police conduct appear to have significant omissions. Two men arrested by Farmer, Kyira Glover and Antoine Andrews, who went on the record with The State Journal both say they weren't contacted by Christiansen. Glover and Anderson are the only people to have tied their names to complaints about Farmer's conduct in Franklin County.
Glover claims that Farmer called him the N-word and has wrongfully arrested him. Andrews recounted an arrest in which he says Farmer unnecessarily pointed his gun at Andrews and a friend while they were smoking a cigar in a parked car; Farmer then arrested the pair.
Glover's and Andrews' attorney, public defender Patrick Brennan, also said he was not contacted by Christiansen. It's unclear whether any of the unnamed sources interviewed in a recent NBC News report on Farmer were contacted by Christiansen.
Christiansen, near the end of his report, includes some unattributed and yet unsubstantiated claims regarding the public defenders' intent in drafting the letter.
When contacted about the report on Sunday, Christiansen declined to offer comment.
Further, some information presented in Christiansen's investigation appears contradictory to previous reports, and questions remain regarding Farmer's time in Washington, D.C., as well as his conduct in Franklin County.
The D.C. rally
Christiansen begins his report recounting conversations he has had with the three men who accompanied Farmer when he attended the Jan. 6 rally in support of former President Donald Trump just before the U.S. Senate convened to certify President Joe Biden's victory over Trump.
Farmer did not organize the group's attendance and was not very close with any of the men he went with, Christiansen wrote. One of the men who attended with Farmer, per Christiansen, said that he has Department of Defense clearance and that his "livelihood depends on that clearance," thus he cannot afford to "engage in questionable activities."
According to Christiansen's interviews with those men, one in the group of four went back to their hotel early while the other three "generally followed" the crowd as it headed from the Washington Monument to the U.S. Capitol.
"The crowd was dense and moved as a group," Christiansen wrote. "About 2-3 p.m., police cars and sirens were heard and seen headed towards the Capitol. Shortly thereafter, Farmer and his buddies received alerts on their phones stating the Mayor had instituted a 6 p.m. curfew. They could see some commotion on the Capitol steps. All three decided it was time to leave the area."
Christiansen also said that all four of them claimed they were never closer than "500-600 yards from the Capitol steps." He added that Farmer was "not close to the Capitol itself."
Those statements appear to contradict a Facebook post that Farmer himself made on the day of the rally, stating that he made it to "the base of the steps." In the post, Farmer was critical of people who stormed the Capitol building but questioned whether they were Trump supporters. That post appears to have been made just before 5 p.m. on the day of the riot; Farmer said that he was at the base of the steps "literally minutes ago," the same day he sported a sweatshirt that read, "I am the Militia."
Shortly after the public defenders' letter circulated on social media and throughout news organizations, Farmer deleted his Facebook account.
Christiansen did find that some of Farmer's posts on Facebook constituted a violation of the sheriff's office's social media policy and that he was possibly insubordinate for posting about the rally after a commander told him not to.
"Farmer does appear to have violated several departmental policies when he posted information about his attendance at the rally on Facebook and participated in a television interview," Christiansen wrote. "He also may have been insubordinate when he posted the information after a commander told him not to post information about the rally on Facebook. His social media posts resulted in extensive media attention focused on the Sheriff's Office and precipitated the disparaging letter from the Public Defender's Office."
The former FBI agent also said that the FBI "has indicated" that it has no reason to think Farmer was close to the Capitol that day.
Christiansen expressed further frustration with the public defenders by claiming that their characterization of the crowd as having "a substantial number of individuals who … are white supremacists waving the flag of the confederacy" was inaccurate.
"Many of the public defenders' statements are unsubstantiated and designed to unfairly characterize Farmer," Christiansen wrote.
Race and 'poor judgment'
In their initial letter, the public defenders said that Farmer had exhibited "poor judgment, recklessness, and bias" — particularly as it relates to race.
Christiansen struck a similarly defensive tone in his report as it relates to race, criticizing the public defenders' intent in drafting the letter.
"It appears this entire paragraph and much of the letter is designed to conclude Farmer is a racist," Christiansen wrote. "I have interviewed judges, prosecutors, law enforcement officers at all levels, and several African American individuals who have worked with Farmer and not a single person opined that Farmer was a racist."
However, Christiansen did not speak with Glover, the only person who has publicly accused Farmer of explicitly racist actions. Nor did he speak with Andrews or Brennan. Andrews said that he thinks Christiansen not reaching out to him is a sign that the investigator had an agenda.
"It tells me that they just think we're making that up," Andrews said. "… If he hasn't talked to me or anyone else, that tells me what side he's on. I felt like he must have been biased."
Glover called the investigation "disappointing."
"It never set well with me that the sheriff's department was conducting it," Glover said. "That's like me on the bench at one of my friend's court date."
Two unnamed individuals, both Black, are mentioned in his report as having dealt with Farmer in a law enforcement capacity. Christiansen said he had heard from leaders of Focus on Race Relations (FORR) that both of them had stories about Farmer's traffic stops.
One woman said that Farmer stopped her at 1 a.m. and asked her what she was doing in the neighborhood at that hour. The other person, a man, said that Farmer followed him for several minutes when he was driving a luxury rental car, the Cadillac Escalade. Farmer then stopped him, questioned him "aggressively," and searched the car — he found no contraband.
Christiansen also pointed to the story of a former grand juror, who sent an email to the sheriff's office mentioning anecdote that she thought exemplified Farmer's "heart and passion." The juror said that in one case, Farmer went out of his way to try and contact a woman of color because he was concerned for her safety.
"I only bring this to your attention because I cannot imagine someone with this much heart and passion being guilty of discrimination or wrongdoing related to race," the juror wrote. "I thought maybe the opinion of an onlooker might help a man who seems in need of some support."
Christiansen also cited interviews with judges and said that they recalled no instances of Farmer's exhibiting racial bias.
"In interviews with Franklin County judges, not a single judge has seen evidence of bias or racial targeting by Farmer," Christiansen wrote. "They stated Farmer's affidavits are thorough and they cannot recall an instance when evidence obtained by Farmer has been suppressed nor do they recall instances when defendants charged by Farmer have been acquitted. Even the Chief Public Defender could not provide specific examples of Farmer's racial bias, targeting or profiling."
Christiansen also compiled data on Black and white individuals in cases investigated by Farmer over the past three years. From 2018 to 2020, nearly 71% of those people were white; just over 29% were Black.
A 'colored history'; what's next
One key component of the public defenders' letter was bringing up what they called Farmer's "colored history" at the Versailles Police Department.
Farmer's Versailles Police Department personnel file, as referenced by Christiansen and independently confirmed by The State Journal, contains several demerits of varying severity. The more-than-500-page document details a previously unreported suspension, censures by the former chief of police and mayor, and documentation of several violations.
Both personnel files contain several letters submitted in praise of Farmer as well.
The State Journal will continue reporting on the personnel files in coming days.
Christiansen also includes in his report speculation from people he's interviewed as to why the public defenders penned their letter in the first place; the "reasons" he mentions are as of yet unsubstantiated.
He repeats a point made previously by Franklin County Commonwealth's Attorney Larry Cleveland: Farmer was good at his job.
"Farmer's investigative work results in many of the cases in the Public Defender's Office and greatly increases their workload," Christiansen wrote. ""Farmer is estimated to account for over 50% of the cases in that office."
Second, Christiansen said the complaint could be the result of naivete on the part of young attorneys either eager to impress or unable to tell when their client is lying.
Christiansen also included a claim regarding public defender Kristin Gonzalez that The State Journal has yet to verify. Christiansen links the letter to a past drug investigation done by the sheriff's office that implicated a man he said is Gonzalez's boyfriend.
"I have seen a text sent by Public Defender Kristin Gonzalez that in part states as follows, 'I've made it my mission to screw with 3 in all the time I've been there; (Rick) Qualls, (former sheriff Pat) Melton and Farmer,'" Christiansen wrote.
The State Journal has received the text as well but has not yet verified its source. Christiansen also references another text that the newspaper has not received.
Gonzalez has not responded to a request for comment.
Of the entire investigation, Christiansen says that his evidence "overwhelmingly suggests" that the public defenders' letter was a "personal attack" against Farmer.
"The letter is written in a manner that unquestionably ignores the legal premise of 'innocent until proven guilty' and is based on unsubstantiated rumor and innuendo.
"In addition, virtually all of the claims made by the Public Defender's Office are contradicted by others in the legal system. Farmer is generally known as a hardworking, dedicated detective who carries himself in a professional manner and has been successful in his prosecutions of drug dealers."
Quire's action on Monday culminated in sending a non-disciplinary "notice of caution" to Farmer on the department's social media policy.
This is a developing story. The State Journal will continue to update.