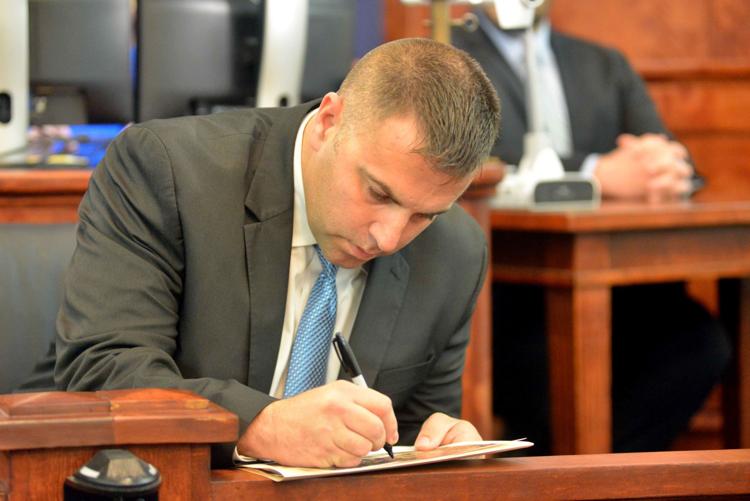 A Franklin County sheriff's deputy who attended the pro-Trump rally that ended in a siege of the U.S. Capitol is facing sharp criticism from all five public defenders in Franklin County.
Jeff Farmer, of Versailles, attested on Facebook and to LEX18 News to his presence at the rally that ended in a mob of pro-Trump protesters storming the Capitol while members of Congress voted to certify the results of 2020's presidential election. President-elect Joe Biden defeated President Donald Trump in that election. 
In a letter to Franklin County Sheriff Chris Quire and media outlets, all of the public defenders at the Franklin County Trial Office wrote that Farmer harmed the county's reputation.
Did Franklin County Sheriff Chris Quire do the right thing in reassigning a detective who was criticized by public defenders for attending last week's Trump rally in Washington, D.C., and for alleged misconduct during his law enforcement career?
"We will no longer silently stand by and allow Deputy Farmer to stain the reputation of Franklin County and cripple the individual lives who we represent," the letter reads. "We call upon you to re-evaluate the role and placement that Deputy Farmer has in the Sheriff's Department.
"The fact is that a substantial number of individuals who attended this event are white supremacists waving the flag of confederacy. How can minorities in Frankfort feel protected and served by an individual who so clearly flaunts his fraternization with racists?"
Quire has not responded to a State Journal request for comment.
The public defenders who signed the letter are Nathan Goodrich, Kristin Gonzalez, Cheyla Bush, Valerie Church and Patrick Brennan. 
Farmer, a detective, was named Deputy of the Year for 2019, according to a Facebook post from the Franklin County Fiscal Court. He was also previously involved in police work related to the "Pappygate" scandal.
On Wednesday Farmer made his attendance at the rally well known per a Facebook post as well the interview with LEX18 on his way back to Kentucky.
The State Journal obtained screenshots from Farmer's since-deleted profile where he made a post from Washington saying that Wednesday was "Gonna be an epic day!! Most diverse group of people I've ever seen in my life."
A reporter for LEX18 said that Farmer and his friend told the station that they "worr(ied) the violence will overshadow why most people went there in the first place." 
"There are millions of Americans that think the election wasn't exactly fair," Farmer said. "There are a lot of voting discrepancies and things like that. It's something we wanted to take part in."
Election officials, as well as Trump's attorney general at the time of the election, William Barr, have repeatedly said that there is no evidence of widespread fraud in this year's election.
Farmer did stress in the interview that he found the violence, which was widely condemned by both Democratic and Republican leaders, "disgraceful."
"I think it was a small group of people that influenced some weaker-minded people to follow their lead," Farmer said.
Goodrich called Farmer's post-riot public comments "backpedaling."
"He claimed he was on the outskirts. It seems like backpedaling to me. You don't have to go to the jail or operate the noose to be part of the lynch mob ... . He was standing there watching, and those events shook the nation. For a person charged with upholding the laws and the Constitution to be a part of this is unnerving and we just can't sit by and not call him out on it."
The TV station said Farmer told them it was a "history-making send off for the president," and that he didn't realistically think the election result would be overturned.
The State Journal has been unable to reach Farmer, who told LEX18 that he deleted his Facebook account because of "hateful comments."
The public defenders, in their letter, also made allegations about Farmer's police record that have yet to be confirmed by The State Journal.
Goodrich said that he awaits Quire's response.
"We want Quire to make it clear to this community that this behavior is not condoned by the sheriff and is not appropriate for law enforcement," Goodrich said. "… The action he decides to take will be determined by the facts as he knows them. His response will speak volumes about he views the role of law enforcement in this community."