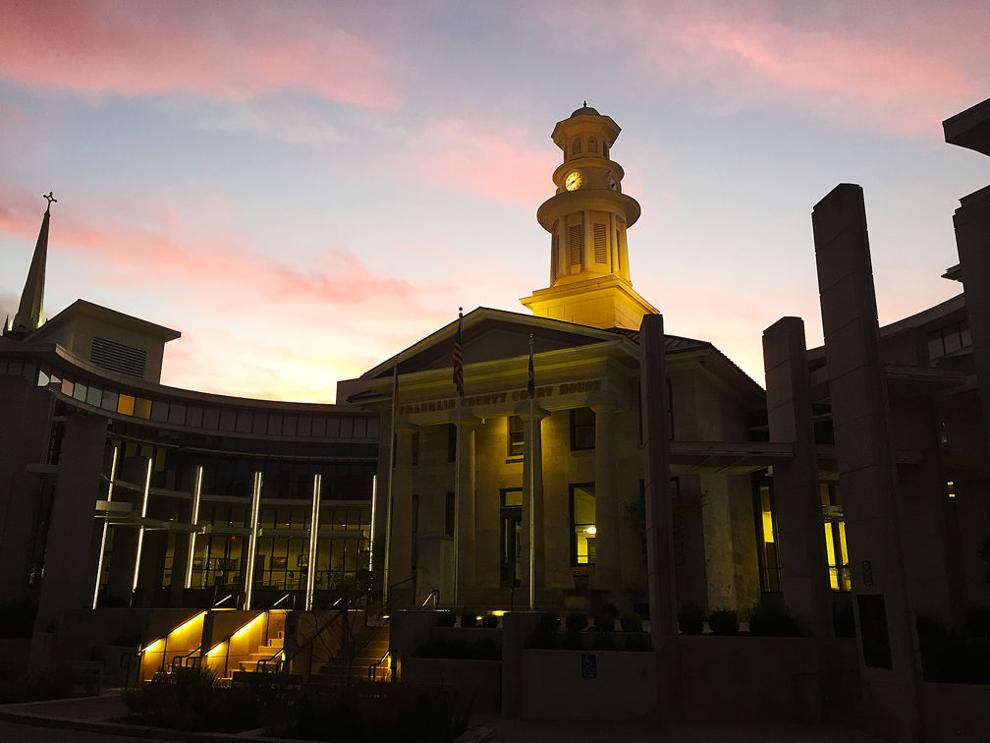 Editor's Note: This article was updated Wednesday, Feb. 17 at 9:44 p.m. to add Carl Christiansen's response to the public defenders' statement, as well as the defenders' and Margaret O'Donnell's response to Christiansen.
The Franklin County Public Defenders submitted a statement to The State Journal on Tuesday highly critical of a report that essentially cleared Franklin County Sheriff's Deputy Jeff Farmer of significant wrongdoing.
The group of five defense attorneys questioned whether the report, the culmination of a nearly monthlong investigation by former FBI agent Carl F. Christiansen, was fair. They criticized Christiansen's methods and conclusions, as well as his characterization of their earlier letter to Sheriff Chris Quire that prompted the inquiry.
Nathan Goodrich, who runs the public defender's office, sent the public defenders' response to The State Journal on Tuesday. The five public defenders are Goodrich, Patrick Brennan, Cheyla Bush, Valerie Church and Kristin Gonzalez.
"The report from Carl Christiansen raises more questions than it answers," the statement reads.
"The investigation failed to interview public defender clients," the statement reads. "Public defender clients who had agreed to go on the record and share concerns that they were subjected to misconduct were never contacted by Mr. Christiansen during his investigation. These include at a minimum individuals who went on record with The State Journal."
Christiansen, in a response to the State Journal, said that he had ethical concerns about contacting people with legal representation and that Margaret O'Donnell, of Focus on Race Relations (FORR), never contacted him after telling him she would contact Glover and Andrews to see if they were okay with speaking.
O'Donnell disputes this, saying that she shared Glover's name and information with Christiansen as well as Brennan's; Brennan is Andrews' attorney.
Christiansen also defended his decision to not reach out to Brennan.
"I did not contact Brennan because his boss, Mr. Goodrich, asked me for assurance that I would not contact any of his assistant public defenders," Christiansen said.
Goodrich said that Christiansen unfairly represented their conversation. He claims he told Christiansen to go through him for approval to speak with any of his employees, not that Christiansen couldn't speak with them. 
It is unclear whom Christiansen interviewed. The invoice for his services stated that he conducted 35 interviews.
The public defenders also said that some of Christiansen's claims are false, or that his conclusions based on the facts are misleading.
"The claim that Deputy Farmer accounts for over 50% of the cases in our office is demonstrably false," the defenders wrote. "Our office handles 1,400-1,750 cases per year. 350-500 indictments have been returned each year in the  Franklin Circuit Court and Deputy Farmer, according to the report, has only investigated  approximately 50 cases per year. If this report is based on such easily debunked opinions, how is the rest of the report to be trusted?"
They also used Christiansen's own statistics to suggest that Farmer investigated Black people at an excessive rate. Some 29% of the people he investigated over three years were Black, a rate much higher than the percentage of Franklin County's population that is Black, per the U.S. Census.
However, it is unclear how much that rate deviates, if at all, from other law enforcement officers in the county.
The public defenders also suggest that some new information from Farmer's Versailles Police Department personnel file might spur reevaluation of their clients' legal outcomes.
No new information was provided regarding a text message that Christiansen brought up in his report that suggested the group may have been motivated by a "personal vendetta." He claimed the text showed Gonzalez stating that she'd made it her "mission to screw with" three officers, including Farmer.
The State Journal has a copy of the message, but it does not specify the identities of the conversation's participants.
Gonzalez has yet to provide comment on the record.
The group ended its statement defending the public defenders' integrity, as well as that of their clients.
"The assumption that attorneys should not believe their clients is offensive and contrary to the due process principle that everyone charged with a crime has the right to be heard."
They said they "look forward" to working with Quire in the future regarding his office.
"We hope that the discussion we started continues and that our clients' concerns are fully addressed. We are grateful that the Sheriff felt the need to make changes to his department in response to our letter and we look forward to working with Sheriff Quire to build a department that our clients and the rest of Franklin County can trust."
Quire, in an attachment to Christiansen's report, said that his office had conducted social media training with all employees, will give annual performance appraisals to all employees, and has already put in place robust background checks for new hires.
Farmer was cited for violating the department's social media policy and reassigned from narcotics to general investigations.