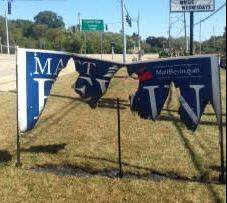 Someone set fire to a campaign sign for Gov. Matt Bevin over the weekend.
A $500 reward has been offered for information leading to the arrest of the person responsible for burning the sign in front of Casa Fiesta restaurant on Louisville Road.
The fire is believed to have been set sometime after the restaurant closed Saturday night.
Bevin, a Republican, faces Democratic Attorney General Andy Beshear in the November election.