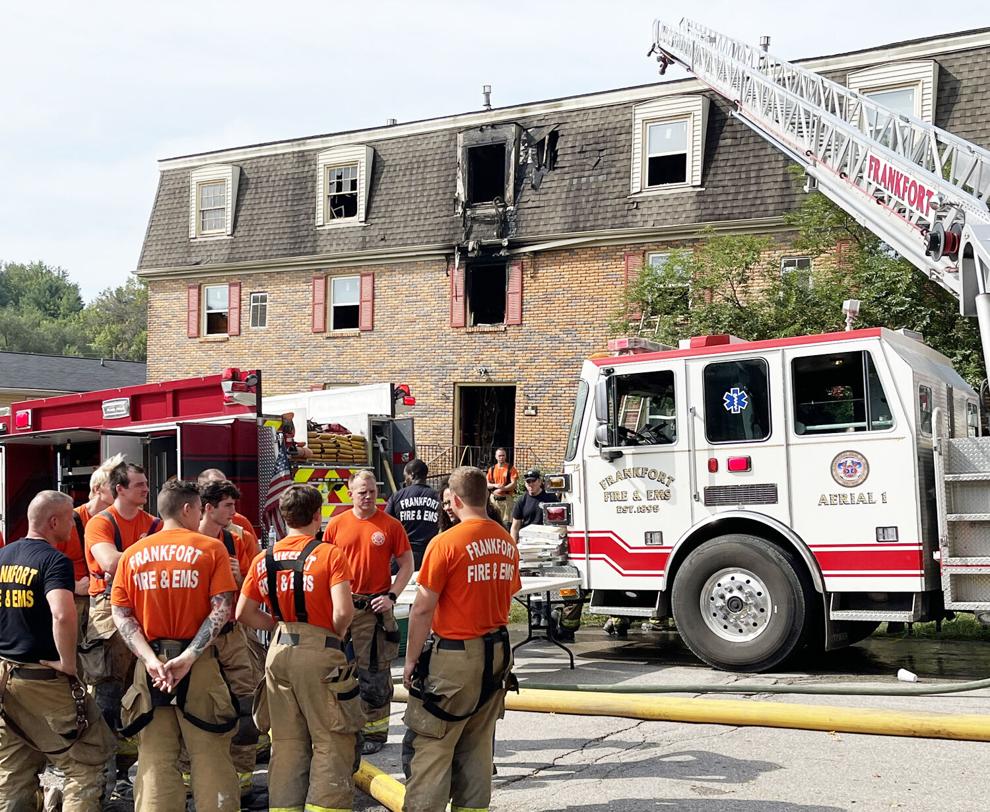 No. 5 — Leawood Drive apartment fire claims two lives
A Frankfort man is accused of starting a fire that killed two people in an apartment complex on Leawood Drive on Sept. 30.
Ibrahim Muhammad, 23, pleaded not guilty to charges of two counts of murder, a capital offense; first-degree arson, a Class A felony; first-degree assault, a Class B felony; and first-degree wanton endangerment, a Class D felony, in Franklin Circuit Court in October.
Muhammad was arrested by Frankfort Police on Oct. 21 in connection to a Sept. 30 fire at 804 Leawood Drive.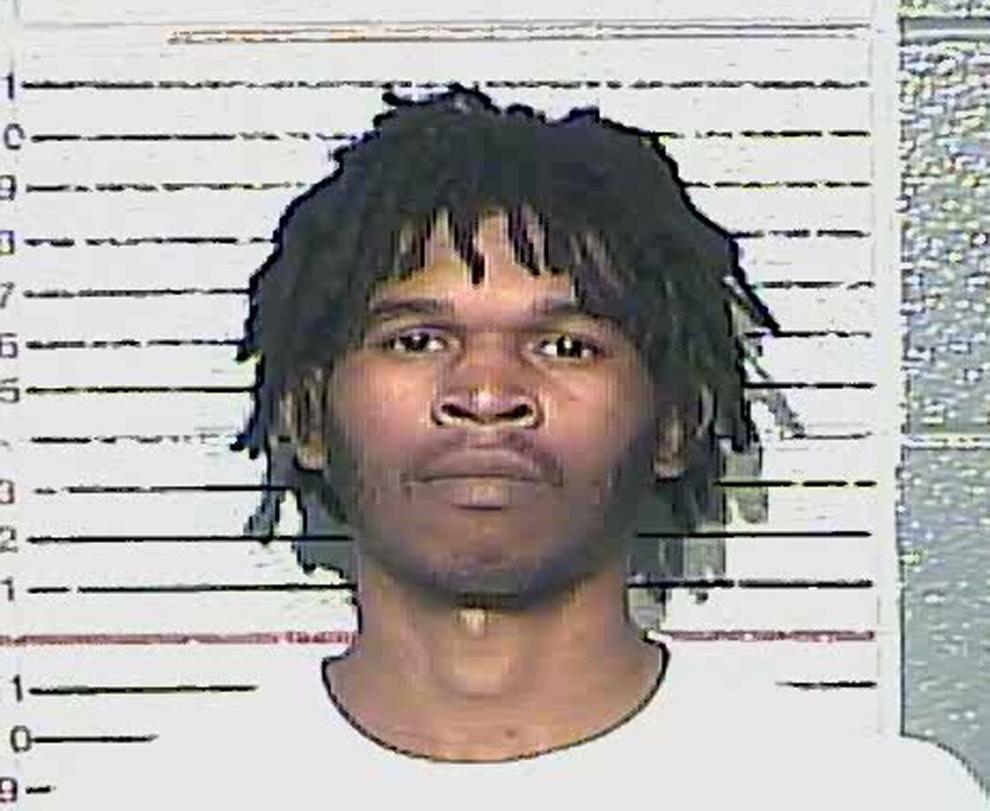 The blaze, which was called in by a passerby who heard the fire alarm sounding around 8:30 a.m., claimed the lives of 21-year-old Zephany Rushin and Quiana Danyel Miller-Walker, 20.
"From preliminary post mortem examinations, it appears both victims died from injuries consistent with the incident," Franklin County Coroner Will Harrod told The State Journal, adding final autopsy results won't be available for several more weeks.
"The arson directly resulted in the death of two individuals and the serious injury of others," a statement released by the Louisville Field Division of the Bureau of Alcohol, Tobacco and Firearms and Explosives (ATF) read. "The investigative team conducted a thorough investigation resulting in additional information and evidence that the fire was caused by an intentional criminal act."
Another person was flown to the University of Louisville Burn Center via helicopter and five others were transported to Frankfort Regional Medical Center.
According to Frankfort Fire Chief Wayne Briscoe, there were no sprinklers in the apartment building, but it was in compliance with fire codes due to the date of its construction.
In an interview with Lexington TV station WKYT after the fire, Muhammad said he knew the victims, Rushin and Miller-Walker.
"They are my friends," he stated. "You can't get a life back. I'm only 23 and they were 20 and 21. I feel like a lot of this could've been prevented."
Muhammad is being represented by the Kentucky Department of Public Advocacy. He remains in the Franklin County Regional Jail on a $1 million full-cash bond.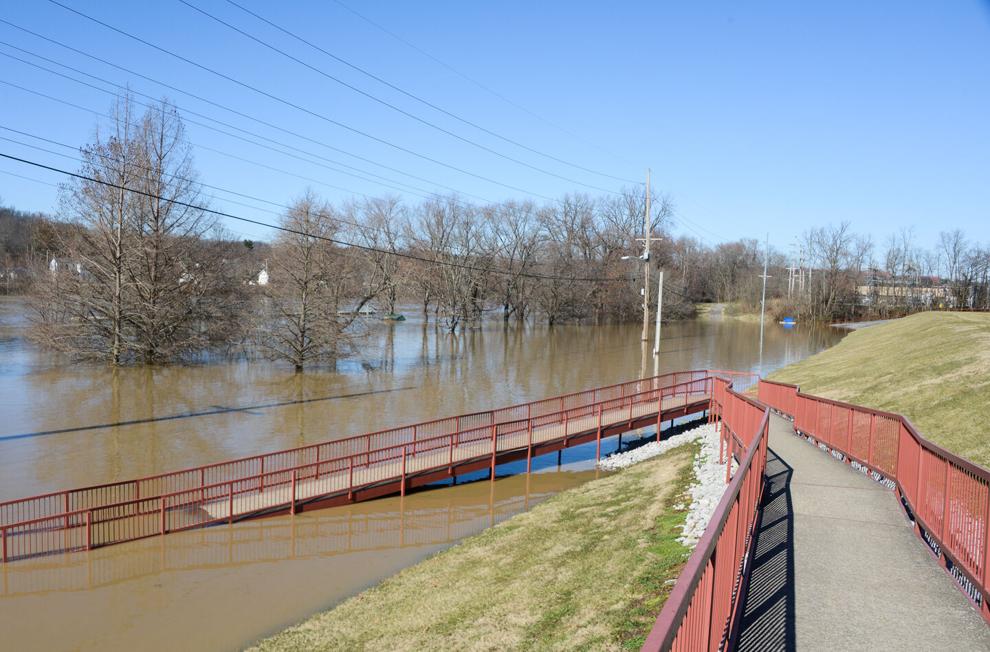 No. 4 — Kentucky River floods, again
Record-setting rainfall combined with snowmelt during the first week of March caused the Kentucky River to reach historic levels.
When all was said and done, the river crested at 40.16 feet on March 5 — the highest in more than a decade and one of only nine crests to exceed 40 feet in Frankfort history.
Mayor Layne Wilkerson and Judge-Executive Huston Wells declared a local state of emergency, which allowed the Office of Emergency Management, both local governments and all emergency responders to provide any assistance and resources to citizens affected by the emergency, due to flooding from both the Kentucky River and Elkhorn Creek.
"In all my years I don't know that I have seen a four-foot increase in the crest prediction this far along in a rise," said Frankfort-Franklin County Emergency Management Director and then-interim City Manager Tommy Russell.
State, county and city road crews worked to clean and inspect flooded roads. The majority of roads have since reopened including Taylor Avenue, between Benson Valley and Devils Hollow; Travis Circle; Benson Avenue; Buffalo Alley, off St. Clair Street; Leestown Lane, near Walter Todd; and Indian Gap, near US 127 North.
Big Eddy Road was open to local traffic only and Glenns Creek Road from mile marker 1 to mile marker 2 still remains closed nine months after the flood.
It was also the sixth time the Franklin County Humane Society animal shelter on Kentucky Avenue has flooded since 1969. Before the river began receding, the animal shelter took on approximately a foot of water and 58 animals — 34 dogs and 24 cats — had to be evacuated.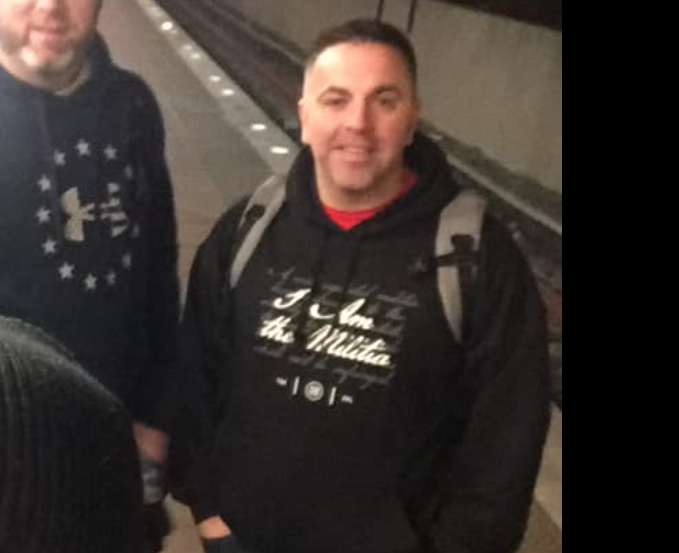 No. 3 — Jeff Farmer investigation
A Franklin County sheriff's deputy who attended the pro-Trump rally that ended in a siege of the U.S. Capitol on Jan. 6 faced sharp criticism from all five public defenders in Franklin County a few days after the event.
Jeff Farmer, of Versailles, attested on Facebook and to LEX18 News to his presence at the rally that ended in a mob of pro-Trump protesters storming the Capitol while members of Congress voted to certify the results of 2020's presidential election. President-elect Joe Biden defeated President Donald Trump in that election. 
In a Facebook post from Washington, D.C., Farmer wrote, "Gonna be an epic day!! Most diverse group of people I've ever seen in my life."
A reporter for LEX18 said Farmer and his friend said that they "worr(ied) the violence will overshadow why most people went there in the first place." 
"There are millions of Americans that think the election wasn't exactly fair," Farmer said. "There are a lot of voting discrepancies and things like that. It's something we wanted to take part in."
Farmer did stress that he found the violence, which was widely condemned by both Democratic and Republican leaders, "disgraceful."
In a letter to Franklin County Sheriff Chris Quire and media outlets, all of the public defenders at the Franklin County Trial Office wrote that Farmer harmed the county's reputation.
"We will no longer silently stand by and allow Deputy Farmer to stain the reputation of Franklin County and cripple the individual lives who we represent," the letter, which was signed by Nathan Goodrich, Kristin Gonzalez, Cheyla Bush, Valerie Church and Patrick Brennan read. "We call upon you to re-evaluate the role and placement that Deputy Farmer has in the Sheriff's Office."
Quire had ex-FBI agent Carl Christiansen conduct an independent investigation into the claims, which "cleared" Farmer of major wrongdoing, particularly the allegations contained in the public defenders' letter.
In February, Farmer filed a defamation lawsuit against all five public defenders for damages exceeding $1 million. 
The federal lawsuit claims that the public defenders "engaged in a vile, baseless, and vicious attack" when they circulated a letter critical of Farmer's police conduct and his attendance at the pro-Trump rally that preceded a siege of the U.S. Capitol.
Four attorneys, led by Northern Kentucky litigator Chris Wiest, filed the suit in U.S. District Court of Eastern Kentucky. The case was assigned to Judge Karen Caldwell.
"We knew that the public defenders' letter was chock full of lies," Wiest said. "You just can't go around defaming people, so we're gonna do something about it."
In May after much back-and-forth the public defenders filed their final response in the case as to whether the judge should dismiss the lawsuit. As of press time, Caldwell has yet to rule in the matter.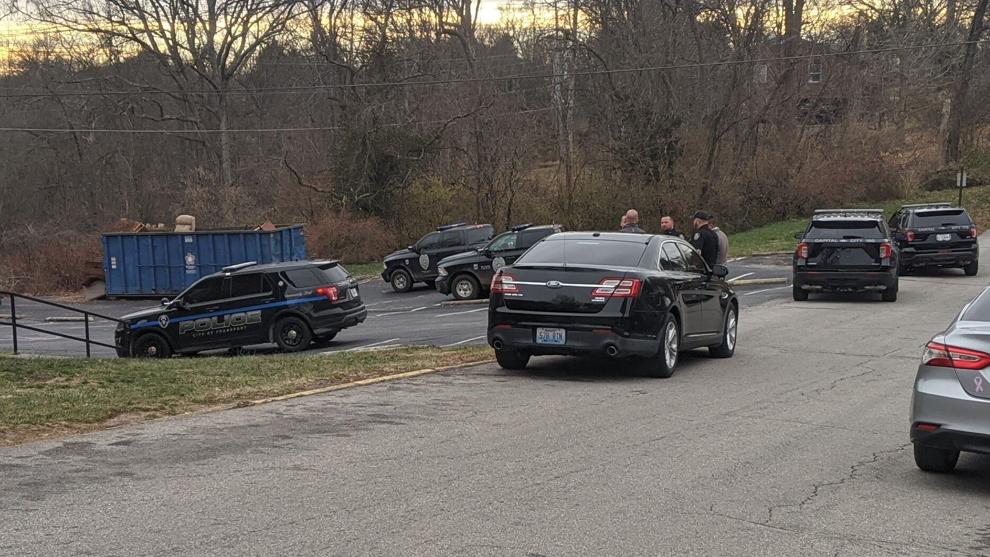 No. 2 — Three shootings in less than a week
During a span of five days earlier this month, three shootings took place in the capital city.
Frankfort Police responding to a located stolen vehicle on Leawood Drive at 8 a.m. on Dec. 7 were allegedly fired on by one of the two suspects who fled from the vehicle in different directions.
The incident forced a lockdown at the Capitol, Annex, Capital Day School, Frankfort Independent Schools and Franklin County Schools.
FIS sent out a notice to families to alert them of the situation.
"We called the city schools, Capital Day and county schools to go into lockdown as a precaution," FPD Asst. Chief Lynn Aubrey told The State Journal.
One of the suspects, 23-year-old Joshua Gibson, of Louisville, ran toward the Capitol, where he was detained near the parking garage.
He is charged with receiving stolen property (over $10,000), a Class C felony; two counts of first-degree fleeing and evading police (on foot), a Class D felony; two counts of second-degree criminal trespassing, a Class B misdemeanor; and first-degree persistent felony offender.
The identity of the second suspect has yet to be released by law enforcement and the investigation is ongoing.
Aubrey said no officers were harmed during the incident although one suffered a knee injury during the foot pursuit.
Two days later, an early morning shooting on Owenton Avenue left one person dead.
According to Aubrey, Frankfort/Franklin County 911 dispatch received two calls of a male who had been shot in the area of 421 Owenton Ave. around 7 a.m. One of the calls received was allegedly from the shooter. Dispatch reports indicate a male phoned 911 and said he had just shot a man. He also told dispatch that the male pulled a gun on him and then hung up.
First responders located a male who was lying in the road with apparent gunshot wounds. Frankfort Fire and EMS transported the victim, 24-year-old Aundria "Dre" Scott, of Louisville, to the Frankfort Regional Medical Center, where he succumbed to his injuries at 8:32 a.m.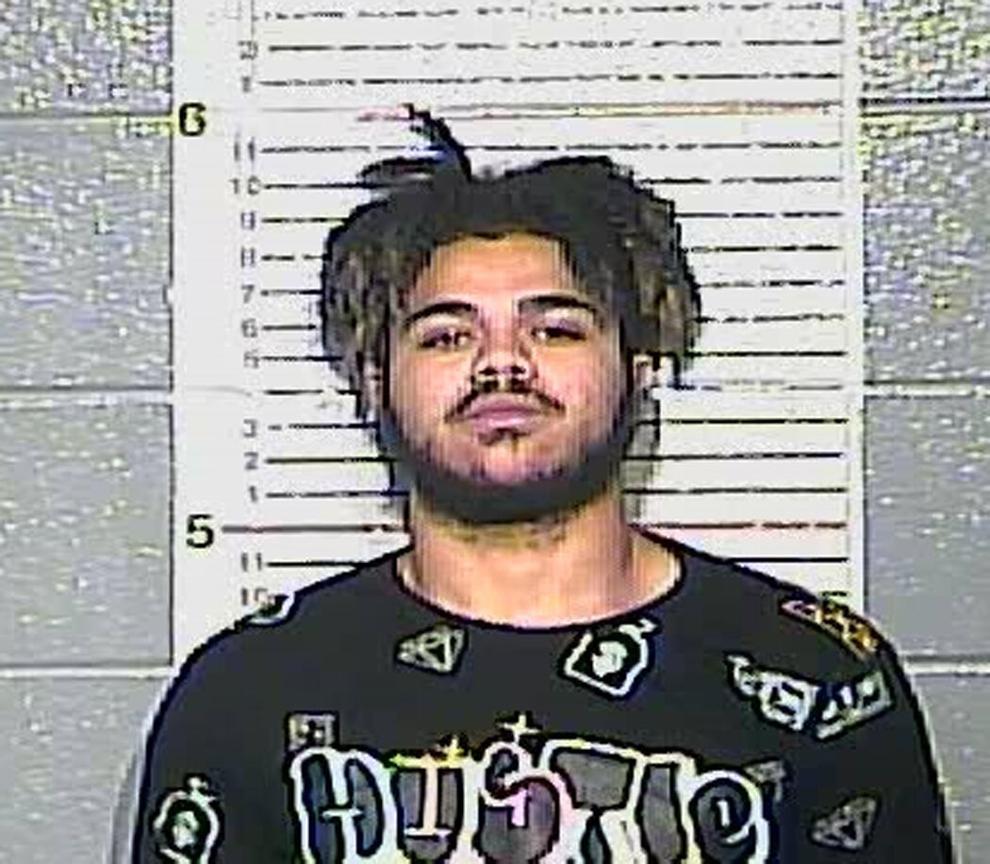 Frankfort resident Camron Green, 21, who was at the scene, stated he was the individual who had shot the victim and was detained by law enforcement.
Green, who was transported to the Franklin County Regional Jail, is charged with murder, a capital offense, and tampering with physical evidence, a Class D felony.
The investigation is ongoing by Frankfort Police Department and the Franklin County Coroner's Office.
At 2:37 p.m. on Dec. 12, a 64-year-old Franklin County man reportedly exchanged gunfire with Franklin County Sheriff's deputies, who responded to a domestic disturbance on Hunters Trace.
Franklin County Coroner identified the suspect, who died at Frankfort Regional Medical Center shortly after, as Robert Lee Engle Jr.
No deputies were harmed during the incident and Sheriff Chris Quire called in Kentucky State Police Post 12 to investigate.
"KSP has statewide jurisdiction and investigates officer-involved shootings throughout the commonwealth as requested by local law enforcement agencies," state police said in a press release. "KSP is committed to being transparent while ensuring the integrity of the investigation. To protect the integrity of an ongoing investigation, it is KSP standard operating procedure not to release specific details until vital witnesses have been interviewed and pertinent facts gathered."
In addition to KSP and FCSO, the Frankfort Police Department and Kentucky Department of Fish and Wildlife also responded to the scene.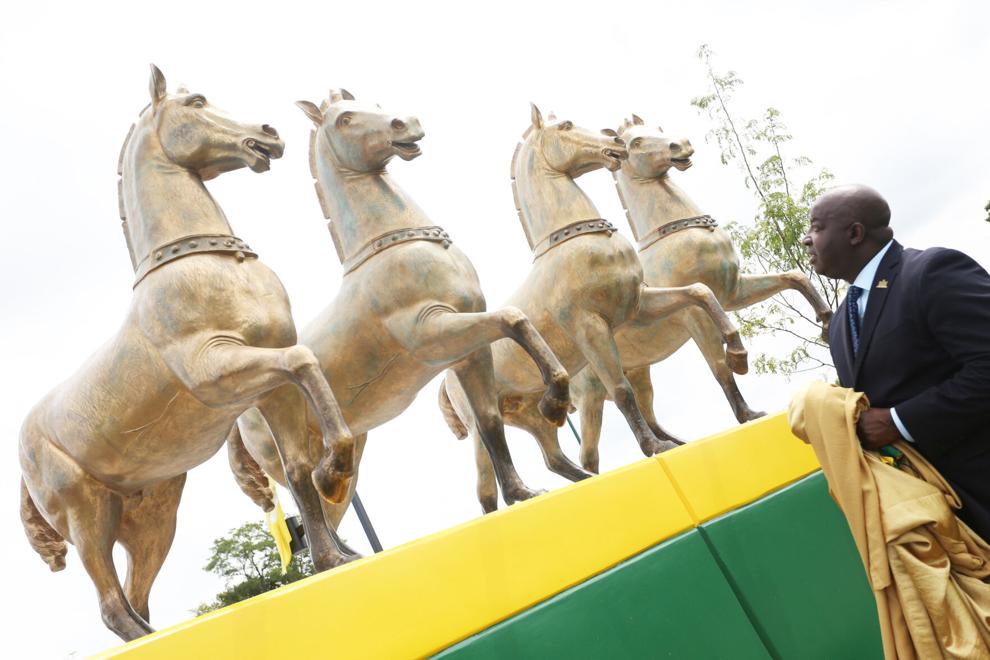 No. 1 — Financial shake up at Kentucky State University
Kentucky State University President Dr. M. Christopher Brown II resigned during a special-called July 20 meeting of the KSU Board of Regents — just two months after he was awarded a contract extension that would have kept him at the institution until the summer of 2025 and just prior to Gov. Andy Beshear authorizing a Council on Postsecondary Education-led review of the school.
Clara Ross Stamps was named acting president — becoming just the third female to hold the post.
Two members of the school's Board of Regents also left — Joe Moffett and Candace McGraw. Paul Harnice, a Frankfort attorney, announced he was leaving too, but rescinded his resignation a few days later.
In the aftermath, the new administration at Kentucky State University carried out a wave of terminations, including Chief of Staff Tymon Graham; former executive director of University College Walter Malone III; former Assistant Director of Player Development Twany Beckham; former coordinator of Greek life and head cheerleading coach Timothy Queen; former executive administrative assistant Terrius Gaines; former graduate admissions and records analyst Shy Heath Jr.; Brielle Jones, a graduate research assistant; and career navigator Rachel Coulter-Gause.
The financial issues facing KSU were outlined by Chief Financial Officer Greg Rush, who was sent from the Council on Postsecondary Education (CPE), during a meeting in August.
He said the major sources of concern include a more than $24 million negative swing in net position over five years, significant carryover expenses from last year's budget to this year's and an overall $10 to $15 million budget shortfall for this fiscal year.
"The bottom line is we had $15 million over expenses hitting this year's budget," Rush added. "We can't budget cut our way out of this one. This is going to take a while to resolve and it's going to take outside assistance to resolve, in my opinion."
In mid-September, KSU staff regent Chandee Felder was fired by the school administration due to an alleged violation of the school's HR policy and ethics code as well as "gross misconduct."
Felder indicated to The State Journal that her firing was likely connected to her criticism of the board of regents for its inaction on the school's financial issues. She claimed that board members, including herself, knew of serious financial problems for more than a year before Brown's resignation and failed to act. Felder filed a lawsuit against the university in Franklin Circuit Court three weeks later.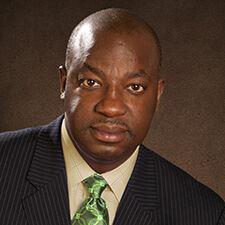 In late October, the CPE said financial reporting submitted to the board of regents was inaccurate and inadequate and asked the board to approve a request for $23 million from the state to make up for a projected budget shortfall. 
That number adds up a $15.7 million shortfall in this fiscal year due to prior year deficits and adds a projected additional $7 million this year due to a cashflow imbalance. The school will also request another $1 million per year from 2022-24 for strategic initiatives.
The amounts will be added to KSU's regular state allocation, which is slated to be $27,186,100 this fiscal year. The school's operating budget for the fiscal year is just under $50 million.
The following month, the CPE informed state lawmakers of its intentions to ask for the sum in order to keep the institution afloat past March when its cash reserves will be depleted.
"If we don't get $23 million, we're probably in serious trouble," explained CPE President and former KSU interim president Aaron Thompson.
When the General Assembly convenes in January, legislators will weigh whether to approve the request.
An 11-member presidential search committee — composed of Thompson, Frankfort City Commissioner Katrisha Waldridge, Paul Thompson, Dr. Jens Hannemann, Dr. Peter Smith, Christopher Cribbs, Paul Cable, Savion Briggs, Jiya Alcorn, Richard Graves and Donald Lyons — was put together to assist the Myers McRae Executive Search and Consulting firm in the selection of a new president at the institution.