As owner of CLS Screen Printing & Embroidery, Dwayne Cook has filled his share of rush orders. So when Raye Hurley approached him two days before Frankfort's June 5 Black Lives Matter march with a request for T-shirts, he and his staff got busy.
"I came up with the wild-haired idea of having the shirts made with half of the proceeds to go to The Kings Center," Hurley, a teacher at Franklin County High School, told The State Journal.
"I called (Dwayne) Wednesday morning thinking we would sell between 50 and 100 T-shirts," she continued. "200 shirts later, here we are."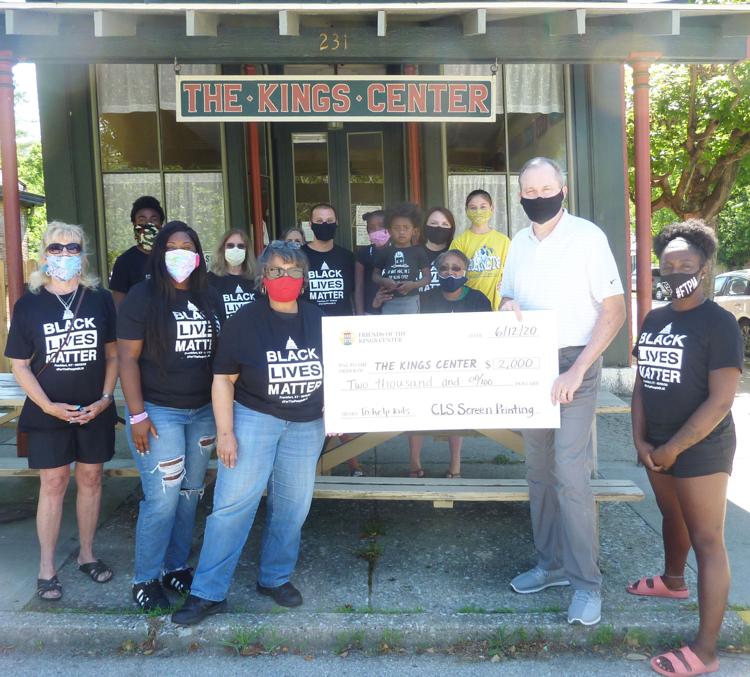 Cook, who donated $2,000 from shirt sales to The Kings Center on Friday, said the COVID-19 pandemic has kept business slow for a while so the change was welcome.
"It was nice to be hectic for two days," he said, adding that his crew worked late into the night preparing the shirts.
"We usually like a little more lead time, but it is going to a good cause."
Cook said CLS has taken orders from as far away as Olympia, Washington, and that the company shipped the remaining T-shirts out on Friday.
"The amount of support is amazing," he said, adding he is glad his company could help.
The Kings Center Director Denee Petty thanked three of the rally organizers, Katima McMillan, James McGraw and Natalee' Cleveland from the For the People Coalition. They were on hand for the check presentation at The Kings Center.
"It was a beautiful thing," Petty said of the BLM march.
Hurley was thrilled with the march and T-shirts, which many rally-goers wore.
"It just fell together and it's a win-win-win," she added.