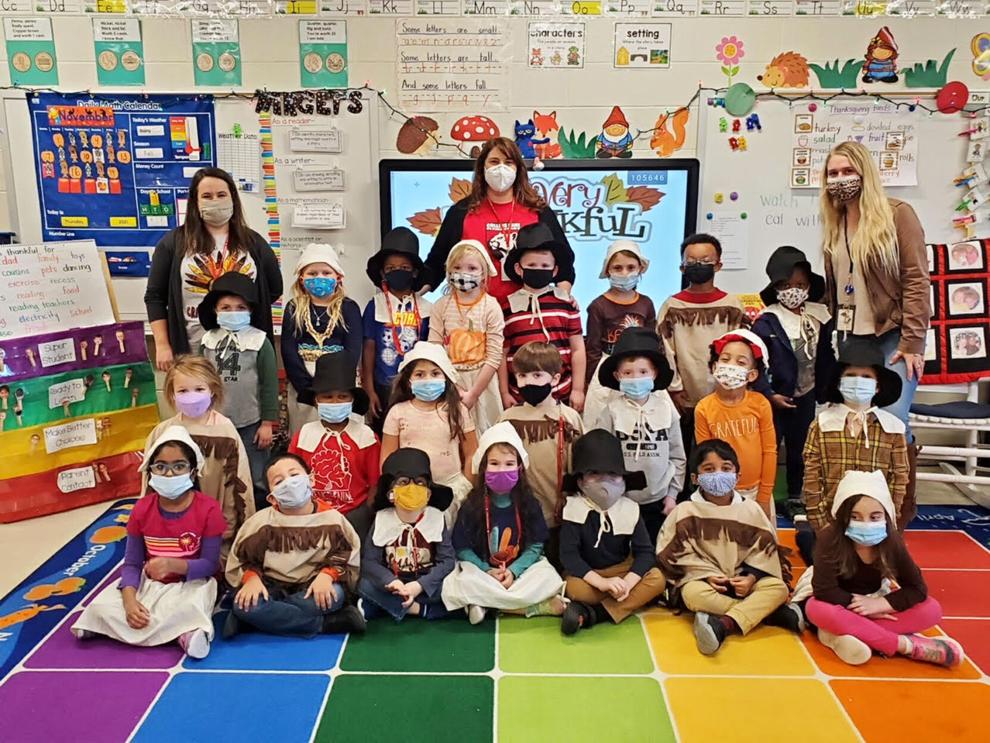 By Katie Snodgrass (Mrs. Katie)
This is my 16th year teaching kindergarten and my sixth year at Collins Lane.
I've done the turkey recipe activity with my class every year and it's one of my favorites. The tradition was started by my mom, Paula Wylie, who taught kindergarten for 33 years, 27 of which were at Collins Lane.  
I start the recipe activity by showing a picture of a frozen turkey and telling the students to imagine what their parents would have to do if they went to the store and they were sold out of turkeys. They usually exclaim, "They'd have to catch one!"
We then show a picture of a live turkey and a cooked turkey and tell them we need to tell parents how to catch a turkey and cook it to make it look like the turkey ready for Thanksgiving dinner. I ask lots of questions to my students throughout and try to write exactly what they say.
Their answers always surprise me and make me giggle and no two recipes have ever been the same. For as long as I can remember, it's been a tradition in my family for my mom and I to bring our class turkey recipes to our family Thanksgiving meal. It was always funny to see what each class would say.  
I love my students' creativity and imagination. This year, my assistant, Mrs. Triplett and I also did an activity in which we encouraged students to be the illustrator and draw illustrations to match the parts of the recipe. I hope to continue the tradition for years to come and encourage other teachers or parents to try it with your children. You're sure to have a Thanksgiving chuckle. 
How to catch and cook a turkey
By Mrs. Katie's and Mrs. Triplett's 2021 class
If you go to the store and they are all out of frozen turkeys, you'll have to catch one yourself and cook it. Here is how:
Go to a place where turkeys live, like a farm. Look for the turkeys. If you're not sure which one is a turkey, ask the farmer. You may want to disguise yourself as a turkey and say, "gobble, gobble" so the turkeys won't run away from you.
When you see a turkey, take your net and catch it. You can either take a sword or a gun to kill it. Put the turkey in a grocery bag and then put it in the back part of your truck or in your car. Take it to your house.
Shave the feathers off with a razor. Put pepper, seasoning, honey, hot sauce, seasoned salt and sauce that goes on a real chicken on the outside of the turkey. Make stuffing to go inside.
To make the stuffing, mix together tomatoes, sprinkles, flour, corn, cheese and some snow. Put the stuffing in the turkey. Put the turkey on a pan. Put it in the oven. Cook it on 3 degrees for 20 hours.
While it is cooking, set the table, decorate the house, clean the walls and stuff, set up part of your house to look like a movie theater, vacuum the floor, dust, and set up some fun toys for the kids to play with. Don't forget to cook the other food. Cook corn, broccoli soup, deviled eggs, salad, sweet potatoes, fruit kabobs, rolls, cookies and mashed potatoes.
You will know the turkey is done when the oven dings. Put mittens on your hands to take the turkey out. Put the turkey on a fancy plate. Put lettuce under it. Put cherries and strawberries on the lettuce to make it look cute.
When it is time to eat, cut the turkey into little pieces. Tell your guests to eat it. They will say it tastes "delicious" and "yummy."