A new group of workers is joining Liberty Hall Historic Site soon — goats. 
In an effort to curb invasive plants on the property, meat goats that will be monitored by Kentucky State University researchers will be grazing away on winter creeper, an invasive plant that came to the U.S. in the early 1900s and is common in Frankfort. 
Dr. Kenneth Andries, an assistant professor of animal science at KSU, said about five to 10 goats will be at Liberty Hall and will target the riverbank behind the house. The animals will be in an area with a shelter enclosed by a solar-powered electric fence. 
Andries also noted that these goats aren't like the animals one could see at a petting zoo or keep as a pet. They are tasked with eating the winter creeper on the river bank. 
"These are animals that are there to be working," he said. 
According to the University of Kentucky, winter creeper was introduced to the U.S. from China in the early 20th century as an ornamental plant, but it quickly outgrew garden beds. Today, winter creeper outcompetes native plants for necessities like space, light, nutrients and moisture. 
Liberty Hall Executive Director Sara Elliot said that using goats to clear out invasive species on the property is a first for the historic site. This process eliminates using chemicals to remove the invasive plants. She said that the site tries to maintain plants native to Kentucky in its garden spaces.
"We are very excited about it because we try to be environmentally conscious about what we are doing," Elliot said. 
Elliot said the historic site agreed to the project after being approached by the Remove Invasive Partnership of Franklin County. The citizens group promotes removing invasive plants in the area. 
Chris Schimmoeller, who is a leader in RIP said that a group of about 12 volunteers worked at Liberty Hall to remove about 90% of winter creeper there in February. She said that the area there is representative of what overgrown invasive plant areas look like in South Frankfort. 
Not addressing invasive plant species puts the future of local biodiversity at risk, Schimmoeller said. Plants like winter creeper cover forest floors, preventing native plants from getting sunlight and losing local species can lead to losing control of natural water flows and hurt the next generation of trees. 
"We hope that this can be educational and inspirational," she said. 
RIP started about two years ago and has hosted seven local workshop which were attended by 80 people. The next workshop will be on Friday, Nov. 15 and volunteers will remove invasives near Peaks Mill's Sullivan Lane Bridge starting at 9:30 a.m. The following day, volunteers will work in old Melodye Park in South Frankfort aht 9:30 a.m. There are about 16 community partners in RIP, including the Garden Club of Frankfort, KSU and Franklin County Extension. 
The animals will go to Liberty Hall shortly after their shelter is delivered. Andries said that the goats are expected to stay on the property until early December, before winter weather arrives. The goats will be checked twice daily. 
Andries said KSU researchers, including university forester Richard Cristan, will collect some data from the project. One goal is to find a way to quantify the impact that the grazers have on land with invasive species. Sometimes, the animals won't consume the whole plant, so researchers have to determine how to measure what was eaten versus what was there before, the professor said. 
"We are working on using some different techniques, using some different photosynthesizing equipment that our forester has and some of our GIS (Geographic Information System) people are doing different photo analysis processes where they can take images and measure the amount of foliage that has been removed based on the change in color palette of the pictures that are in the area," Andries said. 
The hope is that the group can develop a formula to figure out the impact the goats have.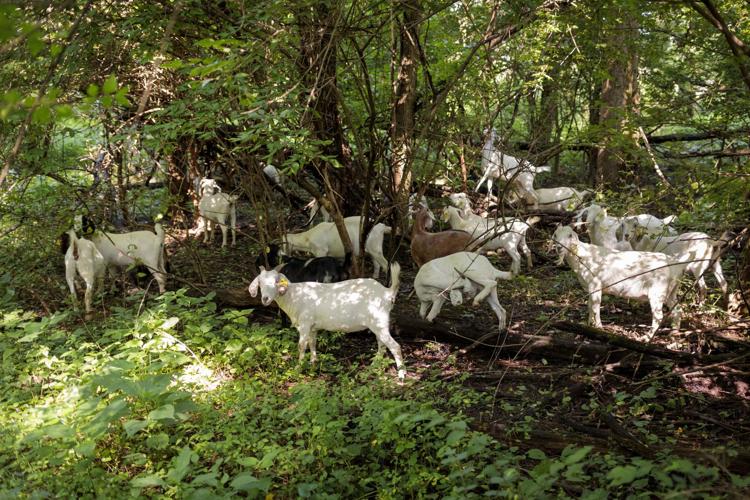 This research isn't the first on the subject. Andries has worked on other studies for KSU that test the effectiveness of goats munching on invasive plants or weeds in places like the St. Francis School in Goshen and a pasture in Carter County. Besides winter creeper, plants that have been targeted through grazing include multiflora rose, bush honeysuckle and kudzu. 
While visitors can't touch the goats, they will be able to see their work in action, Andries said. Farmers and other agricultural producers can easily replicate the study with their own goats. Andries has also heard of private companies offering a similar service. 
As a land grant institution, part of KSU's mission is to perform extension outreach and research in agriculture, Andries said. The goat project is an opportunity to show the public academics in action while collecting scientific information.
"Having the opportunity to work with them (people) and not just learn how we make this work, but to let people see how it works, I believe it's important," Andries said. 
To highlight the project, Liberty Hall will host a public After Hours event on Thursday beginning at 5 p.m. The event is free, though Elliot said that attendees should RSVP by the close of business Wednesday. Email educator@libertyhall.org to do so. 
Snacks, including goat cheese, will be provided. Beer and wine will be available for purchase. Andries will share more details about the plans and discuss the effectiveness of goats grazing on invasive plants during the Thursday event.