A furry friend in Bridgeport Elementary's library brings out confidence in the school's students. 
Penny, a rescue pet of the McCoy family, spends her days in the school's library listening to students read books aloud to her, getting treats from staff members and kids, and making everyone's day a little brighter. 
Kim McCoy, Bridgeport's librarian, said this year marks Penny's second at Bridgeport. She previously graduated from Pawsibilities Unleashed and is a certified therapy dog. The family adopted the dog from the Lexington Humane Society. Penny is about 6 years old.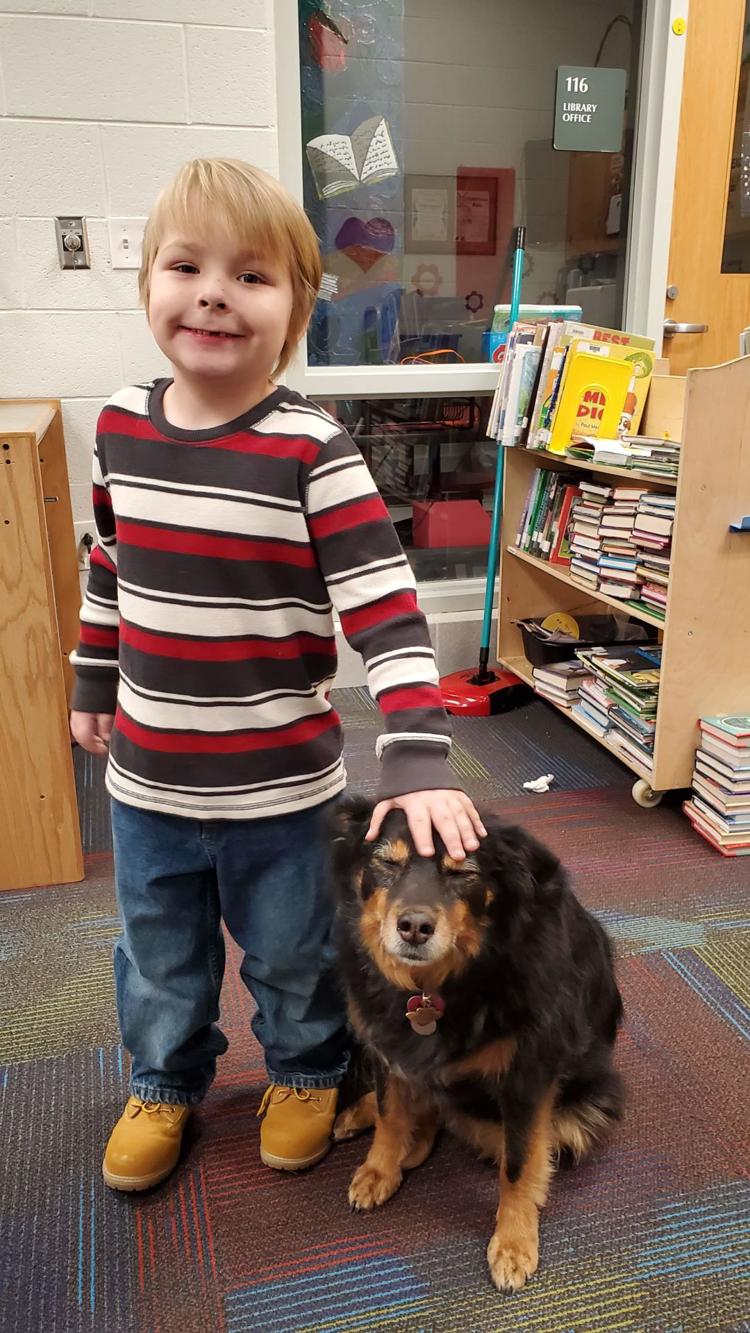 "She was just really patient with both of our children and just really sweet and loving and really wanted to be around us, so we brought her home," McCoy said. "We noticed that she really had the perfect temperament to be there for others." 
McCoy said that after seeing Penny's demeanor and hearing of a library dog at Peaks Mill Elementary School, also part of Franklin County Schools, she wanted to bring the idea to her own school library. Then, she enrolled Penny in a training program. 
Liz Norris, who works at Pawsibilities Unleashed, said Penny had to learn self-control and manners, including tasks like learning to lay in her "go place" or not jumping or barking, in order to become a therapy dog. Norris said therapy dogs are in a different category than service dogs or emotional support animals. 
"Dogs that are used for therapy work should be trained, certified and insured through a legitimate therapy dog organization, or trained through someone and then insured by the school they are working in," Norris said. "There should be no therapy dogs in a school that has not been through a training program and that is uninsured."
Penny has "been a positive addition to our school," McCoy said. Some students play with Penny as a calm-down option. One popular reward for students is a "Lunch with Penny" ticket, which students can redeem to take their lunch in the library and eat with Penny, who loves when students drop food from their trays.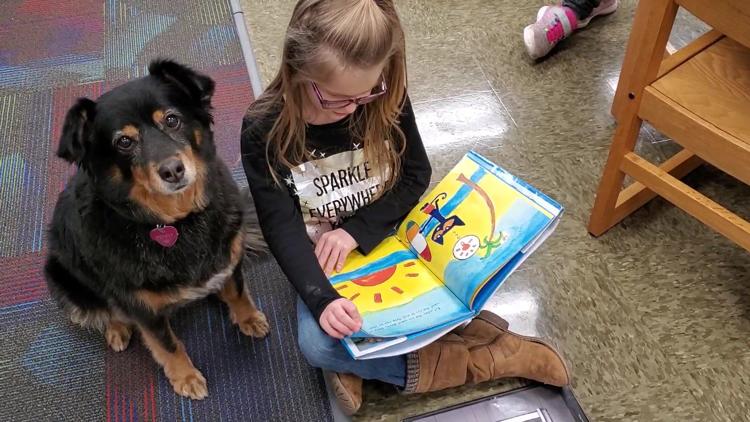 "Since Penny started to come to school, I've loved her," said Lilly Devers, a first grader at Bridgeport. Lilly said that during her lunch with Penny, the dog kept trying to lick her hand to get more treats. 
Lilly and classmate Amelia McCoin, another first grader, said having Penny at school makes it more fun. Amelia said Penny sometimes follows students around the library because she thinks they have food. 
"She's just very flexible and sweet to be around and really good with the kids," McCoy said.
Students also like cuddling up with Penny and reading a book aloud to her. McCoy said she's found Penny on a few occasions with a book open and propped up in front of her, as students who went back to class left the book so Penny could finish the story.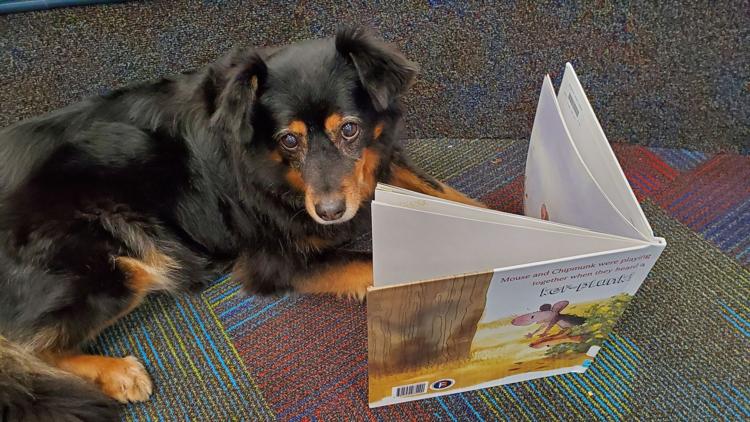 When the kids read to Penny, McCoy notes that they use inflections in their voice and enthusiasm, allowing them to gain confidence in reading books aloud. The dog also teaches students who may not have their own pets at home compassion, McCoy said. 
"Dogs are just kind of the ultimate non-judgmental entity," she said.