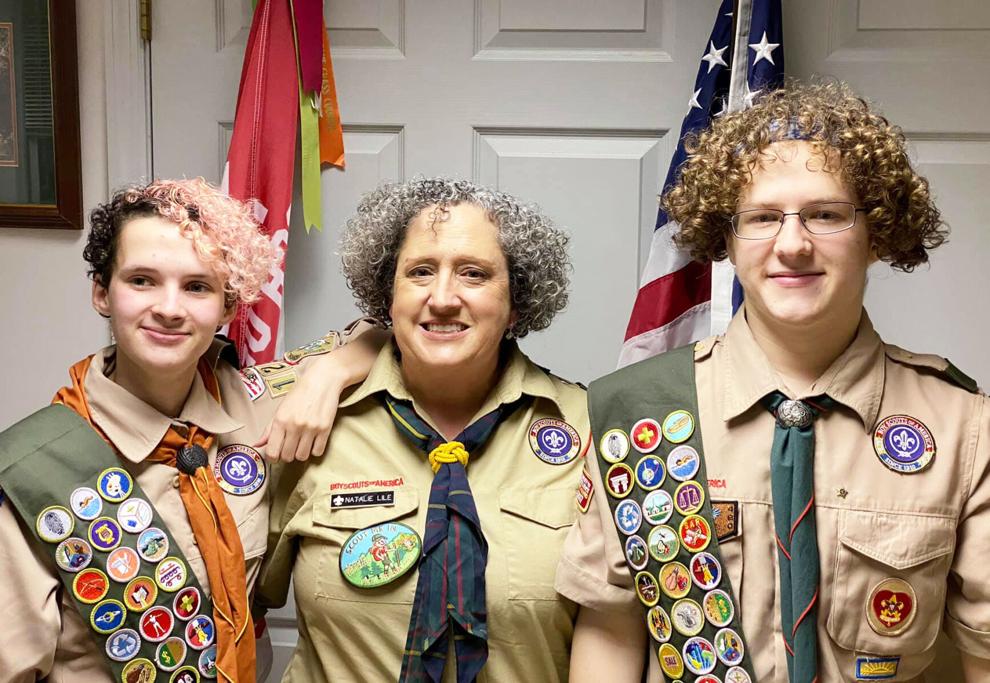 Eighteen-year-old Emily Reed, a senior at Western Hills, was under a time crunch to earn her Eagle Scout ranking in the Bluegrass Council of Boy Scouts of America.
As one of the first females to join the Scouts when girls were permitted two years ago, Emily set the lofty goal of obtaining the highest BSA ranking.
Fast-forward 22 merit badges and an Eagle Scout project later and the teen is officially the first female in the Bluegrass Council of BSA to earn the ranking.
"I was earning badges all the way up till the end — the last thing I had to do actually was finish my personal fitness merit badge," she told The State Journal in an interview earlier this week.
Emily said the personal fitness and personal management merit badges were also the most difficult to earn.
"You have to keep track of their respective subjects for several months, which was something I was not used to," she said.
On the other hand, the easiest to obtain was the fingerprinting merit badge, which Emily did at scout camp and took all of 30 minutes to complete.
In addition to going through six other rankings, earning 21 merit badges and completion of an Eagle Scout project — a service project organized and led by the scout — are required to earn the ranking.
For her project, Emily created a small viewing area near a pond a Josephine Sculpture Park.
"This included removing trees and debris, pulling cattails from the small pond and installing a log bench," she explained. "It was definitely a big learning experience but I had a lot of great volunteers and mentors who made the process a lot easier."
Three of those mentors are her mother and Troop master, Natalie Lile; her father, David Reed; and her twin brother, Kyle, who introduced Emily to scouts and has also obtained his Eagle Scout ranking.
"The Eagle project especially taught me how to make lasting effects in my community outside of the scout structure," she said.
Emily has learned a lot about herself in the process.
"I can actually make things happen and changes in the world," she stated, adding that Scouts gave her more responsibility.
"Scouts threw me into a leadership position where I had a lot more control over what we do and where we went than I ever had before."
When the COVID-19 pandemic started 11 months ago canceling in-person meetings and activities, she and all Scouts learned to be more flexible.
"There has always been a social aspect of scouts where you get to do cool things with your friends and that is less prevalent at this current time," Emily said. "We do still try to make it work through. Overall we have still been able to get a lot done."
The campouts and activities are the most rewarding part of being a Scout.
"There is a lot of prep work before each of them, but when you actually get out there it feels really good knowing you made it happen, not to mention the fun of the activity itself," she added.
What would Emily advise other girls interested in becoming a scout?
"It's not just for one type of person," she remarked. "Of course, now that means it's not just for the boys, but it's not just masculine people talking about knots and survival."
Emily has met all types of Scouts — those who have an interest in theater and band, artists, gamers and just about anything else.
So what does the future hold for this new Eagle Scout?
After graduating from Western Hills, Emily plans to major in sign language interpreting at the University of Louisville this fall. Next summer she is hoping to complete a hike of the Vermont portion of the Appalachian Trail with her sights set on a thru-hike of trail after college graduation.
No matter where she goes or what she does, Emily will always have her scout training to help guide her.
"I'm proud to be an Eagle Scout and I can't wait for the day when we don't even think twice about girls being in scouts," she added.