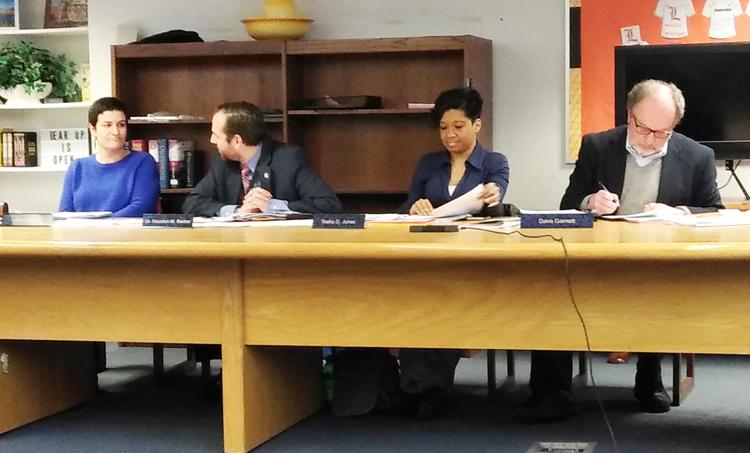 With little discussion, the Frankfort Independent Schools Board of Education unanimously approved the district's 2018-19 audit at Monday evening's meeting at Frankfort High School.
Ryan Laski, a CPA with Summers, McCrary & Sparks PSC, flagged the district for failing to publish a copy of the budget in the newspaper; four accounts with negative balances; and failing to follow proper procedures for purchase orders.
"I'll be honest, 50% of school districts didn't comply with publishing the budget in the newspaper because it was just added last year," Laski told the board.
The four accounts with negative balances are girls softball (-$16); boys soccer trip (-$3); dance club (-$1,193); and traveling Panthers (-$664).
"I think we are at a point now where we need to monitor more closely," Jina Greathouse, board chair, said of purchase order procedures.
Finance Director Tom Campbell assured the board he has gone over all of the auditor's comments with the bookkeepers so they know how to correct findings.
In other business, the board:
• Heard a TIGER Grant update from Chuck Knowles, project manager. Knowles proposed an exchange of services for five permanent and three temporary easements on Second Street School property.
Instead of the city paying the school district for the easements, which Knowles estimated to be worth $7,500, the city would widen the pickup and dropoff lane at the school from one lane to two lanes merging into one lane to help improve traffic flow around SSS.
Greathouse, who pointed out that the school would lose a parking space in order to widen the lane, said the board is still receiving feedback about the proposition and would have a decision at its Feb. 24 or March 9 meeting.
• OK'd its 2020-21 draft budget. Superintendent Houston Barber said the numbers used were based on current enrollment.
"It's really a rollover budget with more conservative views," Barber said. "We want to build our contingency up a bit."
The draft budget has a grand total of revenues and expenditures of about $9.7 million. The contingency fund is about 4.1%. School districts must have at least a 2% contingency.
• Unanimously approved a memorandum of agreement partnering with the Downtown YMCA to move its after-school program to SSS.
According to Brittany Howell, special education and district student services director, the program has a capacity for 96 students, but FIS is hoping to start slow so it will have room to grow.
"I think this can kickstart our after-school program, and I'm ready to do something for our families," Barber said. "I think we need to give it a shot."
• OK'd the implementation of a pilot program with Terrace Metrics to monitor the behavioral health of 300 students at a cost of $3 per student. Barber said it would give the district an idea of how it works and whether it would be beneficial.