Frankfort Independent Schools announced it will welcome students back to school on schedule Aug. 3. 
The FIS board unanimously approved reopening schools at a special-called meeting Tuesday evening. But things will look a bit different.
"We are offering distance learning and we're offering in-person instruction," explained Brittany Howell, director of district student services who put together the Re-entry Task Force's recommended strategy. "Those distance learning pathways are going to be very grade specific and school specific."
Howell said that families will be given the opportunity to choose from these options as well as provide information regarding transportation needs. Community members may submit questions on the district's website — https://www.frankfort.k12.ky.us/ 
FIS Superintendent Houston Barber told families to look out for more school and grade specific information and guidance in the coming days. 
Barber and board chairperson Jina Greathouse co-chaired a Re-entry Task Force of 32 stakeholders which met weekly and were tasked with making recommendations on school reopening to the board.
The task force's guidance is divided into six main categories — social distancing, mask expectations, screening and school exclusion, contact tracing, sanitation and environmental standards, food services, and transportation.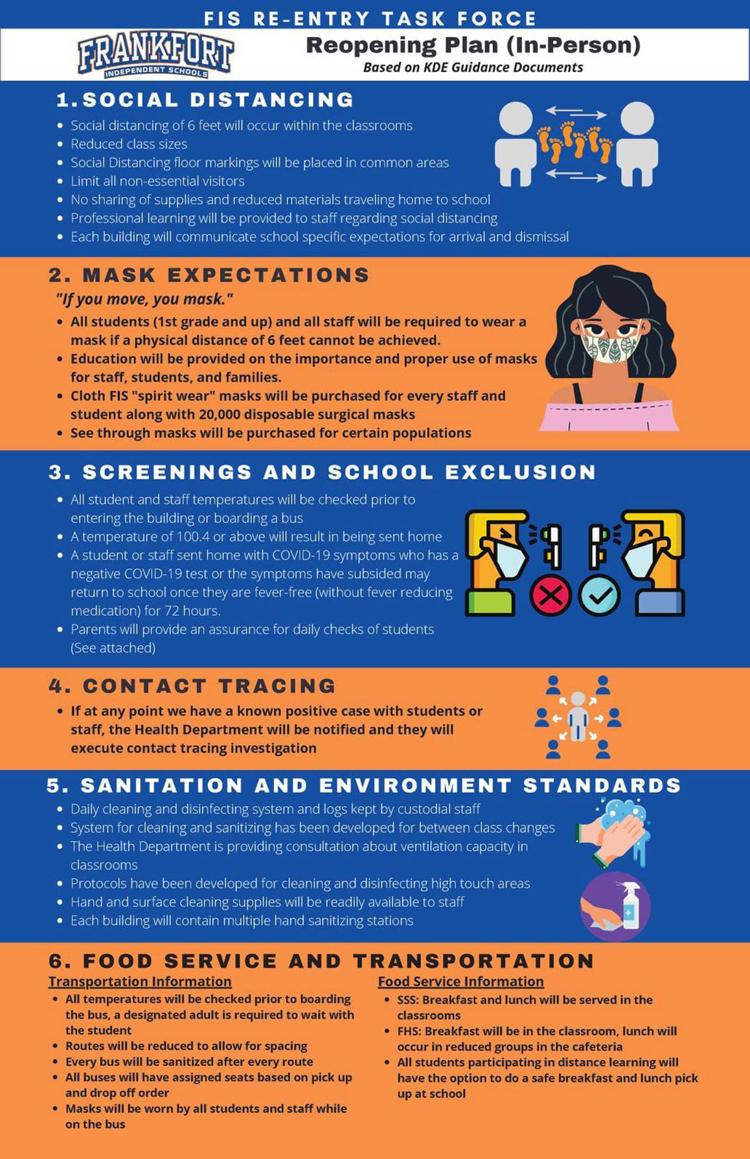 Howell said the schools will do their best to "keep kids 6 feet apart."
There will be social distancing markers in common areas and a reduction in "the amount of materials that are traveling from school to home."
Each school will give specific instructions on arrival and dismissal times in the next couple of days.
 "We've adopted the phrase 'If you move you mask,'" explained Howell. 
She said they are hopeful that students will not need masks inside the classroom unless moving around or when six feet of social distancing space is not possible. Specific expectations will be communicated to families. 
"We have obtained 10,000 disposable surgical masks and we hope to get 10,000 more," Howell added. 
Schools will provide staff and students with those masks and cloth "spirit wear" masks. There will also be see-through masks available for those who have hearing, physical or mental impairments.
Screening and school exclusion 
"If your kid is experiencing any symptoms or they have a fever, keep them home," said Howell.
Everyone will have their temperature taken before they can enter school buildings or board a school bus. Those with temperatures of 100.4 or higher will be sent home. 
Howell said that all parents who opted for in-person student instruction will be required to fill out a "parent assurance" where they will "promise that they are sending their kid to school with a temperature that is less than 100.4 and that they do not have a new cough, gastrointestinal symptoms, a new rash or exposure to COVID-19" each day. 
"For our students that are going to require transportation, we are going to recommend that a designated adult attend the bus stop with them so in case they do have a fever they can return home," she stated, adding that bus drivers are not legally allowed to leave a child at a bus stop. So, if the child has a fever and can't return home from the bus stop, he or she will have to be put in isolation on the bus and at school. 
Those who are sent home with COVID-19 symptoms must test negative for COVID-19 and be fever-free without fever-reducing medication for 72 hours before returning to school.
According to the plan, if a school has a known positive case of COVID-19 it must notify the health department to conduct a contact tracing investigation, which permits the health department to contact those who may have been exposed to the patient. 
Sanitation and environmental standards
Schools will have a system in place for cleaning and disinfecting the classrooms in between each class change as well as "logs that we can do checks and have accountability measures," Howell said.
Staff will have access to hand and surface cleaning supplies and will regularly sanitize high-touch areas like handrails and doorknobs. In addition, multiple hand sanitizing stations will be available.
Howell said, the health department is providing consultation about ventilation capacity in the schools and they're "still exploring what exactly that looks like." 
Food and transportation services
"We are going to take thoughtful consideration about transportation and we have asked parents to tell us who needs transportation so we can be a lot more thoughtful about our routes, seating, and how we load the buses," Howell explained, adding that masks will be required for all students.
Every bus will be sanitized between each route and bus staff will wear both masks and face shields. 
At Second Street School breakfast and lunches will be served in the classrooms and at Frankfort High School breakfast will be served in classrooms and lunch will be served "in reduced groups" in the cafeteria.
Students who have opted for distance learning will have the option to do a "safe breakfast and lunch pick up at school."