When Franklin County and Western Hills played against each other in sports, Casey Sparrow supported both sides. 
Sparrow, who was the principal of Bondurant Middle School and graduated from FCHS, died in November after a long battle against colon cancer at the age of 47. Now, his friends, family and former classmates are continuing his legacy in the form of a scholarship to support some of his students.
Before the annual Western Hills and Franklin County football matchup in a couple weeks, fans of both teams will come together to honor Casey's legacy.
Lisa Sparrow, Casey's wife, said that he was often very excited about the annual match-up, as he was an athlete at FCHS and knew current team members through their parents and wanted to support his own students at WHHS. 
"He was apart of both and loved both sides," Lisa said. 
On Friday, Aug. 30, about two hours before kickoff of the WHHS-FCHS game, the FCHS Class of 1989 will have a tailgate party to celebrate their 30-year reunion and sell barbecue to support the Casey Reed Sparrow Scholarship Fund, which was established shortly after Casey's passing. The class is also inviting classmates from WHHS, Frankfort High School and others in the community who want to celebrate Casey's impact. 
Berry Popp, a member of the FCHS 1989 class, was a high school friend of Casey's. The pair reconnected at a golf scramble to support Sparrow shortly after he received his cancer diagnosis. Along with some other former classmates, they got together and continued to meet at least once a month for breakfast, and from that regular interaction came the idea for the tailgate.
"At this point it's about impacting the kids that Casey touched," Popp said. "The main focus of the scholarship is to carry on his legacy with the students he interacted with."
Lisa said that the idea for the scholarship fund came from her husband. He talked about the idea with Lisa and their son, Austin Sparrow, before he died and shared the idea with Popp and another friend when they visited. Casey wanted to be able to help his students continue their education. 
The scholarship is awarded to student athletes who are graduating seniors at Western Hills. Both Lisa and Popp said the goal is to at least cover the next six years of graduating classes, as those students would have had Casey as a mentor in some way, either at WHHS or Bondurant. The hope is to keep the scholarship going after that.
Some of the other criteria for the scholarship winners include community service, leadership and playing multiple sports. This year, three graduates of WHHS were each awarded a $1,000 scholarship. 
Though originally from LaRue County, Casey's family moved to Frankfort during his sophomore year, Popp said. The two met on the football field, where Casey played defensive back and running back, and became friends over time. Casey also ran track and played basketball. 
"Casey's always positive. He was always upbeat," Popp said. "He was not the one out in front of the crowd, but he was the one who was always involved and participated, a class officer. He was a hard worker. He's always out-worked everybody else."
After graduation, Casey went to Taylor University, where he excelled at football and track. He played wide receiver and was named an All-American in 1992. He is still in the school's top 10 for career receiving yards with 1,794 yards. For a single season, Casey is listed in the top 10 for receiving yards, 995, and total points scored, 80, both in 1992.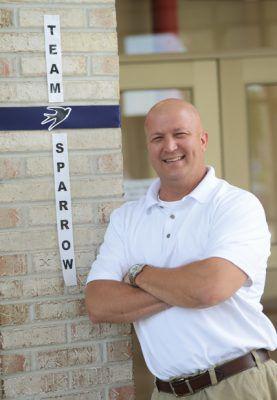 Lisa, who is a guidance counselor at Mercer Senior High School, said she and Casey met during their college years. She went to Lindsey Wilson College. Both were athletes at the time, then became coaches together during their education careers. The pair coached many sports together — girls track, softball, girls basketball at the high school and middle school boys basketball. 
As a coach, Casey was calm and uplifting, but he knew how to get his students to rise to a challenge and succeed, Lisa said. As for his role in school administration, Lisa said he would not ask anyone, whether another staff member or student, to do anything that he wouldn't do himself. 
"He was a lead-by-example person," Lisa said. 
The two left coaching when Austin became a freshman in high school, Lisa said. At the time, Casey was transitioning to school administration and they both wanted to "sit in the stands" at Austin's games as parents. Austin is now an assistant men's basketball coach at Campbellsville University-Harrodsburg and following in the steps of his parents. 
Some former students do reach out to Lisa, she said, usually in the form of a Facebook message. They share stories about something Casey did to make an impact on their lives and ask if there is anything that they can do for her or Casey's family.
She said that in addition to the tailgate fundraiser, the scholarship fund accepts donations and has had one fundraiser in the past few months. To see fans of both sides of the sports rivalry between Western Hills and Franklin County come together for a good cause is a big deal.
"It shows what he meant to that community," Lisa said. 
The tailgate will be at the Carter House at Lakeview Park beginning at 5 p.m., and attendees will walk over to the Franklin County High School football field before the 7:30 p.m. kickoff, but the group will have the house for the rest of the night, Popp said.
The McBrayer Law Firm, Stonehaven construction and Cumberland Valley National Bank are among the event sponsors. Meals are $12 per person, and proceeds will completely go to the scholarship fund. Other donations made during the event will be accepted, Popp said, calling it "kind of fitting" that the tailgate will support Casey's legacy, as he loved football and had connections to both teams.
To donate to the scholarship fund directly, checks can be sent to the Casey Reed Sparrow Memorial Fund at Whittaker Banks in Kentucky or by mailing them to treasurer Jamie Sparrow at 334 Snavely Road, Stamping Ground, KY 40379.