The Kentucky State University Board of Regents had a busy closed session on July 12. 
Memos were passed around regarding the scope of the school's financial issues — which new Chief Financial Officer Greg Rush characterized later as a "$15 million problem" — and then-President M. Christopher Brown II's plan to address them.
Former staff regent Chandee Felder, an administrative assistant at the school who was fired on Thursday, told The State Journal that she felt somewhat overwhelmed by all of the information presented. But one particular action compelled her to speak up.
Attorneys with the school's Office of the General Counsel read from a document that, according to Felder, was meant to make clear that the board was not aware of the problems.
"The documents listed out all the financial problems, about how we were millions of dollars in the hole, and the attorney kept saying each item and adding 'but the board was not aware,'" Felder said.
Felder claims that board members, including herself, knew of serious financial problems for more than a year before Brown's resignation and failed to act.
Because of that inaction, Felder called for the removal of appointed members of the board during the time that those problems grew — including herself. She told the governor as much in an email obtained by The State Journal via an open records request.
Shortly after Felder contacted The State Journal with these concerns, and the day before this story ran in Friday's newspaper, Felder got fired via communication from Human Resources Director Candace Raglin.
Raglin's letter to Felder alleged a violation of the school's HR policy and ethics code as well as "gross misconduct."
Felder said that she was motivated to speak out because she didn't feel that the board, then including herself, should select the next president of KSU.
Former Kentucky State University Staff Regent Chandee Felder. (Kentucky State University)
"They have no business picking the next president of that university," Felder said in an interview with the State Journal prior to her firing. "I even told the governor in an email, I said, 'I don't care if you take me down with this board, but take this board down and get rid of it.' That's how I feel."
Felder gave The State Journal private text messages and emails between herself and several members of the board discussing the school's financial problems — which is an open meetings violation — as proof that they were aware of problems with the school's finances.
The State Journal attempted an open records request for private messages between board members regarding board business, but was denied its request based on a recent ruling from the Attorney General stating that such messages, even if they're about public business, are not public records.
Texts between Felder and Farris show Farris directing the staff regent to look at recent years' audited financial statements, asking her about warning signs that financial staff had given Felder, and commenting that Brown "has torn up KSU's culture." Some of the correspondence concerning the school's finances dates back to early 2020.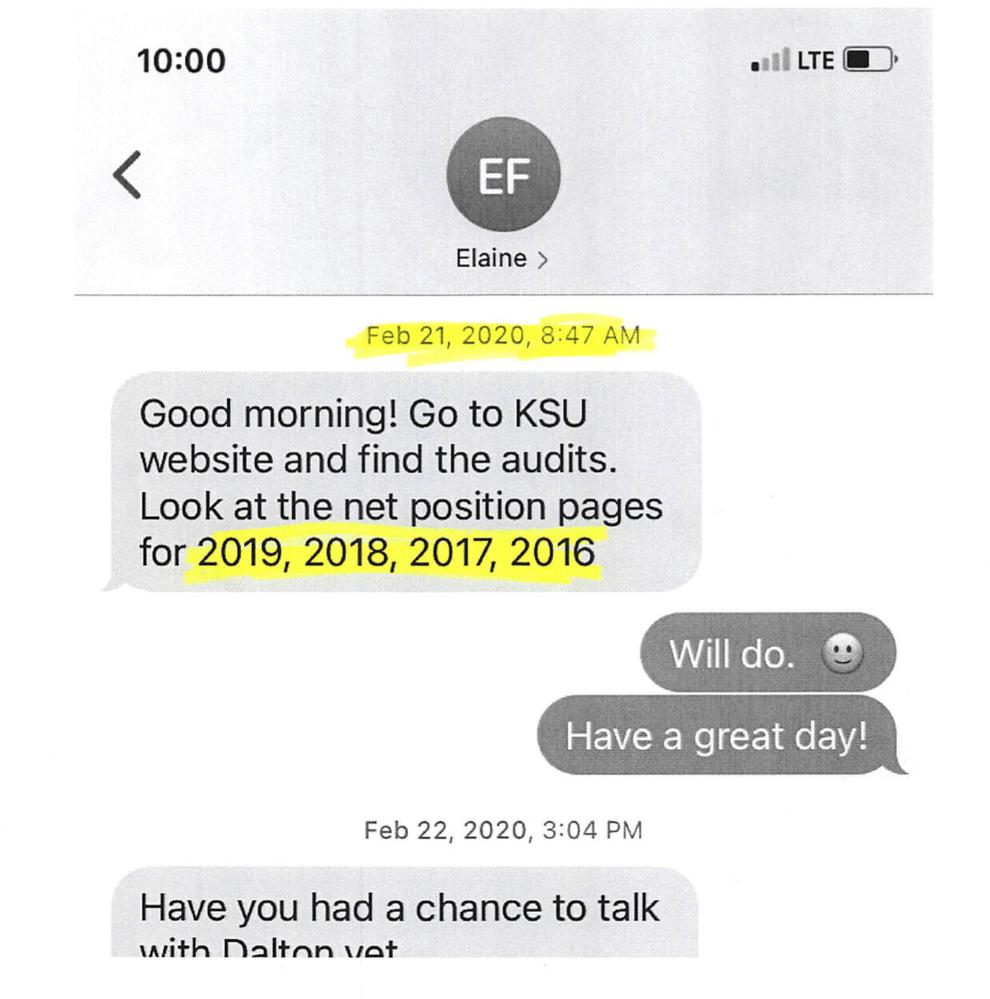 Other texts and emails with current and former regents show that Felder made others aware of financial problems well over a year before Brown resigned.
Vice Chair Dalton Jantzen, who has been on the board since 2016, asked Felder over text where he could access the school's audited financial statements. The statements are publicly available on the university website.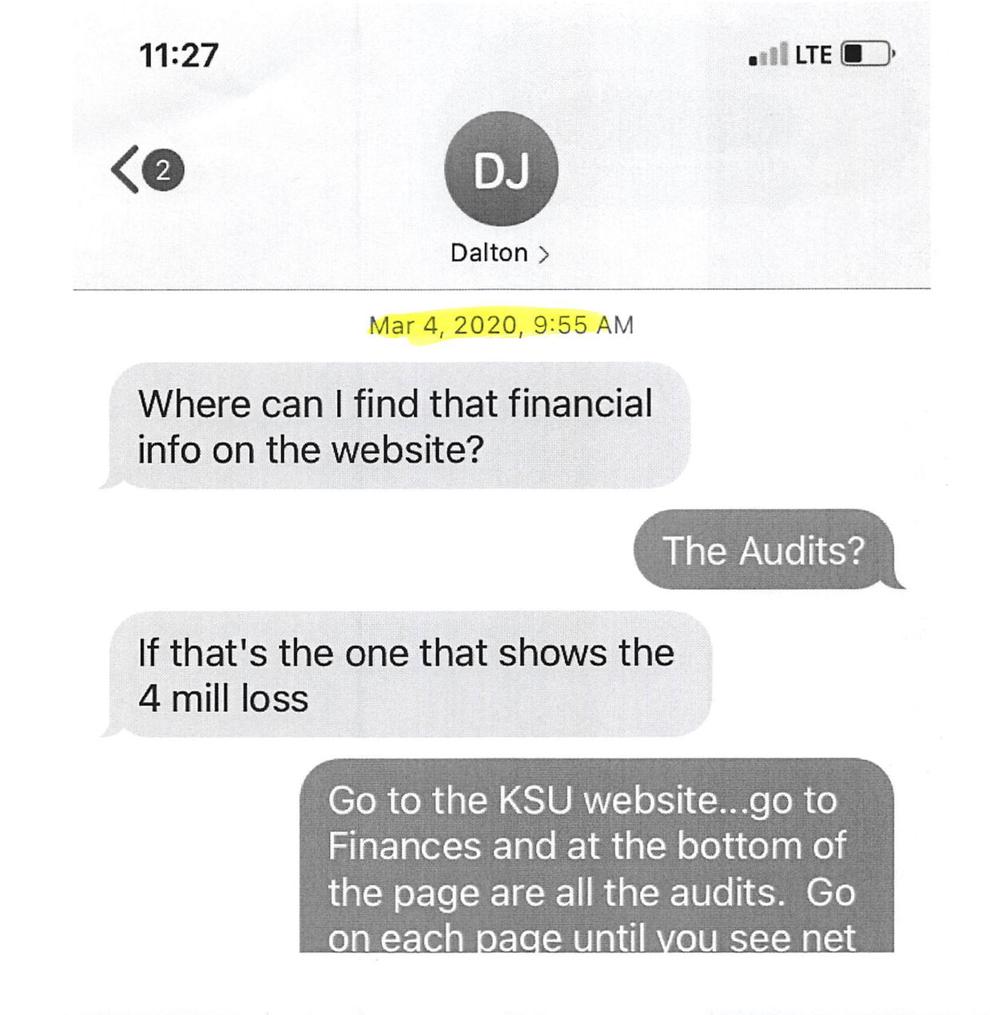 Felder texted Regent Paul Harnice, who she said would sometimes ask financial questions in meetings, about her belief that a forensic audit was needed on July 5 of this year but that she was also fearful of the ramifications on her job of speaking up. A forensic audit is often employed to identify potential fraud or other financial improprieties. Harnice advised her to "express it" if she had firsthand knowledge of the need for a forensic audit, but that he would soon be leaving the board.
Harnice did submit a letter of resignation from the board to the governor on July 14, but later rescinded his resignation before the governor's office confirmed it.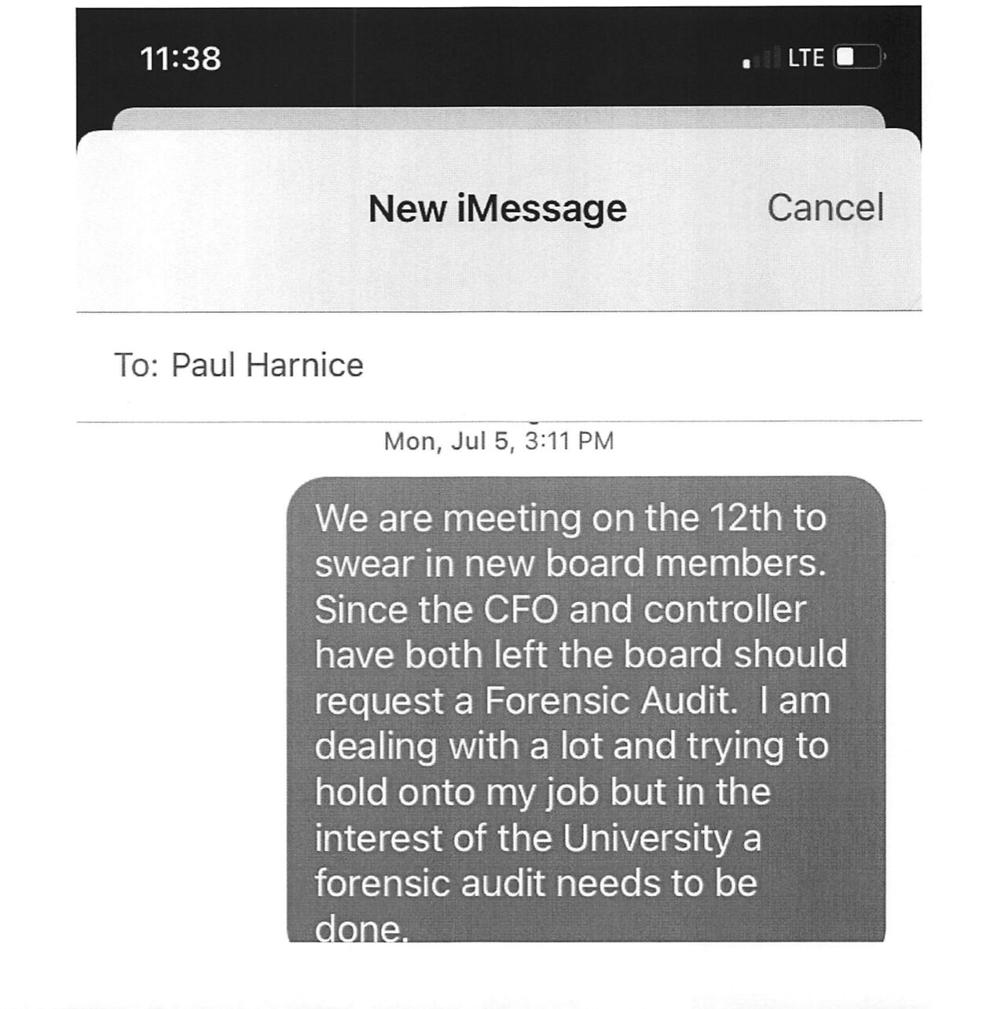 As far back as early 2020, the board also received anonymous letters detailing the school's slipping financial position from the beginning of Brown's tenure, from which The State Journal will not quote as it is unsigned. Felder said that the letter was mentioned in a board setting, but that other members laughed it off or ignored it in a board setting.
"When you're 100% positive that they knew and did absolutely nothing, you don't keep your mouth shut," Felder said. "That's why I'm speaking out now. Because I don't want them choosing the new president."
Additionally, Felder has emailed the office of Gov. Andy Beshear five times, starting in July 2020, about the school's financial issues, according to a State Journal open records request.
Felder said that she knows sharing information from closed session, and speaking openly about board business outside of board meetings without Farris' approval, is a violation of board policy; however, she said she sees speaking out as her fiduciary responsibility.
"K-State has great students and so much potential," Felder said. "We just have a bad hierarchy that I honestly don't think cares that much. We get a bad rap sometimes, but it's because of the administration."
Only two board regents are alumni, Felder pointed out, and only Roger Reynolds attended KSU as an undergraduate.
She called the campus environment "horrible" for staff, and said that she didn't think the school could move on from a Brown administration that some called "toxic" and the financial problems that appear to have come with it until the board gets a "fresh start" with new members who haven't been on the board in recent years.
Farris — a member of the board since 2015 who rose to prominence as the state's first Black superintendent in 2004 and has held high-ranking state education positions thereafter — denied comment. She deferred The State's Journal's several emailed questions to General Counsel Lisa Lang.
Lang did not answer any of the questions regarding the finances, some of Felder's characterizations of closed sessions and more. Instead, she reiterated parts of the board's closed session and open meetings policy.
The State Journal reached out to Farris on Tuesday, more than two days before Felder's Thursday firing.
At previous board meetings, Farris has said she believes the board was not responsible for the financial issues at the school because it did not receive reports that showed the full extent of the problems.
Other board members, including Jantzen, have publicly emphasized that they were not aware of aspects of the school's finances prior to Brown's resignation and Rush's presentations to the board.
Jantzen stressed that the board as recently as June was given a much different picture than the reality by the school's top financial officer. Jantzen said that during a board meeting in June former CFO and Executive Vice President for Finance Douglas Allen told the board that "KSU is on track to end the fiscal year in the black."
Allen — who resigned at the end of May, effective June 30 — has yet to respond on the record to questions about his former school's finances. He is now the CFO of Tennessee State University.
Felder told The State Journal that it doesn't take an expert to see that the audited financial statements, though they were heralded as positive by KSU's public relations staff and board members, told the story of the school's worsening financial position. She stressed that even without a college degree, she understood that the school had a serious problem.
"I suck at math, and I don't even balance my own checkbook," Felder said. "But I could see it. I could see it in the audits and the things that they were presenting to us. And I'm thinking to myself, 'All of these are educated PhD people, or people with law degrees. There's no way you don't see it.'"
Felder said that at the July 12 closed session, she spoke for around 45 minutes criticizing the board and the president's posture that they were not aware of the finances. This followed Brown's presentation regarding his planned next steps for the university.
To be clear, open records experts like Amye Bensenhaver of the Kentucky Open Government Coalition state that KSU's Board of Regents, who according to meeting minutes met in closed session to discuss pending litigation and "personnel matters," violated open meetings law by allowing Brown to present on a plan to get the school back on track during closed session.
Those issues related to the school's finances before Brown's resignation were in the public's interest to see, Bensenhaver said.
"That's 100% against open meetings law," Bensenhaver said. "The statute expressly states that you can only discuss the matter identified. A 'personnel matter' does not include saving the university from financial ruin.
When Brown was still employed, on July 13, Felder asked Farris via email to place Brown on suspension and for a forensic audit to take place.
On July 13, Felder, still confused about the information presented to the board, emailed Farris with a suggestion: engage the state auditor's office and ask that Brown step aside while that takes place.
Michael Goins, spokesperson for Kentucky Auditor Mike Harmon, told the State Journal on Thursday that his office was not formally engaged with KSU in any way.
Kentucky State University Board of Regents Chair Dr. Elaine Farris. (Kentucky State University)
Farris told her that it was "in violation of the open meetings act for us to discuss board business via email." However, Farris later forwarded Felder's email to the entire board and Lang, which Bensenhaver called "ironic."
"Here, the evidence suggests that [Felder] was urging greater transparency rather than trying to be less transparent," Bensenhaver said. "... It's so troubling to me that agencies weaponize what they think of the law to try and silence their critics."
Felder said that coworkers had argued to her that speaking out would "cause a problem" for KSU, but she thought that it was worth it to encourage the university community to "start fresh" with new members.
"People have told me 'you're going to cause a problem for the university,' but I don't see it that way," Felder said. "I think you need to drain the whole swamp, even the last crocodile, or you've got the same situation you've always had. That board has protected that President, and that is my problem. Until you get rid of that board you can't start fresh."