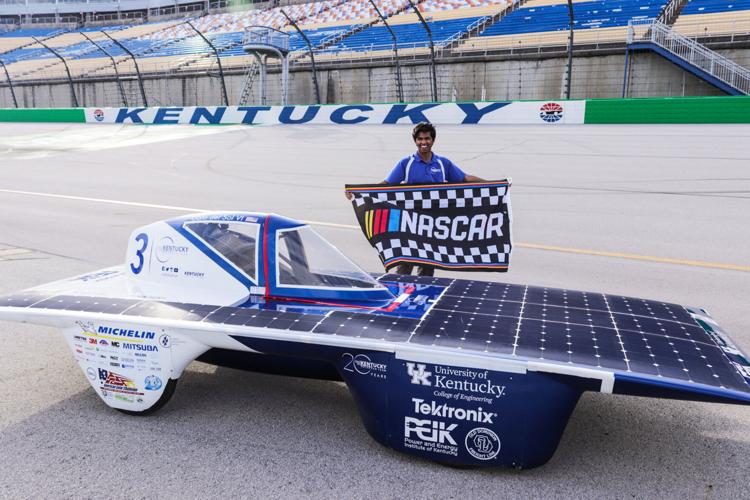 It is safe to say Monon Rahman is lapping the competition.
The Frankfort native and University of Kentucky graduate was recently named Outstanding Intern during the 2020 NASCAR Drive for Diversity Awards.
Rahman, who grew up in the capital city, is a the son of Rachana and Matiur Rahman.
"Throughout my childhood, they built my foundation not only by providing me with strong academic resources but also with a crucially diverse mindset," he said of his parents, who moved to the United States from Bangladesh.
It was this upbringing that has helped Rahman excel academically. In 2015 at the age of 15, he graduated from Paul Laurence Dunbar High School in Lexington. He enrolled in UK as a 16-year-old and earned a degree in mechanical engineering at 19.
"The hardest thing, the first two years of college, I couldn't sign my own (legal) waivers because I was under age," Rahman said. "My freshman year, we were going to the Johnson Center (a student wellness facility) to try to go on the rock-climbing wall. I couldn't do it because I had to sign a waiver (that) I wasn't old enough to sign."
His love of motorsports was also instilled at a young age.
At 7, Rahman saw the movie "Cars." The Pixar classic became more than his favorite childhood film and ultimately sparked an unrelenting interest in racing that shaped his way of life.
UK Engineering offers two racing teams: the Solar Car Team and Formula Kentucky. Whereas the former builds and races vehicles powered by solar energy, the latter does the same for formula-style cars. Generally, interested students choose one team over the other.
During his time at UK, Rahman was fully immersed in both. In addition to serving as aerodynamics and body work lead for Formula Kentucky, he was team manager during the manufacturing of the Solar Car Team's vehicle, Gato Del Sol VI.
"Being involved in leadership and management with these teams also prepared me in various nontechnical ways," Rahman continued. "They taught me how important it is to foster collaboration, which is essential across all forms and levels of racing."
He was selected to be an intern in the NASCAR Diversity Internship Program (NDIP). Each year, NDIP chooses a group of students from diverse backgrounds in order to provide hands-on experience in the industry.
During his time in Concord, North Carolina, Rahman provided engineering support for NASCAR's Research and Development Center.
"The biggest enjoyment I got out my internship with NASCAR was being able to meet so many new people. There's definitely a lot of talented individuals and being able to make new connections has helped me a lot," he said. "The sport is one big family and having a support system within it can help immensely, since many of us go through similar experiences throughout our careers."
Upon completing his internship, Rahman accepted a job as engineer at Rick Ware Racing (RWR) for the NASCAR Cup series teams and IMSA team. 
"At the shop, I help our teams organize, prepare and set up vehicles for each race weekend. At the track, I typically stay on top of the pit box with one of our crew chiefs and assist with race strategy," he explained. "A lot of my work is dependent on staying organized — the more notes and observations we make on our vehicles each week can help us understand and validate what we do going forward."
"We at RWR are so proud of what Monon has accomplished in his short time here. He has an amazing work ethic and a maturity level way beyond his years. Although those qualities are amazing, the real reason we feel he is so deserving of this award is his passion for motorsports," JR Courage, team manager at RWR, said. "From working with veteran crew chiefs to coming up with more efficient and cost effective ways to operate our day-to-day operations, Monon has become a big team player in our organization. We are honored and proud to call him one of our family."
It's undeniable that Rahman has accomplished a great deal since his days as a young boy obsessed with Lighting McQueen. But there's still more he hopes to achieve. Becoming a crew chief is just one of his ambitious goals.
No matter where his career takes him, Rahman remains committed to promoting diversity and inclusion along the way.
"Programs, such as Drive for Diversity, have helped bridge the gap for people such as myself, and I hope we can continue bringing more passionate and talented people into the sport," he said. "I keep working as hard as I can because beyond wanting to race for myself, I want to be someone who sets an example for other minorities who are passionate about making a career in motorsports."