Alison Gregory wasn't in Mayfield when tornadoes struck the town last weekend.
What she saw when she returned home was unrecognizable.
"They're not just damaged," she said about the buildings in Mayfield. "They're gone."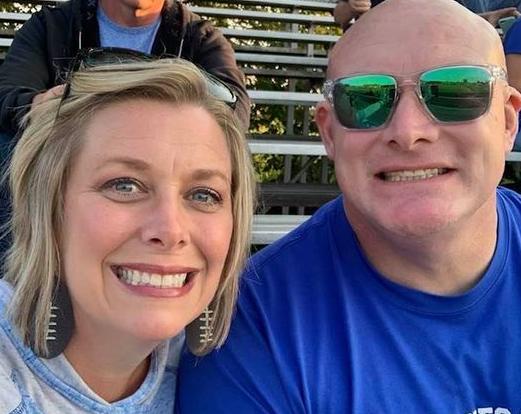 Gregory, a 1996 graduate of Franklin County, is the principal of Graves County High School in Mayfield.
She is the daughter of David and Dianne Cobb and was in Frankfort Friday because her daughter was competing in a statewide cheerleading competition over the weekend at George Rogers Clark High School.
"I'm glad I didn't have to experience that," she said. "I have kids and staff members who lived through it. Some were underground. One was in a tunnel.
"We're going to be dealing with the aftermath for quite awhile."
Gregory moved to Mayfield with her family in 2009 when her husband, Lance, was named head football coach at Graves County. They didn't have any damage to their home.
As well as she knows the community, getting around has become a challenge.
"I was trying to get home from my church the first night and I got lost." Gregory said. "The landmark buildings were gone. I was thinking, 'is this Broadway?'"
Gregory's church, Catalyst Church, has become an important cog in the first week of recovery.
"My church is open from 8-5," Gregory said. "It's serving as a distribution center. People need stuff daily, and they come every day. Some are staying at shelters, and they don't have any place to keep things.
"It's cold, and some people don't want to leave their homes because of looting, if they have anything left. You have people staying in a house, and there will be 12 to 15 people in the home. It's cold. They need heat, and it needs to be safe."
After graduating from FCHS, Gregory attended Western Kentucky University. She taught in the Hart County school system before moving to Graves County, and she's been the Graves County principal since 2019.
"This is the only home my children have ever known," Gregory said. "We moved here when they were 3 and 4. It's hard to see. Our kids are resilient, but where do you start? My staff has been calling every single child to see if they're OK and what needs they have.
"My teenagers at the high school have really stepped up. We give teenagers a bad name, but we've had 50 to 60 every day at the church to help out."
Also helping with the recovery is Gregory's brother, Steven Cobb, who heads a disaster relief group out of Lexington. Cobb is a homicide investigator with Lexington Metro Police.
"They go out where they're needed," Gregory said. "They use their vacation time to help. I always said 'I wish I had the days off to help you.' He's gone all over the U.S. It's so sad to me I haven't been able to go and now he's coming to me."
Cobb has been doing disaster relief work since 2009, and this is the first time he's worked when an immediate family member is involved.
"This is a little bit different," he told The State Journal in a phone interview. "You kind of have to disconnect a little bit to do what you need to do right now and deal with your emotions later at a better time.
"This is a typical small town in Kentucky where they're trying to keep downtown viable. There's no more downtown, and it could be hard to get investors. It's just gone. We're not fixing, we're just bulldozing."
Cobb lives in Lexington but has strong ties to Frankfort.
"Whenever I do this, I'm always humbled," he said. "Whether it's my parents' friends, Alison's friends and high school friends, my high school friends and people I went to high school with that I wasn't close friends with, but it's always humbling how many people give money and trust."
Gregory is appreciative of her friends in Frankfort who have checked on her and her family and offered to help.
"It's hard to believe we're raising our kids in a town smaller than Frankfort, but we are," Gregory said. "It's a great place they're proud to call home.