With eight new COVID-19 cases reported Thursday by the Franklin County Health Department, Franklin County has over 40 new cases this week, and the week isn't over.
It's the fourth week in a row the county has had at least 40 new cases.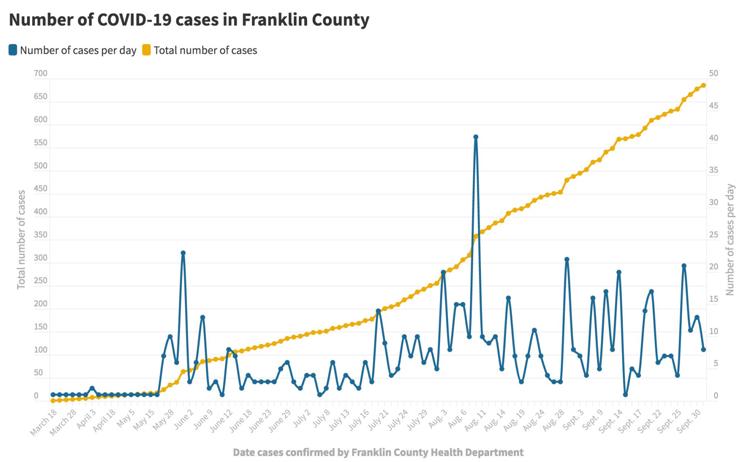 That's not quite the level of 68 cases that were reported the week of Aug. 3, the highest one-week total since the pandemic started, but it raises a red flag.
"We are obviously concerned with the rising case numbers and the impact of that on our schools, whether they return in person or the large number of cases that may result when they do return in person," FCHD Director Judy Mattingly said.
With the eight cases reported Thursday, Franklin County now has a total of 686 cases.
"Not only are our case numbers rising, but the number of contacts to each individual positive case has increased dramatically, creating a huge concern about possible increased community spread," Mattingly said. "We currently have over 240 active contacts that are in a day-14 quarantine to try to reduce this community spread."
The county currently has 82 active cases, with 34 of those school related (K-12 and college).
"We are concerned that mask wearing and physically distancing may have waned and want to strongly encourage our community to not only mask up and maintain a six-foot distance from others, but stay home when sick and wash hands or use hand sanitizer frequently," Mattingly said.
She added that the health department is working to schedule more COVID-19 testing dates and is awaiting shipment of more rapid testing equipment to address the community need.
In addition, FCHD has regularly scheduled adult flu vaccine clinics every Friday at its 100 Glenns Creek Road location. To register for the flu clinic, go to www.fchd.org and use the green button on the left.
For more information, call the health department at 502-564-7647.
"With flu season now upon us we are greatly concerned that individuals may not take their symptoms seriously, that it could very well be COVID-19 symptoms rather than the flu," Mattingly said.
"We are also concerned about the mental toll that this uncertainty is taking on all of our community, those exposed to COVID and our healthcare workers. We have been making many referrals to and are very grateful for KCCRB (Kentucky Community Crisis Response Board)."
Gov. Andy Beshear announced 910 new COVID-19 cases Thursday at his press conference. That follows two straight days with more than 1,000 cases.
That brings the state total to 69,728 cases of the virus. There were 17 new deaths reported Thursday, including a 29-year-old woman from Clark County. She's the first Kentuckian in her 20s to die from COVID-19.
There have now been 1,191 COVID deaths, and 11,970 have recovered.
The state's positivity rating is 4.11%.
Guidelines for Halloween trick-or-treating were released at the press conference. They include placing individually wrapped candy outside on the porch, driveway or a table; maintaining a social distance of at least 6 feet from anyone not within your household; always wearing a face covering (Halloween masks do not count as a face covering); cleaning hands before and after touching the wrapped candy; trick-or-treating in family groups and don't congregate in large groups; trick-or-treating in your own neighborhood (do not travel to other neighborhoods); and using hand sanitizer often, especially after contacting frequently-touched surfaces and before eating anything.