Good Shepherd Principal Dr. Michele Ulrich had trouble sleeping Sunday night, thinking about school opening the next day.
She didn't need to worry.
"I was thinking about all the things that could go wrong, and nothing," she said. "It's been really smooth sailing. I've been pleasantly surprised. I thought we'd have a lot of glitches, but we did not."
Good Shepherd and The Frankfort Christian Academy opened to in-person instruction this week, Good Shepherd on Monday and TFCA on Wednesday.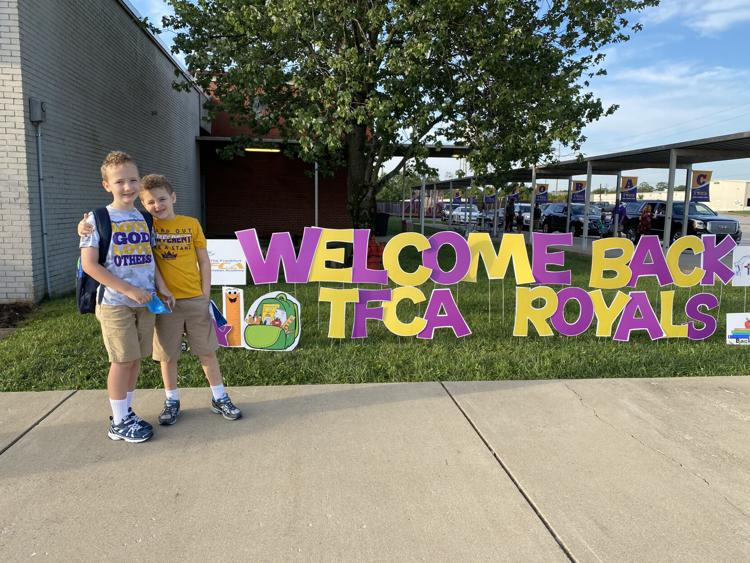 "The kids did great, the staff did great," TFCA Principal Carrie Beth Tigges said. "There are some changes, of course. We have a different drop-off routine. I thought that might be a problem, but we had everyone in and out in 20 minutes.
"I saw a lot of smiling faces, a lot of parents' smiling faces. It's great being back and doing what we love to do."
Schools closed in March because of the coronavirus pandemic and finished the school year with non-traditional instruction.
"The students couldn't wait to get in the door," Ulrich said. "It's like we never left. With wearing masks, I haven't had to call out one student for taking their mask off, even the little ones."
Both schools are offering virtual learning. Tigges said 6% of TFCA's families chose to do virtual learning, and it is offered for all grades. Teachers are teaching in person, and students who selected that option join live from home.
Ulrich said 15 students are doing virtual learning at Good Shepherd for two weeks. After two weeks, students have the option to switch to in-person instruction or remain with virtual learning.
Students who decide to stay with virtual learning after the first two weeks can't change their minds until the end of the first trimester.
The two schools are following CDC guidelines such as wearing masks, practicing social distancing and placing hand sanitizers throughout the buildings.
"Everything is new to everybody," Tigges said. "I tell our new families we're all in the same boat."
TFCA held open house last week with staggered times and small groups.
"We wanted to the kids to come in and see their teachers, where they put their stuff," Tigges said. "We did a lot of communication over the summer, and we did a lot of work on the front end."
Ulrich said Good Shepherd did the same.
"In the summer we sent out five or six pages of things we were doing and why we were doing it, what the building would look like," she said.
"Since the day we closed (in March), we started planning. We have to be safe, and hopefully we'll continue to be safe."
"It's different now, but our first day was great," Tigges said. "God is faithful. He prepared us, He prepared them, and everyone I saw leaving today had a big smile on their face."