Brown entered KSU at a time of high scrutiny. In 2016, the year before his arrival, the school was at the tail end of a years-long decline in enrollment that had led to drops in tuition revenue and other financial struggles. The situation prompted state legislators to pass House Bill 303, which implemented more oversight of the university. KSU would have to present a management and improvement plan to a House committee, and update legislators annually on its progress.
The original management plan, from 2016, included a frank overview of KSU's institutional status and the challenges it had faced. It also laid out specific five-year goals for improving everything from enrollment and student retention to indicators of the university's financial health. By 2021, if all went according to plan KSU would be positioned for long-term sustainability, the report said.
One of Brown's main tasks as president was to execute that plan. He entered KSU with a reputation as a positive leader who "gets results," he said in a podcast interview with HBCU Digest. However, he had also left Alcorn State University in 2013 amid an investigation into spending on the president's residence, per an Associated Press report.
"It's just like a boxer knowing the weak side of his opponent," Brown said. "The parties that be knew that this was a weak area. They can't say academics aren't up, they can't say ratings aren't up, they can't say enrollment isn't up. There's nothing. The only area that's not fully defended is this area of fiscal oversight."
Indeed, although the proportion of school funding going to instruction has decreased in Brown's tenure — from 15.5% in 2017 to 12.9% in 2020 — KSU's academic statistics look bright. The positive trajectory is encapsulated in a report presented to the House committee in 2019, which contrasts eight-item report cards from 2015, when KSU earned seven Ds and Fs, through 2019, when it earned seven As and Bs.
One of the prominent items — and Brown's signature achievements, mentioned in every one of his presidential assessments — is the school's growth in enrollment. From 2013 to 2016, the number of students plunged over 40%. But since Brown's arrival, enrollment has climbed 30%, reaching its highest number in seven years. KSU met its goals for enrollment in three of the last four years, and now sits at around 2,200 students.
This includes growth in full-time, part-time and dual-credit students. Although the dual-credit program existed and saw growth before Brown entered in 2017, the program has jumped under his tenure, growing by over 25%. Student retention has seen similar increases, and although the number of degrees granted is much lower, the number of degree-seeking students also dropped four years ago.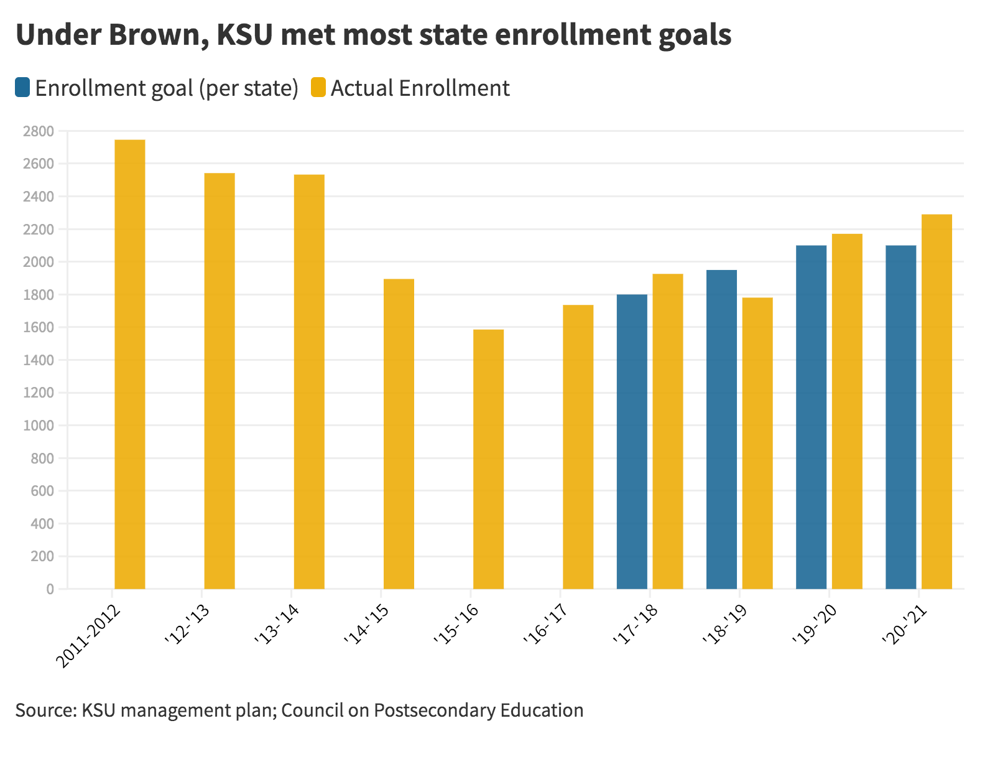 Graduation rates have also improved, though publicly available data is scant; the four-year graduation rate leapt from 5% for the cohort that began in 2010 to nearly 12% for the 2013 cohort, and the six-year graduation rate inched up from 21% to 26% among those groups.
The class cohort that began college in 2013, the most recent public data set for graduation, had a four-year graduation date in 2017, just after Brown was selected; that class' six-year graduation date was in 2019. Still, according to a performance review from 2021, one of Brown's "major accomplishments" was raising the four-year graduation rate, alongside other academic metrics.
"Kentucky State University has attained the student headcount and full-time equivalent enrollment to remain a viable and autonomous state-supported postsecondary institution," Brown wrote in his late 2019 preface to KSU's management and improvement report. "The enrollment and retention increases are noteworthy given the intentional attrition of prior cohort students who lacked the academic proficiency to be successful without a significant investment in unfunded academic and remedial supports."
The enrollment growth was one of the high points for many on Kentucky State University's Board of Regents. A performance review from January 2021, written by a consultant with the Association of Governing Boards of Universities and Colleges, recommended that Brown improve the university's financial transparency and review the budget development process. But it also touted his work increasing enrollment, accreditation, retention and graduation rates.
The performance assessment congratulated him on "stabilizing university leadership," noting that he was "perceived as charismatic, energetic, inclusive, transparent, engaging, accessible and futuristic."
The Board of Regents wrapped up its review of Brown's performance in March and voted on June 3 to extend his contract to summer 2025.
A month and a half later, Brown resigned.