Dr. Gus Ridgel, 94, a longtime Kentucky State University administrator, died Saturday morning, university officials confirmed.
University President Dr. M. Christopher Brown II said Ridgel, his friend and colleague, fought a good fight and that losing Ridgel will profoundly impact the Thorobred family.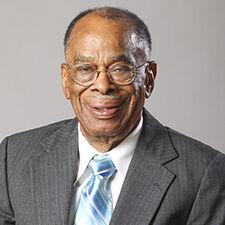 "Amid this pandemic, any loss of life is beyond difficult given the restrictions we face in celebrating our loved ones," Brown said. "Thorobreds everywhere will remember and honor the excellence that Dr. Ridgel demonstrated throughout his life and career at Kentucky State with a commitment to our students and the institution. He genuinely loved all of Kentucky State. We will miss his presence, and I will miss his counsel."
Ridgel most recently served as senior adviser to the president. As senior adviser to the president, Ridgel advised and educated Brown on significant matters, including the legacy and history of the institution.
Ridgel retired in 1998 as vice president for finance and administration at Kentucky State after a long career in higher education.
"Dr. Ridgel was someone who had a profound impact on my life, especially my economics education, and he was an inspiration in so many other ways, too," Frankfort Mayor Bill May said during Monday's weekly press conference for city and county leaders.
"His loss is a loss for this entire community," May added. "He was a leader in so many different ways among the civil rights movement. He was a pioneer and brave person, and just really sad about this loss."
Ridgel was part of Concerned Student 1950, the first group of African-American students admitted to the University of Missouri. Ridgel was admitted to the graduate program in economics in 1950 after civil rights groups won a court ruling desegregating the university. He received a master's degree in economics with honors two semesters later, becoming the first African American to earn a graduate degree at the University of Missouri.
Ridgel later earned a doctorate in economics at the University of Wisconsin and conducted postdoctoral work at the University of Chicago, Duke University and other institutions.
In 2018, the University of Missouri named a new residence hall atrium in honor of his civil rights activism.
No information on funeral arrangements has been received.