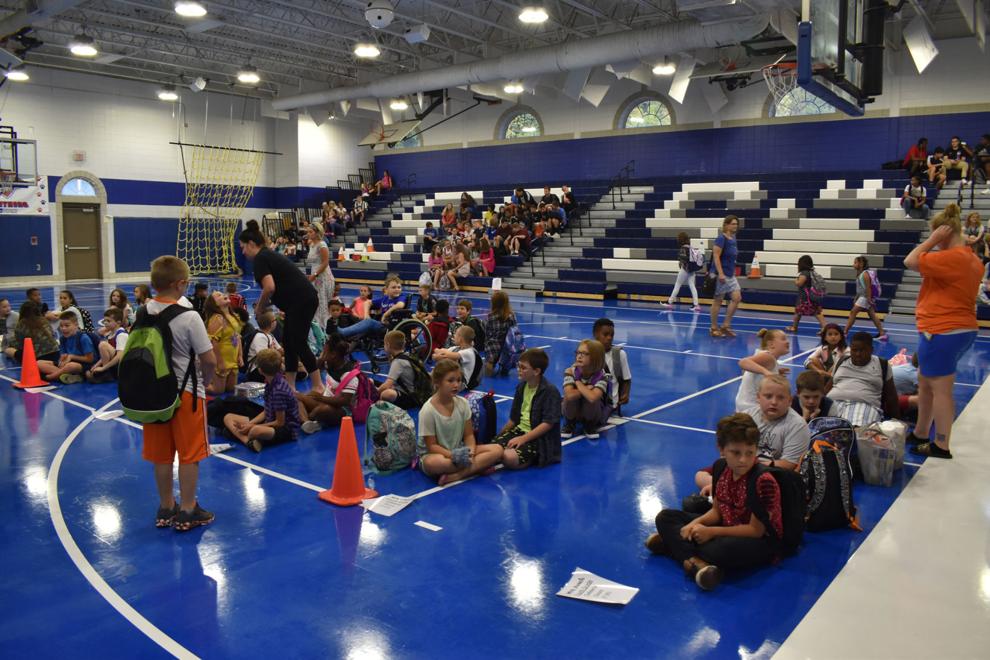 A set of data recently released from Kentucky Youth Advocates (KYA) shows that Franklin County has trended upward in some key data points related to education, health, economic security and family.
The report breaks down several data points into those four categories, and compared baseline data collected in different time frames between 2009 and 2016 to data at least as recent as 2018.
The most recent data set tells a story of two school districts, as Frankfort Independent Schools saw its graduation rate dip slightly and its kindergarten readiness skyrocket. Franklin County Schools saw movement in the opposite direction in those categories.
Graduation rate at Frankfort High School fell from 95.8% in 2014-15 to 89.3% last year, 2019-20. Its rate of kindergarten readiness, however, skyrocketed — up from 48.7% in 2014-15 to 80% last school year.
FIS Superintendent Dr. Houston Barber attributed the rise in kindergartners ready to learn, which is factored by initial performance on a test called the Brigance Assessment, to targeted efforts on the district's part. It ranks fourth in the state of 172 districts.
"We've invested in our early childhood and birth to 5-year-olds through various literacy, numeracy, and social emotional support systems through our 3:1 approach," Barber said.
Barber said previously that a 3:1 approach means providing social/emotional supports, academic/behavioral supports and access to opportunities/pathways with mentoring supports.
Meanwhile, the FIS on-time graduation rate fell, and is 149th of 167 school districts. Barber said that the number is hard to control in such a small district.
"The grad rate is indicative of the entire district including FHS and the Panther Transition Academy," Barber said. "Being small, our rate can be impacted by one student (when we have 52 total graduates). One student amounts to almost 2%. We are focused on each and every child and have had great success with students matriculating to post-secondary educational opportunities."
In that same timeframe, Franklin County Schools saw an 18% jump in on-time graduation rate but dropped by more than 5 percentage points in kindergarten readiness.
FCS Superintendent Mark Kopp says that his administration has very much targeted that graduation rate. In 2014-15, that mark was more than 10 percentage points below the state average. Now it's 94.5%, well above the state mark of 90.9%.
"That's been one of our focus areas over the last few years," Kopp said. "I think we've done a good job of creating alternative models for our students — we've created William Cofield High School, and it's been very successful for students who were struggling with a more traditional setting."
He also said that district-wide directors meet with high school building administration every two weeks and go over how they might be able to better serve each student.
The economic wellbeing of communities across the nation are uncertain, as the COVID-19 pandemic continues. But at least pre-pandemic, Franklin County appeared to be on an upward trajectory. The county ranked in the top 20 of Kentucky's 120 counties in percentage of children in deep poverty, poverty, low-income families, and food-insecure households.
In terms of health metrics, Franklin County ranks in the middle of the pack state-wide in most data points. It has improved of late in all figures except for the proportion of women who smoke during pregnancy, which sits at 22%.
"Related to much childhood health data, we strongly recommend any family that is expecting a new baby to reach out and join our HANDS (Health, Access, Nurturing and Development Services) program at 564-5559," Franklin County Health Department Director Judy Mattingly said. "This is a free evidence-based program with proven benefits such as increasing learning readiness in kindergarten, decreased low birth weight babies, and can even help pregnant mothers with resources to quit smoking."
For "Family & Community," Franklin County ranked well in some categories and quite low in others. Percentages of births to a mother without a high school degree and children exiting foster care to reunification rank positively; percentage of youth incarcerated and in foster care do not.
Though the proportion of youth incarcerated in the juvenile justice system has improved since 2012-14, it still ranks 104th of 117 reporting counties. 46.5 per 1,000 children ages 10-17 in Franklin County are incarcerated in the juvenile justice system.
Mattingly said that her department has worked with the University of Kentucky and other partners to distribute the Just Say Yes card in the hopes of reducing that number.
"This card has been distributed to all middle schoolers at Second Street School and selected middle school students at Franklin County Schools to provide out of school time mentors and free healthy activities," Mattingly said. "The goal of this project is also to reduce overdoses due to opioid use by increasing protective factors and resiliency in our youth."