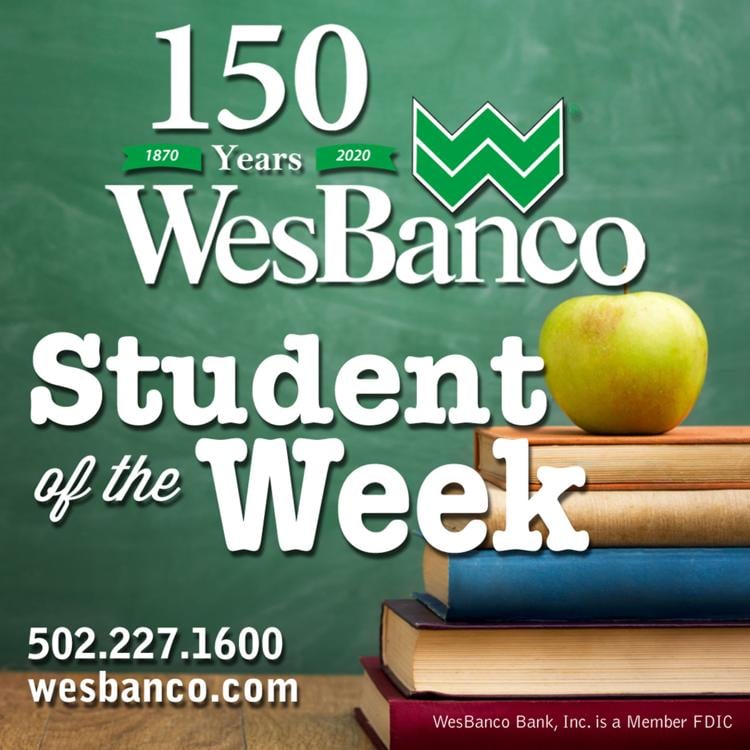 Editor's note: This story was updated at 6:26 a.m. on March 20 to correct that Taryn Ritchie is the daughter of Keith Ritchie and Louise Ritchie and that she plans to major in psychology.
Franklin County seniors Shelby Rhoades and Taryn Ritchie were part of the co-op program at Frankfort Regional Medical Center, but when the coronavirus pandemic hit they weren't allowed to go to the hospital.
Rhoades and Ritchie, who are also students at the Franklin County Career and Technical Center, put that extra time to good use, coming up with a video that took first place in a Franklin County Schools PSA video contest on washing hands.
Rhoades and Ritchie have been selected as the WesBanco Students of the Week.
Ritchie is the one washing her hands in the video, and Rhoades was the videographer.
They used germ glow and a UV light to show how many germs were on Ritchie's hands before she washed her hands and again after she was finished.
They each received a $50 Visa gift card for winning the contest.
Rhoades is the daughter of Jennifer and Danny Rhoades, and Ritchie is the daughter of Keith Ritchie and Louise Ritchie.
SJ: How did you two end up doing the video together?
Ritchie: We actually co-op at the hospital, and we weren't allowed to go anymore. People who couldn't go to their co-op had to choose each other, and we decided to do it together.
SJ: What was your plan for the video?
Rhoades: We wanted to make a video that anybody who saw it could use as a guide and understand it was something they could watch and follow and understand how important it is.
SJ: How long did it take you to make the video?
Ritchie: I think with the germ glow we did it one time. The hand washing we did two times and picked which one was better and showed it more effectively.
Rhoades: We did it a couple of times and figured out which was best. When we used the germ glow that took some time, but other than that it was the 20 seconds it takes to wash your hands.
SJ: What is your favorite part of the video?
Rhoades: I like the simplicity of it. I think that helps a lot. It will reach a wide range of people, and people who watch it can follow along with it.
SJ: What are your plans after graduation?
Rhoades: I want to go to college and get a bachelor's in biology and eventually go to physical therapy school and get a doctorate in physical therapy.
Ritchie: I want to get a degree in psychology and then a doctorate in occupational therapy.
SJ: Did this video help with your future plans?
Ritchie: I think it helped. It showed people what they need to do to get better. We had to think what would appeal to kids. I want to work with kids, so that helped too.
To watch the winning video and runner-up from Ms. Floyd's first grade class at Collins Lane visit https://www.facebook.com/watch/OneTeamFCS/.