People living in Frankfort know the influence Greg Roush had on students during his 28 years as an educator.
Now that knowledge has a wider audience.
Roush, who served six years as Western Hills' principal before retiring in June, was honored by the Extra Yard of Teachers program last week on the SEC Network. He was nominated by Kentucky junior wide receiver Wan'Dale Robinson, a graduate of WHHS.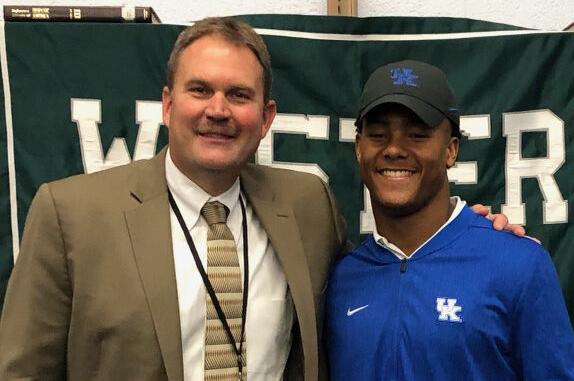 "I got an email in the summer, probably July or August, that Wan'Dale had nominated me for the Extra Yard Award," Roush told The State Journal. "It's nice. It's nice for Wan'Dale to think of me and recognize an old principal."
The SEC has joined the College Football Playoff Foundation in recognizing the Extra Yard for Teachers program.
"The kid's doing great, and for him to think of this says a lot about his character," Roush said. "It makes me feel good.
"I got to know him a little more because he was good friends with my younger son (Nick), and I saw him at our house a lot. We'd have some good conversations. I've always been one to tell kids about doing the right thing."
As part of the award, Western Hills will receive $5,000.
Robinson was Kentucky's Mr. Football in 2018 and initially signed with Nebraska. After two years with the Cornhuskers, he transferred to Kentucky.
He currently leads the SEC in receiving yards with 527 on 37 receptions. He's scored four touchdowns for the 6-0 Wildcats, who play at No. 1 Georgia Saturday.
"He impacted my life by just being one of those fatherly figures in your life," Robinson said in a video posted on Twitter by the SEC. "Growing up without a father, and sometimes you just have somebody to talk to and things like that. I just really appreciate everything he's done for me.
"Luckily I was able to be around his family and his son while we were in high school together, so I got to know him outside of school as well and he's a really, really great person in school and outside of school, too."
Roush, who is now working as the deputy executive director of the Kentucky Retired Teachers Association, feels the same about Robinson.
"He continues to give to the community," Roush said. "A portion of his NIL (name, image and likeness) proceeds go to the Wanda Joyce Robinson Foundation (which serves children impacted by incarceration) and this gives money to the school.
"It's a nice thing to do. It says a lot more about Wan'Dale's character than mine that he would think to recognize one of his educators from when he was growing up in school."