On Tuesday, the new administration at Kentucky State University along with the Council on Postsecondary Education (CPE) informed state lawmakers of intentions to ask for $23 million in order to keep the institution afloat past March when its cash reserves will be depleted.
"If we don't get $23 million, we're probably in serious trouble," explained CPE President and former KSU interim president Aaron Thompson, who said the university's Board of Regents was given the full picture on the school's finances.
"Part of this is being transparent with all the information you have to the point of ad-nauseam even. This is what we haven't seen. We've seen, actually, just the opposite," he said.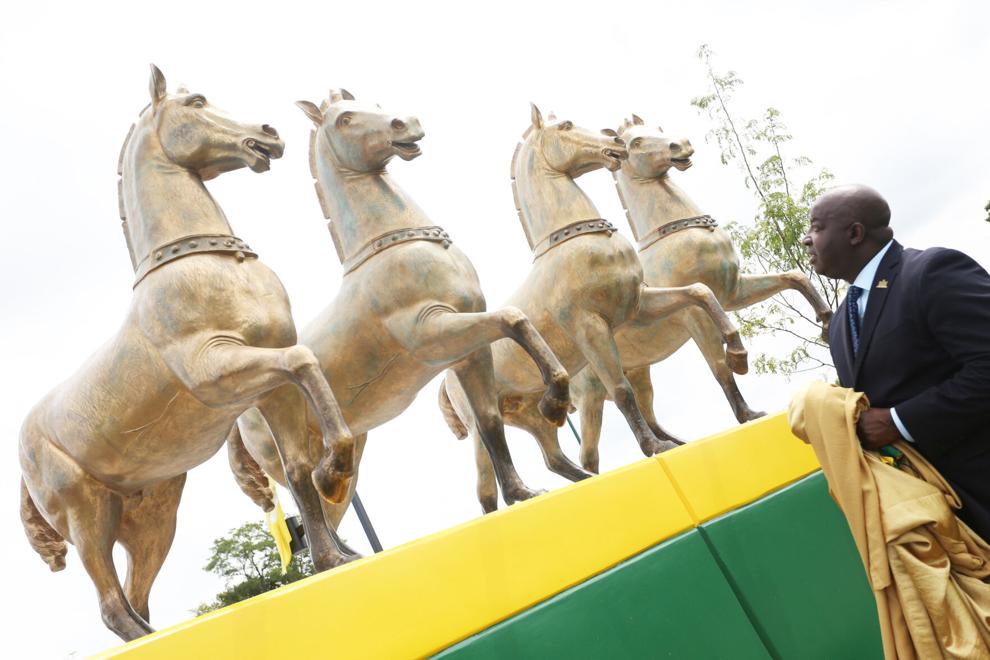 When the General Assembly convenes in January, legislators will weigh whether to approve the request.
KSU alum and lawmaker Rep. Derrick Graham, D-Frankfort, is concerned about the financial issues at the university and asked for assurances that such infractions won't occur in the future.
"We need to find out what happened, why it happened. and what we can do to improve," Graham added.
According to KSU Chief Financial Officer Greg Rush, the school's mismanagement issues were not the result of "bad intent."
"Some of the things that were done, were done to improve student success," he told lawmakers. "The problem is they were done without an eye on the budget."
Earlier this month, Gov. Andy Beshear and the CPE released a full report on the ailing financial status of Kentucky State University.
After the 52-page report was accepted by members of the CPE, the Beshear administration sent out a press release on the report.
"When I heard about KSU's financial situation, I asked for a full, independent and transparent accounting of the university's finances, and today we are releasing the findings of that assessment," Beshear said.
The council had previously OK'd a request to the state for $23 million in extra funds, with $1 million going toward strategic initiatives and the rest making up for a dramatic shortfall created by fiscal mismanagement, per CPE Vice President and General Counsel Travis Powell. The budget request comes in light of Rush stating that the school needed a significant bailout by April to remain open.
"We are committed to KSU and, as one of two Historically Black Colleges and Universities (HBCU) in Kentucky, KSU must be put on a path to stability so it is able to continue providing a high-quality education for generations to come," Beshear said.
Powell told The State Journal that the report concludes the majority of CPE's review of the school's financial troubles.
"We must act. As leaders of the institution, we must be held accountable for our actions, our non-actions, our inactions," KSU acting President Clara Ross Stamps told lawmakers Tuesday. "We don't make excuses. We will get back to the basics."
Cash reserves
The report noted that a decline in cash reserves between 2016 and 2020 resulted from operating deficits totaling $35 million.
According to audited financial statements, cash was relatively stable in FY16 and FY17 with $19.9 million and $18.7 million, respectively. In fiscal year 2018 cash declined by $4.7 million to $14 million and then to $2 million in FY19 and FY20.
Audited financial statements from FY21 are not yet available.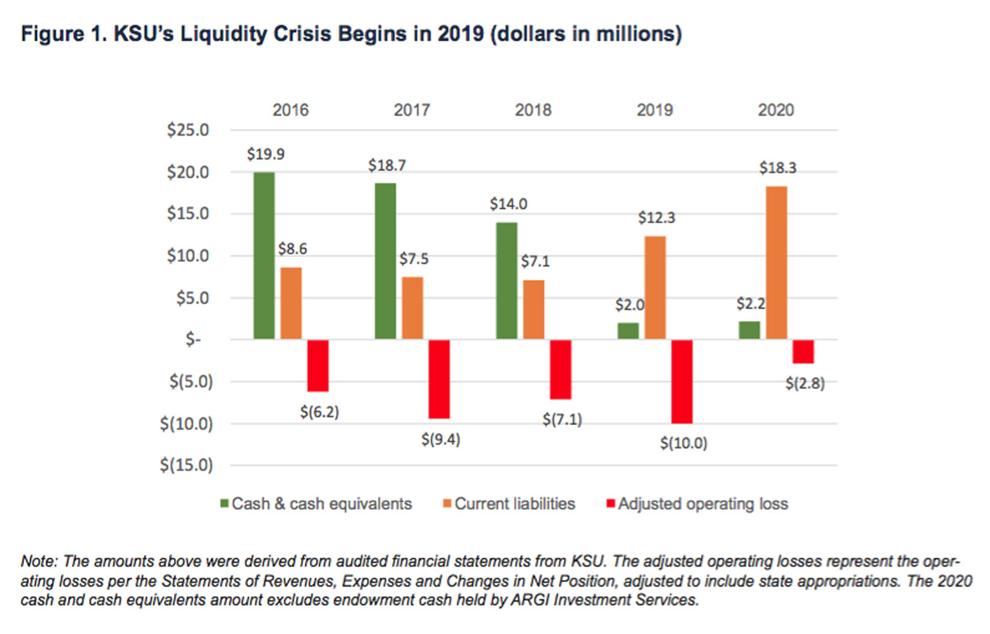 "The combination of declining cash balances and increasing current liabilities has resulted in a significant liquidity crisis for the university," the report states.
Major cash inflows for KSU include tuition and fees; state appropriations; federal and state grants and contracts; housing and dining/other auxiliaries; and draws on a revenue anticipation note.
Major cash outflows are payments to employees; suppliers/service providers; debt service; purchases of capital assets/capital improvements; and payments on a revenue anticipation note.
"Beginning in fiscal year 2019, several inappropriate techniques were used to generate or maintain enough cash for the university to satisfy payroll obligations each month, including failure to pay amounts owed to vendors in a timely manner and failure to collect student receivables," the report adds.
Kentucky State worked with the CPE and the Office of State Budget director to advance the institution's fourth quarter General Fund allotment. This enabled the university to access $5.4 million in cash to pay outstanding vendor bills and support a late July payroll.
This also helped to manage the liquidity crisis — a lack of cash or easily-convertible-to-cash assets on hand — but provided only temporary relief. The implementation of a debt forgiveness plan using federal CARES Act funding allowed KSU to pay $2.5 million on outstanding student balances.
"Current projections indicate all cash reserves will be depleted by the end of March 2022, and the $5 million revenue anticipation note will be utilized for April 2022 operations," the report said.
"An additional non-recurring appropriation from the General Assembly is needed for continued operations beyond April."
Financial analysis
Overall K-State was financially healthy in FY16 and FY17, largely due to strong scores for primary reserve and viability ratios — two of the four primary ratios the analysis uses to calculate financial health.
The viability ratio measures the total amount of assets available that can cover this debt.

In the Composite Financial Index (CFI), primary reserve and viability each account for 35% of the ratio. Return on net assets is 20% and net operating revenues are 10%.
However, starting in FY18 a "significant draw-down in reserves to cover a structural imbalance in the annual budget (which continued into the next fiscal year)" led to what the report termed "a precipitous drop in financial health scores."
From FY16 through FY20, the number of days K-State expenses could be covered from reserves dropped significantly — from 190 to 35.
"We want to see how long the institution can operate with no new revenues generated," Powell explained, calling it a key indicator for financial health. "We expect that to be worse in the next audited financial statement."
The "draw-down" also affected KSU's viability ratio during that time, but the university's plant-related debt was at such a low level that the school had more than enough expendable net assets to cover its obligations, according to the report.
In FY19 the institution continued to fund operations with reserves. Coupled with the addition of $13 million in long-term debt through a capital lease arrangement led to a "continued decline" in the primary reserve ratio and a "precipitous fall" in the viability ratio.
Starting in FY17 the former K-State administration reported higher CFI scores than those that were computed by the CPE.

"It painted a much rosier picture than what was going on at the institution," Powell told legislators this week.
However, he said that the CPE was unable to find documentation to see how the school came up with numbers.
"In short, the results of the calculated ratios and the resulting CFI scores indicate that in 2019-20 KSU had quickly become an institution in an unhealthy financial condition," the report adds.
Controls over financial management and reporting
A targeted assessment of KSU's key financial functions and related policies and procedures and internal controls for the accounting and related reporting system; treasury/endowment management; student accounts receivable/collections; budget management and internal financial reporting; and enterprise risk management was performed by the CPE. This included a review of audited financial statements and other documentation and meetings with the university's finance and administration staff.
The CPE pointed out 11 key findings:
• The school's accounting system and reporting tool is inadequate for internal and external reporting needs.
• No one was paying adequate attention to internal budget irregularities due to a three-year vacancy in the internal auditor position. KSU has an internal tip line, but an externally managed tip line was discontinued in 2017.
• Beginning in early 2020, the institution's internal audit failed to provide a comprehensive, risk-based audit approach with regular communication to the Board of Regents.
• There are no written policies related to treasury management — with the exception of an endowment investment policy, which was last updated nine years ago and references a separate spending policy. A formal spending policy has yet to be developed or OK'd.
• The university does not perform any long-range financial planning.
• The institution has not followed its approved policies for collecting student receivables. KSU has a formal accounts receivable policy requiring the use of external collection agencies, but is not referring delinquent accounts to those agencies or the Kentucky Department of Revenue. According to the bursar, senior leadership instructed staff to not follow that policy "some time ago."
• KSU lacks sufficient controls to prevent or alert spending over board-approved budgets. A preliminary review of budget to actual spending over the last three years showed "poor fiscal control demonstrated by the president's office," which resulted in significant budget deficits in FY19, FY20 and FY21, and significant travel expenses.
Brown sent a letter of resignation to the Board of Regents on July 15 amid financial concerns. The board accepted it at the July 20 meeting.
• Kentucky State lacks adequate interim financial reporting and is not regularly providing numbers to the Board of Regents.
• The university does not utilize an enterprise risk management frame, which would aid in identifying and managing risks related to the school.
• Financial health ratios and CFI scores reported by the institution's senior leadership were inconsistent with those calculated by CPE staff.
• K-State has had several external financial audit findings in recent years and consistently missed audited statement deadlines.
Peer group comparisons
CPE staff compared Kentucky State to other HBCUs, land-grant institutions, universities in the continental U.S., public four-year institutions, degree-granting baccalaureate and above institutions with an enrollment of 1,000-3,600 students.
The schools included Alcorn State University; Central State University; Fort Valley State University; Langston University; Lincoln University; South Carolina State University; University of Arkansas at Pine Bluff; and University of Maryland Eastern Shore.
Powell pointed out that KSU is one of the smallest institutions of the nine.
The CPE report found K-State's tuition and fees, state appropriations and government grants and contracts revenue per student is higher than the peer group medians.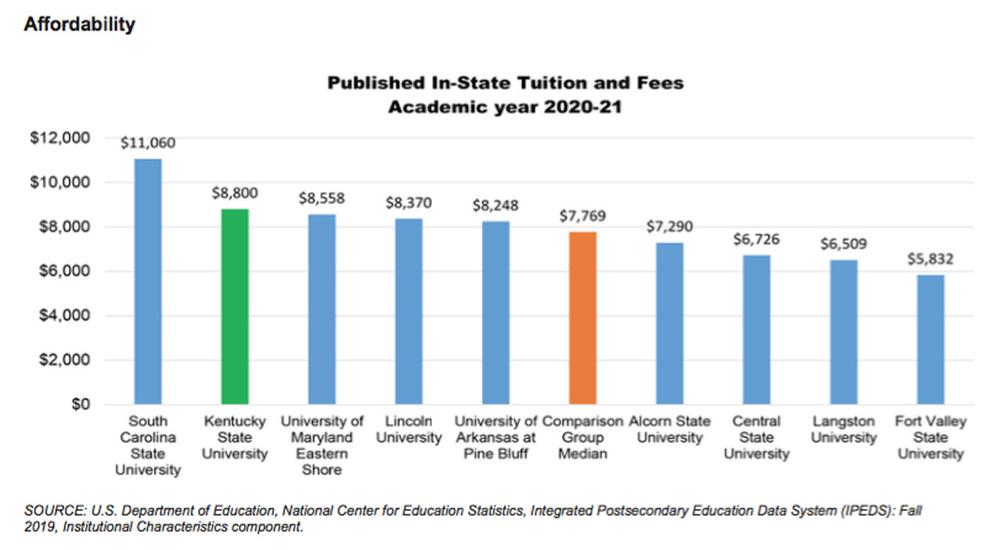 It also determined that KSU's net price — the cost a majority of students pay after scholarships and grants are accounted for — is "considerably lower than its peer institutions and has exhibited a much-larger percentage decrease in recent years than the group median."
However, the report also concluded that a larger proportion of K-State undergraduate students received financial grant aid from any source than their peer counterparts. In the 2018-19 school year, 92% of first-time, full-time undergrads were awarded grant aid with 45% receiving state and local grants and 91% receiving institutional aid. KSU undergraduate students also received considerably larger amounts of federal grants — including Pell — than students at peer institutions.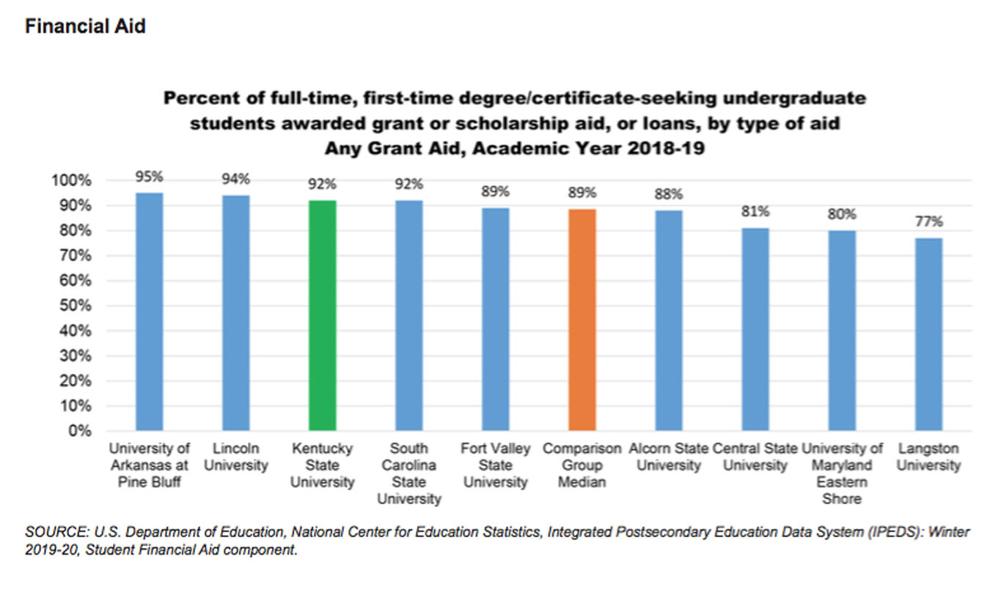 According to the CPE findings, Kentucky State is more well-funded than institutions in its peer group, placing second among the nine schools.
In FY19, 42% of the school's total revenue came from state appropriations; 39% from governmental grants and contracts; and 16% from tuition and fees.
"A similar pattern can be observed in the data on core revenues per full-time equivalent (FTE) student," the report states. "Revenues per student from tuition and fees, state appropriations and governmental grants and contracts are considerably higher at KSU than the peer group."
For example, during FY19 tuition and fee revenue per student was $6,701 — 80% higher than the group median. State appropriations per student was $17,770 — 93% higher than its peers. Governmental grants and contracts per student was $16,478 — 70% higher than the group median.
As far as spending, in FY19 KSU allotted more funding for research (14%), public service (17%) and institutional support (25%) than its peers, but spent less on instruction (18%), academic support and other expenses.
"Compared to its peers, KSU employs fewer postsecondary teachers and instructional support staff and more management and business and financial operations staff," the report adds.
The university employs more computer, engineering and science staff, as well as more community service, legal, arts and media staff than other HBCUs, the report points out.
As far as staff compensation, the average salary of faculty members at KSU is at or slightly above its peer institutions with one noted exception — full professors, whose average salary ranks the school seventh among its nine peers.
With a six-year graduation rate of 25% for first-time, full-time students, Kentucky State is rated in the bottom tier of the group.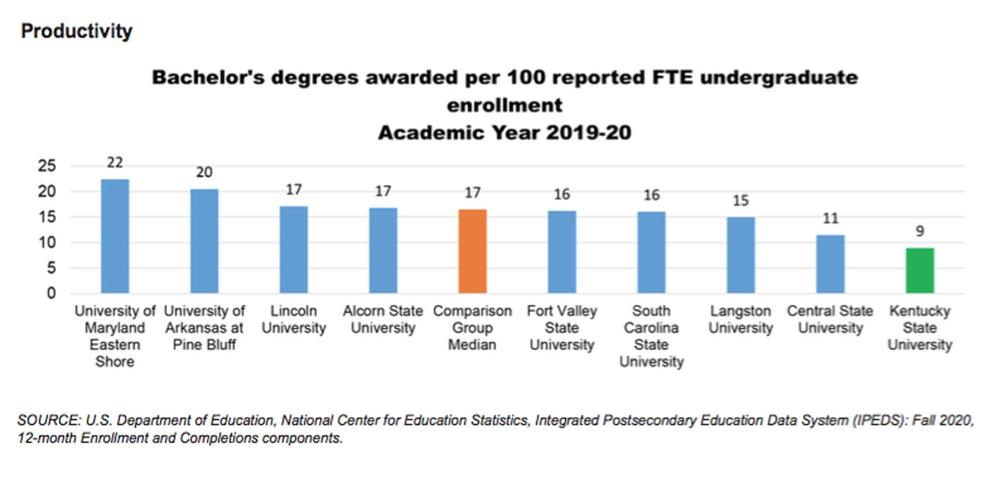 In FY19, KSU awarded nine bachelor's degrees for every 100 full-time equivalent (FTE) undergraduate students enrolled. Three years before, in FY16, the college awarded 24 bachelor's degrees per 100 FTE undergrads.
Yet the school did a much better job of retaining students than its peers. In FY19 K-State retained 78% of full-time students — an increase from 56% in FY17.
Recommendations
In addition to the $23 million request from the General Assembly to cover the FY22 projected cash shortfall and $1 million annually from 2022-24 for strategic initiatives, the CPE also recommends that KSU "improve budgetary controls and provide a quarterly budget to actual report to the Board of Regents."
"A culture of accountability, transparency and compliance set forth and modeled by the KSU Board of Regents and executive leadership is key to ensuring these issues do not reoccur," the report states.
"Failure is not an option. Failure to pay vendors on time is no longer an option. Failure to reimburse state construction accounts is no longer an option. Failure to follow the institution's policies and procedures related to the collection of students' receivables is not an option," Elaine Farris, chair of the Board of Regents, said.
Other recommendations include:
• Outsourcing or co-sourcing the internal audit function and reinstate the externally managed tip line.
• Implementing a formal accounting and reporting framework for endowment distributions.
• Improving the collection of student accounts receivable — including the implementation of a comprehensive Student Financial Responsibility Agreement and utilizing external collection agencies, including the Kentucky Department of Revenue.
• Completing a comprehensive review of expenses to ensure they are charged to the correct functional area and that costs are appropriately allocated to grants and auxiliary units.
• Completing a review of academic programs and establishing appropriate faculty productivity metrics.
• Implementing a long-range planning process to support the strategic and capital investment decision-making process.
• Implementing an enterprise risk management process to identify, evaluate and mitigate key risks facing the college and higher education industry — including strategic, operational, financial and compliance risks.
• Developing appropriate policies and procedures for governing the key functions of treasury management — including cash management, operating investment management, debt management and internal loans.
• Reviewing and updating the Endowment Investment Policy and incorporating a formal spending policy within the investment policy.
• Implementing quarterly reporting to the Board of Regents on the president's travel, entertainment and discretionary expenses.
"Kentucky State understands it will no longer be business as usual. The management and improvement plan will guide the institution's work. Together we will work diligently with our stakeholders — faculty, staff, students, alumni and supporters — to reposition the institution," Farris said. "The path onward and upward is through action, accountability, accessibility, communication, compliance and transparency.
"We understand the responsibility entrusted to all of us to ensure Kentucky State continues to be a viable institution in order to serve its deserving and talented students."
According to the report, moving forward the key will be crafting a budget that optimizes the use of those funds to meet the strategic goals of the institution, and in turn, operating within that budget with regular accountability to both internal and external stakeholders.
"We will make some difficult decisions ahead," Farris added. "The work will be long and arduous. The Thorobred spirit of Kentucky State will prevail."