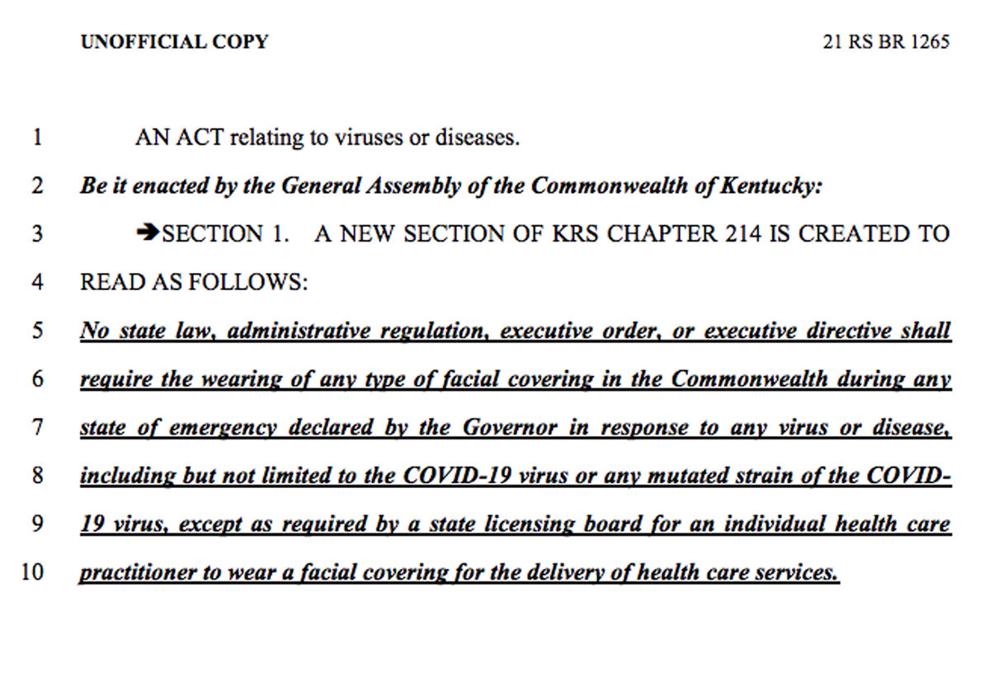 Editor's note: This story was updated at 9:48 a.m. on Feb. 5 to add Southworth's comments.
Rookie Sen. Adrienne Southworth, R-Lawrenceburg, filed a bill Wednesday that would prohibit face mask requirements statewide in Kentucky during a state of emergency.
She is the sole sponsor of Senate Bill 158, which would require only health care workers to wear facial coverings during the COVID-19 pandemic and any other virus or disease emergencies.
Southworth said in a Twitter post that she filed the bill "to start the conversation on how to address acute vs. chronic and local/regional disparity."
"This bill is a state-level measure to remove the blanket approach and give space for more nuanced approach as the numbers decline and statewide emergency comes to a close," she told The State Journal. "I filed it yesterday because words matter and without placing some version of this in public view, I was unable to get accurate feedback. So I imagine it will evolve as we go, but as of yet it is too early to tell what that would be."
Southworth has also been critical of the coronavirus vaccine.
"I'm not touching that vaccine with a 10-foot pole," she told The Anderson News earlier this week.
Southworth succeeded retired state Sen. Julian Carroll, D-Frankfort, after beating state Rep. Joe Graviss, D-Versailles, in the November election. She is the first Republican to represent Senate District 7, which includes Franklin County.