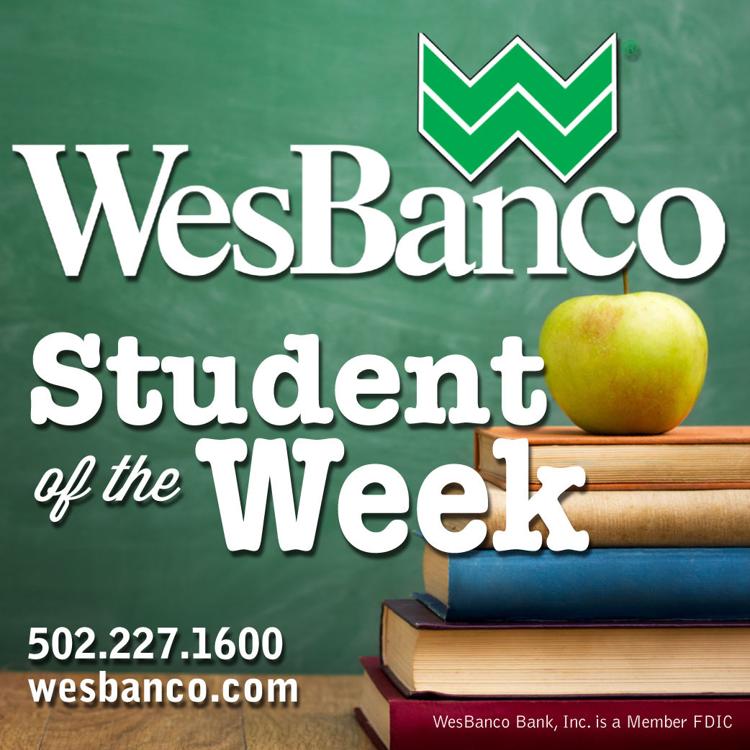 Two band students from Western Hills High School are WesBanco's Students of the Week. 
Band Director Stephanie Wallace nominated seniors Carson Smith, a percussion leader, and Makinley Slone, drum major. 
Wallace said Smith has a great attitude and is a cheerleader for his fellow percussion players. 
"He is diligent in his preparation, so I can always count on him to know his part," Wallace said in her nomination. "He attacks problems or difficulties head on and with enthusiasm. He has a wonderful sense of who he is and is ready to help change the world for the better!"
Slone is an integral part of both the band and the volleyball team at WHHS and is an outstanding leader, Wallace said.  
"She is really great at giving her all to both band AND volleyball and helps lead the younger students who do both," Wallace said in her nomination. "She is a beacon of school spirit and has been integral in helping organize student cheer sections."
Smith is the son of Vanessa Smith, and Slone is the daughter of David and Kelli Coleman. 
State Journal: What instruments do you play and why did you choose them? 
Carson Smith: This year I am playing tenors in marching band because that's what I played last year and that's where I think my skill set would be suited most. 
Makinley Slone: I played the clarinet. I didn't pick it for any special reason. I just thought it suits me the best. 
SJ: Why did you join band? 
Slone: I thought playing an instrument was really cool. Just a special little thing that you could do as a sixth grader. 
Smith: I joined because my sister and dad had already done choir, so I was like, "I should do something different." And I just really love music. It really fit me. 
SJ: Do either of you plan to continue with music after graduation? 
Smith: I do. I plan to major in music tech at a university. I haven't decided which one yet though. 
SJ: What does leadership mean to you? 
Smith: Leadership to me is just very important in how it affects everyone around you. It creates a passion for what we are doing that otherwise would not really exist in some people, not necessarily all. But it's really important for good leadership to bring people who may not be able to see what they really like for themselves.
Slone: I was going to agree with that because whenever I was coming in younger as a freshman here, I looked up to those seniors because they took it seriously and they led and showed the younger kids kind of how we do things. And that's kind of led me to where I wanted to be drum major and step up as a senior because I wanted to show these younger kids what we do and how to just be leaders in themselves and find that in themselves. 
SJ: What do you like about Western Hills High School? 
Slone: I just kind of like how I can be myself. On game days, I'm really crazy and everyone goes along with it. They get really excited, too. I know quite a lot of people here, and so it's just nice to know that everyone is inclusive and they help each other out. 
Smith: I like how connected the student body gets as we progress through high school. Because coming into high school, it's just you and a couple friends, maybe your grade, against the world, but as I've become older and now I'm a senior, I feel like I have a connection to each grade individually.