Manas Garla, a seventh grader at Bondurant Middle School, has had quite a year in academic competitions.
He has been named the WesBanco Student of the Week.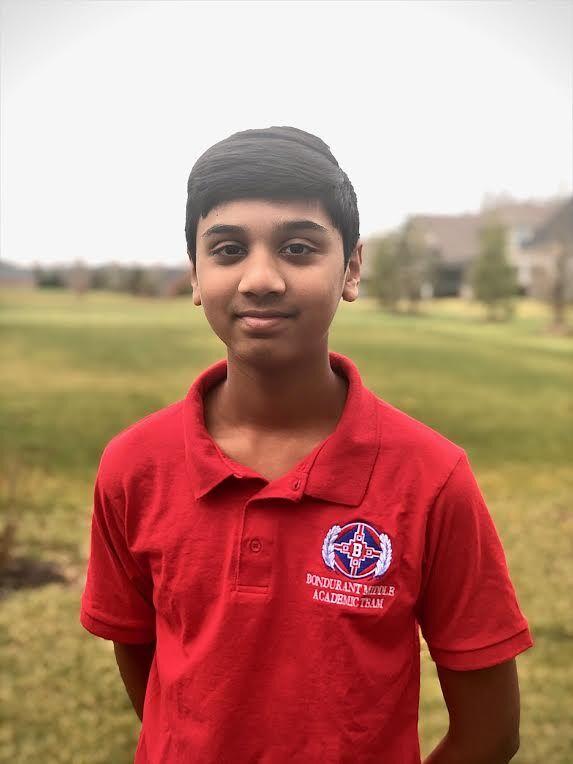 Manas recently placed fifth in the state MATHCOUNTS competition. That followed the Governor's Cup state championship title won by Bondurant's academic team, of which Manas is a member.
In the Governor's Cup competition, Manas placed fourth in math and was a member of BMS' state runner-up quick recall team.
Manas is the son of Krishna Garla and Neeraja Garla.
State Journal: What is it you like about math?
Manas: I think math interests me so much because it's so much different than all the other subjects; you don't just learn new things, you also have to put them to use. Math has always been the go-to subject for me in any sort of competition, including Governor's Cup. Building off of experiences for me has always been a key thing, and the fact that math builds off of itself rather than having a multitude of different concepts really stays true to that.
SJ: What do you see as the benefit of academic competition?
Manas: For me, the benefit of academic competition is that it is an opportunity to showcase what I can do outside of school. Also, the competitiveness of the contest is a really great motivation. Having a great coach like Bondurant's own Mr. (Robbie) Roberts is also a really amazing experience, and the social aspect of it is nice too. I've met so many friends through academic competition, and I've really grown because of it. It has definitely helped in school too; going through curriculum having already learned the content makes school much easier.
SJ: How did it feel winning the Governor's Cup state championship with Bondurant's academic team?
Manas: It felt wonderful winning with the team, especially knowing I contributed points with my individual testing. To know that this entire time I have been part of a team which has students who are the best of the best really makes me proud.
SJ: What do you like to do outside of school?
Manas: Outside of school, I like to read quite a bit and I do activities such as swim, run and play instruments like the piano and saxophone. Music has always played a big part in my life, and most of that credit has to go to my piano teacher, Mrs. Sandra Porter. She is the one who has always been motivating me to keep learning and growing in the field of music.
SJ: What other activities are you involved in at school or in the community?
Manas: I'm involved with the school's cross country team and band, where I play the saxophone, STLP (Student Technology Leadership Program), FFA, KUNA (Kentucky United Nations Assembly), KYA (Kentucky Youth Assembly) and finally, academic team.