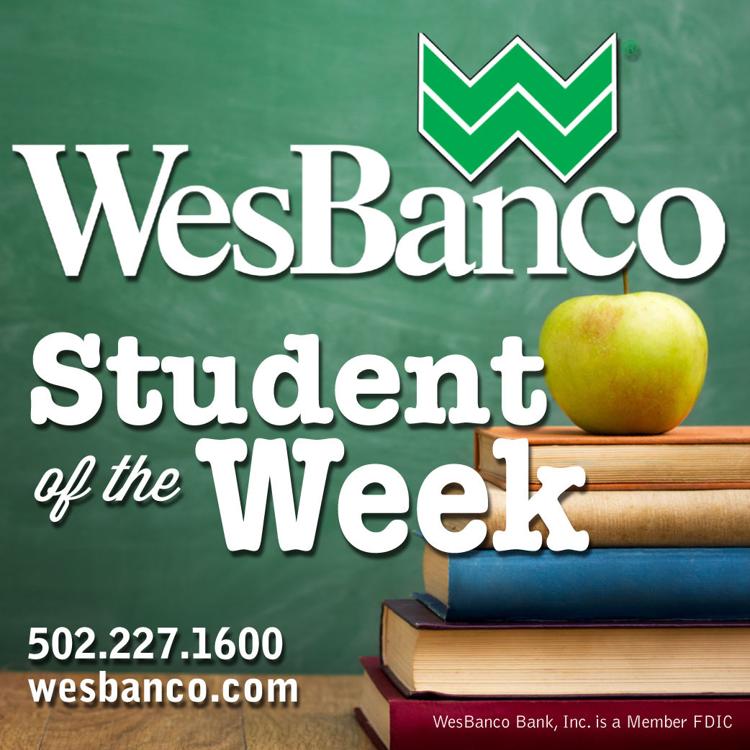 Malia Grace Scott, a senior at Western Hills High School is the WesBanco Student of the Week. 
The 18-year-old, who is the daughter of Matt and Lisa Scott, was nominated by Marie Varney, director and preschool teacher at the Western Hills Learning Center. Varney said Scott "is such a blessing" and is always prepared. 
"She takes initiative, which most teenagers lack these days," Varney wrote in her nomination. "She plays and works well with the little people of the center and has a great rapport with the other high school students in her class. She is willing to help the new faces that have been coming into the center from the Child Services class to get a feel on how daily lessons plans are presented and how to interact with the little friends and stays behind most days till third hour shows up-because I'm always running behind getting the lesson part of the day completed. Malia has stood out and has  done a great job."
State Journal: Tell me about the different activities you do at WHHS.
Malia Grace Scott: I'm involved in a lot of leadership roles and clubs… I'm in National Honor Society where I'm blessed to be a volunteer coordinator. So, I help with all the community service that I do. I'm really involved with Fellowship of Christian Athletes, and that's really my favorite club to be involved in because I get to shine my light to everybody. I'm also in clubs like Young Republicans, Spanish Honor Society and on the varsity dance team. 
SJ: You work with the preschool program. Tell me about the work you do there.
MS: So, it's my Allied Health internship, and I get to spend one class period in there. My favorite part is getting to see how they all grow throughout the year, like cognitively and socially. I love being able to just play with them and see how they are doing, how much they've grown up from the beginning of the year to the end. I love them with my whole heart. It's just the highlight of my day. 
SJ: Why did you decide to do something like that?
MS: I really love kids and I want to pursue a career in the medical field, so I wanted to be able to see a different side of the medical field, like working with kids.
SJ: You talked a lot about different services to the community. Why do you think it's important to serve others? 
MS: I think it's very important to serve others because that's what Jesus would do, and I try to live my life with that motto. I feel like we need to be able to give back to those who really need it and I love being able to do that through leadership roles and clubs, so that's why I really involve myself. 
SJ: How do you think being here at Western Hills has helped you grow? 
MS: There's so many opportunities here. The teachers are just amazing. And I am able to grow with my peers and everyone around me is very supportive. I love how I can just fit in because that's how it is here.
SJ: What do you plan to do after you graduate? 
MS: I plan to attend Morehead State University and I'm going to study radiological science and I'll be trying out for the dance team in April, so hopefully I get to pursue dance at a collegiate level.