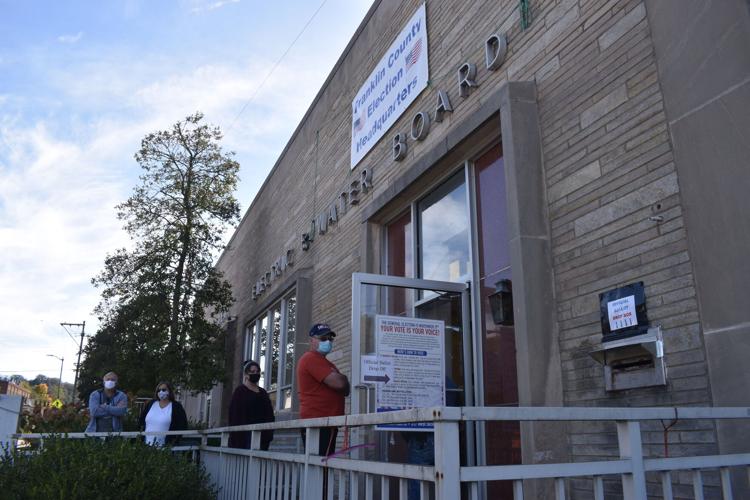 Early in-person voting just began on Tuesday. Many in the community have already cast their ballots via mail. Campaign signs for national, state, and local races stand propped at nearly every major intersection in town and pepper lawns in residential neighborhoods.
It's safe to say campaign season for the Nov. 3 general election is in full swing. In Frankfort, the mayoral race is no exception.
As was the case in the primary, Wilkerson — a financial adviser — currently leads in the money race. 
He has raised $10,133.56 to Haynes' $6,685.71 thus far in the general election, according to campaign finance information available through the Kentucky Registry of Election Finance. Including the primary, Haynes has raised a total of nearly $16,000 while Wilkerson has raised nearly $40,000. 
Wilkerson he has secured 145 itemized donations, while Haynes has received 111 thus far.
According to finance records, Wilkerson loaned his campaign just under $3,000 of his own money in the primary and said he intends to give more.
"I intend to do more," Wilkerson said. "I'm going to do what it takes to get the message out."
Haynes appears to have given around $2,000 to his own campaign as well.
Both candidates say they're working hard leading up to Nov. 3, trying to make sure that they reach voters who are casting their votes early and those who are waiting until election day. Each has a small staff and numerous volunteers behind them.
Haynes' campaign manager is Ed Powe, who leads Frankfort Focus on Race Relations and has previously managed several local campaigns. Haynes said his campaign treasurer is Sherron Jackson.
The Haynes campaign appears to have paid out $200 to Powe for his services. Powe has said previously that he has yet to lose a campaign he's managed; he's also given nearly $2,000 to Haynes' campaign, per KREF records.
Wilkerson didn't say that he had a manager per se but mentioned that Leo Haggerty has been working for the campaign as a consultant via his company, The Campaign Headquarters. Wilkerson said his treasurer is Michael Nolan.
The Wilkerson campaign has paid Haggerty's The Campaign Headquarters $15,898 since January, according to campaign finance reports.
Both Haynes and Wilkerson said that COVID-19 has changed the way they've campaigned.
Wilkerson mentioned that he's been leaving door hangers instead of knocking on doors, but that it's a helpful strategy since voters often see him outside walking the neighborhood.
He and Haynes both say they're relying on making calls to rally voter support, with only so many options to campaign in-person. 
They've also created campaign websites and have posted regularly on their campaign Facebook pages.
Haynes mentioned that he was holding one more in-person fundraiser this week at the Frankfort Country Club, but that he's following COVID-19 protocol and keeping the numbers well below the maximum allowed.
In content, Wilkerson is focusing his campaign on bringing a "fresh perspective" to local government. The 47-year-old had never run for elected office prior to this year.
"I can't tell you how many people I've heard say, 'It's time for new leadership,' " Wilkerson said. "I think I definitely bring that to the table… and a lot of relevant experience in finance and revitalization."
Wilkerson pointed to several properties in South Frankfort that he and his wife, Natalie, have helped reimagine — including Jessie's Art Gallery and Custom Framing on Second Street — as examples of the type of growth and development he'd like to see.
As a three-time former city commissioner, Haynes is pointing to a balance of government and non-government experience. He was one of the more popular members of the city commission during his terms, serving as mayor pro-tem, a role historically given to the top vote-getter among commission candidates, for his last two terms.
The 68-year-old is also emphasizing his background in the military, on the 1976 Olympic team, on which he served as a captain, as well as his business and counseling background.
"My strength lies in the diversity of experiences — being on eight boards, including the (city) commission, my background in military, a master's degree in counseling," Haynes said. "I've coached track here and at West Point … it's been a lot of team management. I think that's my strength."
What the voters say
At Franklin County's Election Headquarters on Wednesday, Frankfort resident Mary Presley said that she was casting her vote for Haynes based on her knowledge of him as a person.
"Tommy is a good guy and I think he stands by his word," Presley said. "If he tells you he's going to do something, he's going to do it."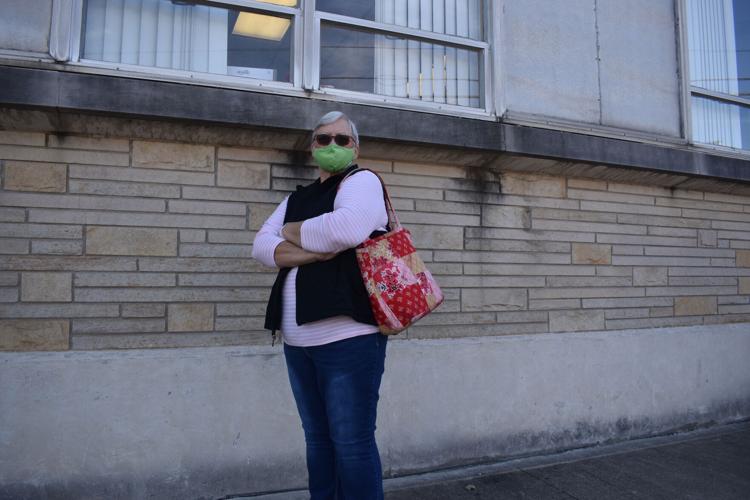 Mike Gordon, 59, who helped bring his mother, Rose, to the polling site, said that he was voting for Wilkerson because he's new to politics and he thinks Wilkerson can help the city grow.
"I'm voting for Layne because I think Frankfort needs new faces," Gordon said. "Frankfort should be a lot bigger than it is."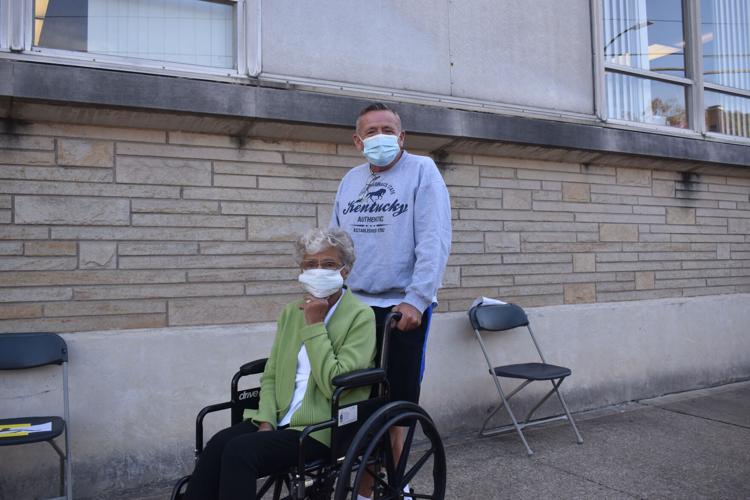 Several voters present on Wednesday said they either weren't going to vote in the local elections because they didn't know the candidates well enough or would just decide in the voting booth.
"If I recognize the name, I'll vote for them," Frankfort resident Darrell Embry said.
On hiring a new city manager
Both Haynes and Wilkerson also recently addressed the question of whether the current city commission should hire a new city manager. Former City Manager Keith Parker was fired in a 3-2 vote in August.
Haynes said that he didn't foresee the sitting commission making such a decision this close to, or even after, the election.
"I don't think they'll have time to," Haynes said. "I know how much time that takes, especially right now doing everything virtually. I don't think it will happen before things change."
Wilkerson was a firm "no" on the question. 
"I definitely don't think they should make a decision," Wilkerson said. "I'm open to them starting the hiring process, that's fine… Why should they make that decision when we're the ones that are going to have to deal with that person?"
Who's backing them?
Of Haynes' 111 donations, many donors have been prominent in local, and even state, politics.
Current District 56 state Rep. and Democratic candidate for Senate District 7 Joe Graviss and his wife, Mary, gave Haynes nearly $1,000, while former Mayor Gippy Graham and former Franklin County Magistrate Fred Goins have each contributed modest amounts. Former Franklin County Judge-Executive and Sheriff Ted Collins has given Haynes a total of $750.
Local Realtor and Kentucky Capital Development Corp. (KCDC) board Chairman Danny Willis gave Haynes $200. Current Downtown Frankfort Inc. (DFI) Interim President Rene True, also a Realtor, gave Haynes $200.
Haynes also secured the endorsement of former mayoral candidate Rodney Williams, who garnered 19% of the vote in the primary election.
Former Franklin County Circuit Judge Roger Crittenden donated to both Haynes and Wilkerson, as did head of the Grand Theatre Bill Cull.
Several other notable names around Frankfort have donated to Wilkerson.
Former State Rep. Hank Hancock gave Wilkerson $200. Frank Lassiter, consultant for the firm that helped seal the state's costly deal with KentuckyWired, and his wife, Mary, former cabinet secretary for Gov. Steve Beshear, have contributed $1,500 total to Wilkerson.
Locally, Wilkerson has seen donations from a wide range of sources. Environmental activist and Envision Franklin County President Chris Schimmoeller has given $500. 
Bruce Dungan, retired president and CEO of Farmers Bank and former chairman of the Frankfort Plant Board, gave Wilkerson $400. Attorney and downtown property owner John Gray, who is also Wilkerson's father-in-law, has given $200.